July 7, 2013
Comments Off

on Snail Mail Sunday
Here are all of the free items I received in the mail this past week.  I am on a quest to see how much I can actually get.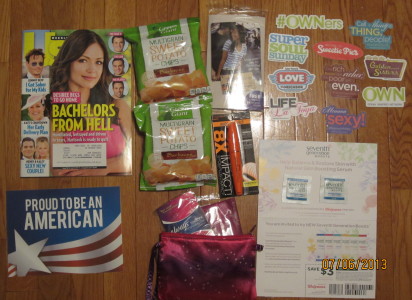 Magazines- US Weekly
Green Giant Multigrain Sweet Potato Chips BBQ flavor-I got two of them one from Pillsbury.com, and the other from Box Top Members.  B saw me taking a picture of them and wanted a bag right away.  He liked them, and had me try a chip.  They tasted just like regular baked BBQ chips, and then the after taste is where you taste the sweet potato.
Woolite-One sample of Woolite detergent.  This is supposed to make clothes last longer.
OWN sticker pack-10 stickers from different TV shows on the OWN Network.  The stickers were vinyl and really nice quality.  B was so excited to see them and asked if he could cut them up to put on his hard hat at work.  Fine by me.
Proud to be an American vinyl sticker-Again this is made of nice quality and gave to B to use as he wishes on his hard hat.
Always & Tampax Radiant Sample Pack and Wristlet-Two tampons from Tampax and two pads from Always included.  A soft plush wristlet (make-up bag) that is pink and purple with silver star burst all over it.  Super cute.
Wet 'n Wild Mega Impact Mascara-I just happen to be one of the first 5,000 entrants for the Seventeen Magazine giveaway.  This is a full size mascara worth $3.99 retail.  My sister is going to love this.
Seventh Generation Boosts-Hydrating serum that helps balance & restore skin with natural skin boosting serum.  This is only available at Walgreens.  There is also a $3.oo coupon available for purchase only at Walgreens.
There was some great stuff in the mail this week.  Some of the items I did not include in my freebies for the week because I won them in giveaway contests and will be posting about them separate.  The magazine was read the first day I got it.  I could care less about the Bachelorette and her drama but I liked the rest of the magazine.  B took the Sweet Potato chips, Own stickers, and Proud to be an American sticker.  The mascara will go to my sister and the makeup bag will go to good use.  The Woolite, Always pads, Tampax tampons and Seventh Generation serum will be put in the giveaway box for my local breadbasket donation.
Disclaimer: I have never claimed to be any great writer. So any mistakes that are made are my fault. Sometimes I mix up names B, S, and P, but I think you can figure out who I am talking about. If you find any grammatical errors just fix it in your mind so it sounds right.