June 23, 2013
Comments Off

on Snail Mail Sunday
[adsenseyu2]
Here are all of the free items I received in the mail this past week.  I am on a quest to see how much I can actually get.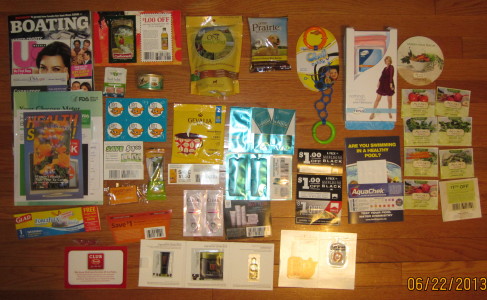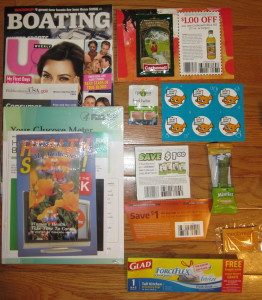 Magazines–

Boating(New subscription), US Weekly, and FDA Office of Women's Health pamphlets

Carbonell Extra Virgin Olive Oil–One use of olive oil, and a $1 off coupon
Natralia Heel Balm-A minty smell that is supposed to help with cracked heels.  I will be trying this to see if there is any improvement.
Petakids stickers-Fish are Friends not Food! Stickers, 6 of them and they are super cute.
Vet IQ Minties for dogs-They have mint smell to them are supposed to help with dental health in dogs.
Nectresse Natural Sweetener-100% natural, no calorie sweetener made from monk fruit
Glad ForceFlex Odor Shield Garbage Bag-One garbage bag and just happens to be the brand we use.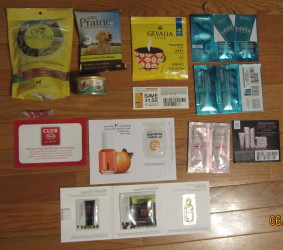 Purina One beyOnd dog food-Nice size sample bag, natural adult dog food
Prairie Chicken & Brown Rice Recipe dog food-Balance, Holistic Nutrition dog food
Sheba canned cat food-Turkey & Giblets Entrée
Gevalia Kaffe House Blend-Ground Coffee good for one brew and a $1.50 coupon off of one purchase
2 John Frieda Touchably Full Shampoo & Conditioner-I got two samples in one week, from John Frieda and Wal-Mart.  They are both the same with $2.00 coupon on full-size item
Club Tyson Great Dad Lapel Pin-It is a cute pin with red wings that says Great Dad on it.
Essie Apricot Cuticle Oil-I got this sample before and really liked what it did for my cuticles.  I cannot wait to use this again on my cuticles to keep the healthy.
Clear Scalp & Hair Beauty Therapy Damage & Color Hair Shampoo & Conditioner-Great sample, I have liked using Clear shampoo and conditioner samples in the past.  It makes my hair feel healthy and shiny.  It also came with a $1 off coupon.
Nyakio samples-Kenyan Coffee Face Polish, Kenyan Coffee Body Scrub, Hydrating Face Oil with Kola Nut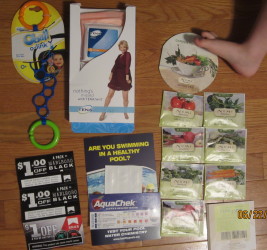 Oball O-link-This is so cute; I won this in a giveaway contest.  It can be used as links to hang baby toys off of to entertain little ones.  I cannot wait to give this away at a future baby shower.
Tena Pads-This was a sample of different Tena products to be used for women with continence problems.
Marlboro Coupons-Seriously, they really want me to smoke.  They are constantly sending me coupons, but I only signed up with them to get the free products, not coupons.  The coupons go in the recycling.
Aqua Check Pool Test Strips-3 test strips were sent and will be used happily in our pool this year.
Numi Organics Savory Tea-I got 6 different flavors, but 7 total, one was a duplicate.  I got Black Tea flavors of Tomato Mint, & 2 Beet Cabbage, and Green Tea flavors of Broccoli Cilantro, Fennel Spice, Spinach Chive, & Carrot Curry.  It also came with a $1 coupon.
It was a busy week for getting stuff in the mail, every day I would open the mailbox and mail would fall out.  I love when that kind of stuff happens.  So I will be using or trying the US Weekly magazine,  Carbonell Extra Virgin Olive Oil, Natralia Heel Balm, Essie Apricot Cuticle Oil, and Clear Scalp & Hair Beauty shampoo & conditioner.  S has been begging for the stickers all week and now he gets them, the dogs loved the Minties dog treat, and B will read the Boating magazine and use the Glad ForceFlex garbage bag, and Aqua Check Pool Test Strips.  I cannot wait to give the Oball O-link to someone having a baby.  The Purina One beyond dog food, Prairie dog, food, and the Sheba canned cat food I will donate to the local Humane Society.  The Nectresse Natural Sweetener, Gevalia Kaffe House Blend coffee, 2 John Frieda shampoo & conditioners, Club Tyson Great Dad Lapel pin, Nyakio samples, Tena pads, and Numi Organics Savory Tea will be put in the giveaway box for my local breadbasket donations.
Disclaimer: I have never claimed to be any great writer. So any mistakes that are made are my fault. Sometimes I mix up names B, S, and P, but I think you can figure out who I am talking about. If you find any grammatical errors just fix it in your mind so it sounds right.