June 8, 2013
Comments Off

on Snail Mail Sunday
Here are all of the free items I received in the mail this past week.  I am on a quest to see how much I can actually get.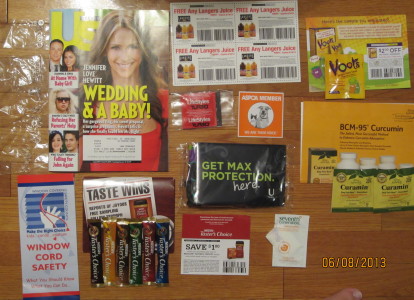 Magazines-US Weekly
Langer's Juice Coupons-4 coupons for free bottle of Langer's Juice.  I can't wait to try the Apple Orange Pineapple juice.
Voots Veggie–Fruit Tarts-Target Sample.  2 tablets that will give you 3 servings of fruits and vegetables.  I tried one and got B to eat one too.  They tasted just like candy.  After eating them I saw that it says in small writing on the front, "Get the Antioxidant Power of 3 servings of Fruits & Vegetables."  The first part of the sentence was in really small writing so you think you are getting the 3 servings of fruits and vegetables.  What a trick!  It also came with a $2 coupon.
Lifestyles Turbo Condom
ASPCA Member sticker
Curamin-2 packages each containing 3 capsules.  It says Curamin is supposed to stop pain now-guaranteed.
Window Cord Safety-These are clear plastic circles that you use to adjust your blind cords to help prevent choking hazards.  I asked for 5 kits so B could do all of the windows in the house.
Nescafe Taster's Choice Sample Pack-Instant Coffee in six different flavors good for one cup each.  It also came with a $1 coupon.
Kotex Sample Pack-Included in this pack there was 3 pantliners and 2 tampons.
Seventh Generation Refreshing Facial Cleansing Cloth-Mandarin scented Target sample.  It was torn open like this when I received it, so I can't really tell you anything about it.
It was a slow week for getting stuff in the mail.  I only got samples on Thursday and Saturday, which is weird, usually I get a little all week long.  I thought as of Thursday morning I would not have a Snail Mail Sunday this week.  The US magazine I already read, and tried the Voots vitamin. B is going to pick up the four juice bottles this week at the store and use the safety cord replacements for the windows.  The Lifestyle Turbo Condom, Curamin capsules, Nescafe Taster's Choice Sample pack, and Kotex Sample Pack will be put in the giveaway box for my local breadbasket donations.
Disclaimer: I have never claimed to be any great writer. So any mistakes that are made are my fault. Sometimes I mix up names B, S, and P, but I think you can figure out who I am talking about. If you find any grammatical errors just fix it in your mind so it sounds right.