[adsenseyu1]
Here are all of the free items I received in the mail this past week.  I am on a quest to see how much I can actually get.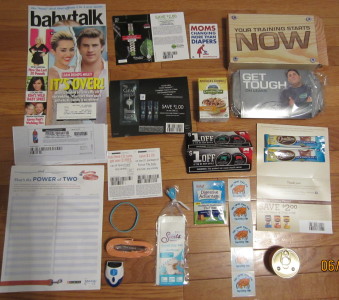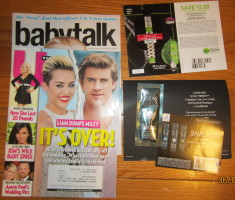 Magazines-US Weekly, and Babytalk
Garnier Ultra-Life Targeted Line Smoother Tightener & Cream-This is supposed to help with wrinkles in just one use.  Guess it's a good thing this is a sample good for one use.  It also came with a $2 coupon on any Garnier moisturizer.  I wonder if they make a travel size since this does not state a size.
Clear Men Scalp Therapy 2 in 1 Anti-Dandruff Shampoo & Conditioner- This is supposed to help with dandruff.  It came with a $1 coupon.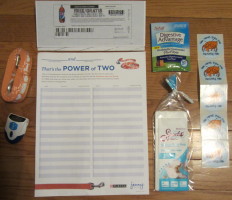 Pepsi Next 2 liter coupon Free-I do not drink Pepsi, I am strictly a Coke girl (one can a day), but I am sure I will not have a problem giving this coupon away.
Jenny Craig Dog Leash and Pedometer-The dog leash is super cute and if I wasn't so anal about having matching dog collars and leashes I would definitely use this.  The pedometer I would normally love, but since I have my Fit bit, I will just donate it.  It also came with a worksheet to keep track of how much you walk with your dog.
Schiff Digestive Advantage Probiotic Gummies-These are actually pretty tasty and I do enjoy eating the samples, but can't justify buying vitamins of any kind for myself.  I should just eat better to get all the vitamins and nutrients I need.
5 Petakids Stickers-These stickers are so cute saying, "Keep Hermit Crabs Free, Captivity Kills."  I thought these stickers were hysterical and could be taken so many different ways.  B wants 2 of them for his hard hat and some lucky sucker at work and the other 3 went to S to play with.
Color Scents Trash Bags-This is vanilla scented and is the perfect fit for the diaper pail.  Not that we get dirty diapers anymore, but it is where we put used diapers.  I mean S can't wear the same diaper every night.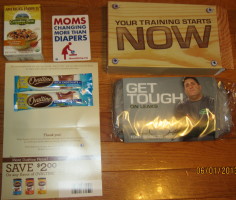 Cascadian Farm Organic Oats and Honey Granola-I am looking forward to trying this myself.  I really enjoy granola bars so I am thinking with the sweetness of honey and oats it will be pretty similar just crumblier.
Moms Changing More than Diapers Magnet-I think this magnet is so cute.
Ovaltine Rich Chocolate Mix-When I see these all I can think of The Christmas Story when he uses the decoder to reveal "Drink more Ovaltine."  B is excited to try these.  He likes Carnation mixes and wonders if these are similar.
Men's Depends-When I saw the box it was shipped in I was excited to see what it was.  When I turned the box over and saw the small label for Men's Depends I about died.  I told S we got daddy a diaper and when we opened it up and it was dark gray S was in love.  He told B he had a fancy diaper like him.  He wanted B to put it on and B was not game for it.
Fancy Feast Canned Cat Food-I love the box this food came in.  How cute is it with the cat looking up at the food.  It also came with 2 coupons.
My Black is Beautiful bracelet-The bracelet is plastic, blue, and on one side it says "My Black is Beautiful" and on the other side it says "Imagine a Beautiful Future."  It is a cute bracelet.
It was a good week for getting stuff in the mail.  I was complaining about only getting my mail on Mondays and go figure Saturday the mailbox was stuffed.  The US magazine I already read, and am willing to try the Schiff Probiotic Gummies, and Cascadian Farm Organic Oats and Honey Granola and hang up the magnet. B is going to try the Ovaltine and use the trash bag and stickers.  I plan to donate the Fancy Feast canned cat food, and leash to the local Humane Society.  The Garnier Ultra, Clear Men Shampoo and Conditioner, Pepsi Next, Men's Depends, and blue bracelet will be put in the giveaway box for my local breadbasket donations.
Disclaimer: I have never claimed to be any great writer. So any mistakes that are made are my fault. Sometimes I mix up names B, S, and P, but I think you can figure out who I am talking about. If you find any grammatical errors just fix it in your mind so it sounds right.