June 30, 2013
Comments Off

on Snail Mail Sunday
Here are all of the free items I received in the mail this past week.  I am on a quest to see how much I can actually get.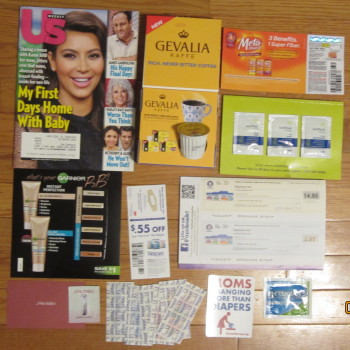 Here are all of the free items I received in the mail this past week.  I am on a quest to see how much I can actually get.
Magazines- US Weekly
Gevalia Caffe-Single cup serving, Columbia flavored
Metamucil-Promotes digestive health
Santalia Clinical-proven the gentle action, potent antibacterial and anti-inflammatory properties of this patented Sandalwood oil, blending them into four simple, effective treatments gentle enough for sensitive skin, strong enough to clear stubborn acne at any age.
Garnier BB Cream-BB cream gives instant perfection to skin with all-in-one miracle sample in 3 skin tones, and all-day shine control in 3 skin tones.
Shiseido White Lucent-A super brightening serum created to diminish stubborn dark spots in 10 days and prevent future pigmentation from appearing.  0.5 oz of this is $68.  So this little sample is actually worth a lot of money.
Nexcare Bandage-66 bandages and a $.55 coupon.
Gerber Good Start Formulas coupons-One coupon is for $14.95 and the other is for $3.95.  Looking at Walmart.com, it looks like I can use these coupons to get free formula or for less than a dollar and be able to donate it.
Moms Changing More Than Diapers, MomsRising.org-Magnet
Physician's Pain Relief Cream-Good for pain relief of muscles.
This week was a good week for getting free stuff.  There was a little bit in the mail each day.  I love to get presents every day of the week.  US Weekly magazine was read as soon as I saw it.  The Gevalia single cup coffee went to my neighbor.  I will buy the Metamucil and donate it unless someone I know wants it.  I cannot wait to try the Santalia Clinical acne products; I hope it is my miracle acne solution.  The Nexcare bandages went in our first aid basket, and the magnet is proudly hanging on the refrigerator. The Garnier BB Cream, Shiseido White Lucent and Physician's Pain Relief Cream will be put in the giveaway box for my local breadbasket donations along with the Gerber Formula once I go buy them with the coupons.
Disclaimer: I have never claimed to be any great writer. So any mistakes that are made are my fault. Sometimes I mix up names B, S, and P, but I think you can figure out who I am talking about. If you find any grammatical errors just fix it in your mind so it sounds right.