May 25, 2013
Comments Off

on Silly Saturday
[adsenseyu3]
Silly Saturday is going to be dedicated to my pets. Since my son, S, was born three years ago my pets were my babies. Now they have taken a back burner in life. I will discuss all of the funny, gross, weird, etc. things that have happened in the last week with the pets. Right now I only have three pets, 2 dogs, PJ and Derby and one fat cat, Neezer.
Derby-I know you think that you are the queen of the house and what you say goes, but you do not own my bed.  When I get ready for bed and come out of the bathroom you should not be laying like you own the bed.  Yes, you can sleep on B's side when he is at work, but when we are both home, you belong either up on the top pillows or down by our feet.  Thanks for agreeing with me!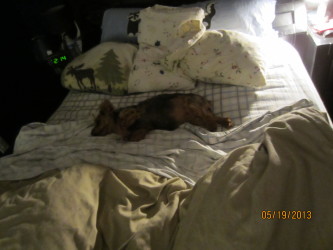 (Yes, if you look close enough you will see the alarm clock say 2:14 am.  I was a little stressed with S in the ER and needed some time before I could go to sleep.)
Neezer-If you want to explore the outside, no problem, just stay in the backyard.  When you sneak past B as he is bringing in groceries we have no way of knowing you are outside the fence.  If you weren't such a large (fat) cat you could just jump back over the fence like most cats would.  Luckily, I heard you crying outside the gate the next morning or who knows how long you would have been outside the backyard.  You can't go that long without a shot, so stay close to the house.
PJ-If you have been a good dog while we were gone, I have a new treat for you when we get home.  This has been the first time we have left you for this long since you were a puppy and destroyed the house.   If you have calmed down like we hope you have there will be a great surprise for you.  If not, I am not sure what I am going to do with you.
Disclaimer: I have never claimed to be any great writer. So any mistakes that are made are my fault. Sometimes I mix up names B, S, and P, but I think you can figure out who I am talking about. If you find any grammatical errors just fix it in your mind so it sounds right.