October 5, 2013
Comments Off

on Silly Saturday
Silly Saturday is going to be dedicated to my pets. Since my son, S, was born three years ago my pets were my babies. Now they have taken a back burner in life. I will discuss all of the funny, gross, weird, etc. things that have happened in the last week with the pets. Right now I only have three pets, 2 dogs, PJ and Derby and one fat cat, Neezer.
Neezer-S has been begging to buy you the Cat's Meow toy every time he sees it on TV.  When I went to Target on Thursday I found it in the As Seen On TV section and got it.  S was so happy when I showed him what I bought for you that we had to set it up right away.  I cannot tell you how funny it is to watch you play with this.  The paper in the box says that it will give hours of fun for cats and they will have a hard time catching the "mouse."  Not so much for you.  I thought for sure you were going to break it in the first five minutes because you caught the "mouse" and would not let it go.  Later after I turned off the toy before I went to bed you just sat there and waited for it to come to life again.  I am not sure how long you stayed and waited but I bet you were there for a few hours.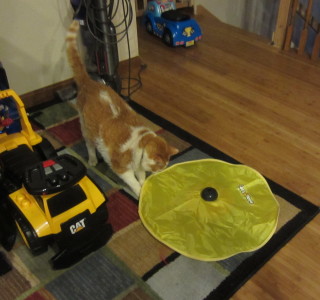 PJ-If B does not give you a bath today, I am taking you outside and using the hose on you.  You have not had a bath in so long and I cannot stand to smell the "dog" smell any longer.  Brace yourself if I give you a bath it is going to be a cold one!
Derby-Please stop running the minute you are let out in the front yard.  It gets annoying and I have stopped chasing you.  You have caught onto us chasing you and now run around the entire perimeter of the yard through two other neighbors' yard.  I am sure it is good exercise, but all the cat food you eat on the run does nothing for you.
Disclaimer: I have never claimed to be any great writer. So any mistakes that are made are my fault. Sometimes I mix up names B, S, and P, but I think you can figure out who I am talking about. If you find any grammatical errors just fix it in your mind so it sounds right.