Silly Saturday is going to be dedicated to my pets. Since my son, S, was born three years ago my pets were my babies. Now they have taken a back burner in life. I will discuss all of the funny, gross, weird, etc. things that have happened in the last week with the pets. Right now I only have three pets, 2 dogs, PJ and Derby and one fat cat, Neezer.
Neezer-I caught you this week outside hunting for more voles when I went outside to get Baby A.  I am so happy I prevented you from bringing another kill or half dead vole into the house.  I know you love to hunt them, but I hate cleaning them up.  If it had been alive that is a whole other scenario I never want to revisit.
PJ-I think you are the best babysitter by far.  I never have to worry about S driving his truck or car around because I know you will never leave his side.  If I cannot see S and there is a problem you start barking.  Thanks for helping!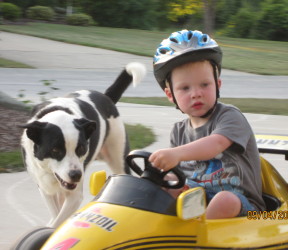 Derby-This week I finally broke down and took you to the vets for the sore spot on your back.  They couldn't really find anything wrong, but did give you an unpleasant cut.  You now have a huge square on your back with no hair.  Thank goodness your sore is getting better, so it is looking like you won't have to have surgery to remove it.  If you would have stopped licking it like I told you, we could have saved ourselves a trip to the vets and $75.  Next time just listen to me!
Disclaimer: I have never claimed to be any great writer. So any mistakes that are made are my fault. Sometimes I mix up names B, S, and P, but I think you can figure out who I am talking about. If you find any grammatical errors just fix it in your mind so it sounds right.