August 17, 2013
Comments Off

on Silly Saturday
Silly Saturday is going to be dedicated to my pets. Since my son, S, was born three years ago my pets were my babies. Now they have taken a back burner in life. I will discuss all of the funny, gross, weird, etc. things that have happened in the last week with the pets. Right now I only have three pets, 2 dogs, PJ and Derby and one fat cat, Neezer.
Neezer-I hope you had a great week by yourself.  My goodness did you talk to me when I got home.  I couldn't get you to quiet down soon enough.  I thought for sure you were going to wake S up with all the crying you did.
PJ-I had so much fun watching you play fetch swimming in the water.  You were so worn out from swimming the first two days I couldn't believe you would not swim the last two days.  Did you like riding around in the canoe?  I couldn't tell because when I went with you the only thing you did was lie down and sleep.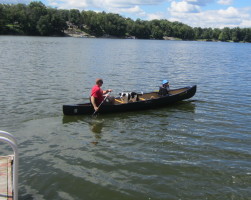 Derby-I hope you had a great time getting to play with the fish that S caught.  I know how much you like to fish and this is always the perfect opportunity for you to do it.  Did you like riding around in the canoe?  You sure looked like you were having fun, walking around and peaking over the sides of the canoe.
Disclaimer: I have never claimed to be any great writer. So any mistakes that are made are my fault. Sometimes I mix up names B, S, and P, but I think you can figure out who I am talking about. If you find any grammatical errors just fix it in your mind so it sounds right.