December 20, 2015
Comments Off

on Shhh! It's Sunday
I am going to try something new and tell you what we are doing right at the moment that I am writing this, whether it is at 1am or 1pm on Sunday.  Just a quick snapshot into a day in our lives.
Currently….
I just got home from my dad's.  I was helping wrap presents for the grandkids, and then hanging out for a little while.  Now I am staying home with the kiddos and B is going to run errands.
B is getting stuff ready to drop off at my dad's, drop gifts off at his parents for the big guy to give the kids on Christmas Eve, and run to Wal-Mart to return some stuff and exchange a toy.
S is eating a snack/lunch/dinner.  He is having ravioli and pasta with sauce.  He may eat a little for dinner but it will be a small one.  He ate it fast once he realized P was touching his train.
P is playing with the Christmas train B put together for S.  Every time she makes the train go faster she jumps in surprise.  Now she has wondered over to the Christmas tree and is touching all the lights trying to hang magnets on the tree.  Wait now she is throwing a ball for PJ. (All of this while I was typing this up.)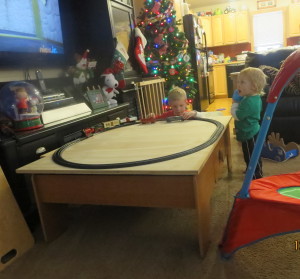 Disclaimer: I have never claimed to be any great writer. So any mistakes that are made are my fault. Sometimes I mix up names B, S, and P, but I think you can figure out who I am talking about. If you find any grammatical errors just fix it in your mind so it sounds right.