Saturday Sales is all about the great deals I found in-store or online.   I know this is only going to show you how much I actually do or don't shop.  I do find a ton of great deals online and even in the store.  So if I don't make any purchases you can see what I thought about purchasing in the past week.  Now that the clearance is gearing back up again at Target I am hopefully going to have some great finds.
Kohl's
Sunday night was the last day of the 30% using a Kohl's charge sale and free shipping at Kohl's.  I decided to take one last look to see if there was anything I wanted to get for S or P. While I did not find any good deals for P, S was a whole different story.  The exact same clothes I purchased were not on clearance when the 30% started on the 14th.  I bought shirts and pants for S in the next two sizes.
I got 3 shirts in a 7 and 3 shirts in a 7X.  The shirts ranged in price from $5.12-$6.99.  I also got S's Christmas outfit for next year for only $24.00.  I also got 6 pairs of pants.  One is a size 7 and the other 5 are a 7X.  The pants were only $6.40 each.  That totals out to $98.73, but after figuring in the 30% off (almost $30) my total was only $73.77.
The prices with the discount worked out to be:
3 Shirts that were $5.99 down to $3.59
3 Shirts that were $6.99 down to $4.89
6 Pants that were $6.40 down to $4.48
3-piece Christmas outfit was $24.00 down to $16.80 ($5.60 a piece)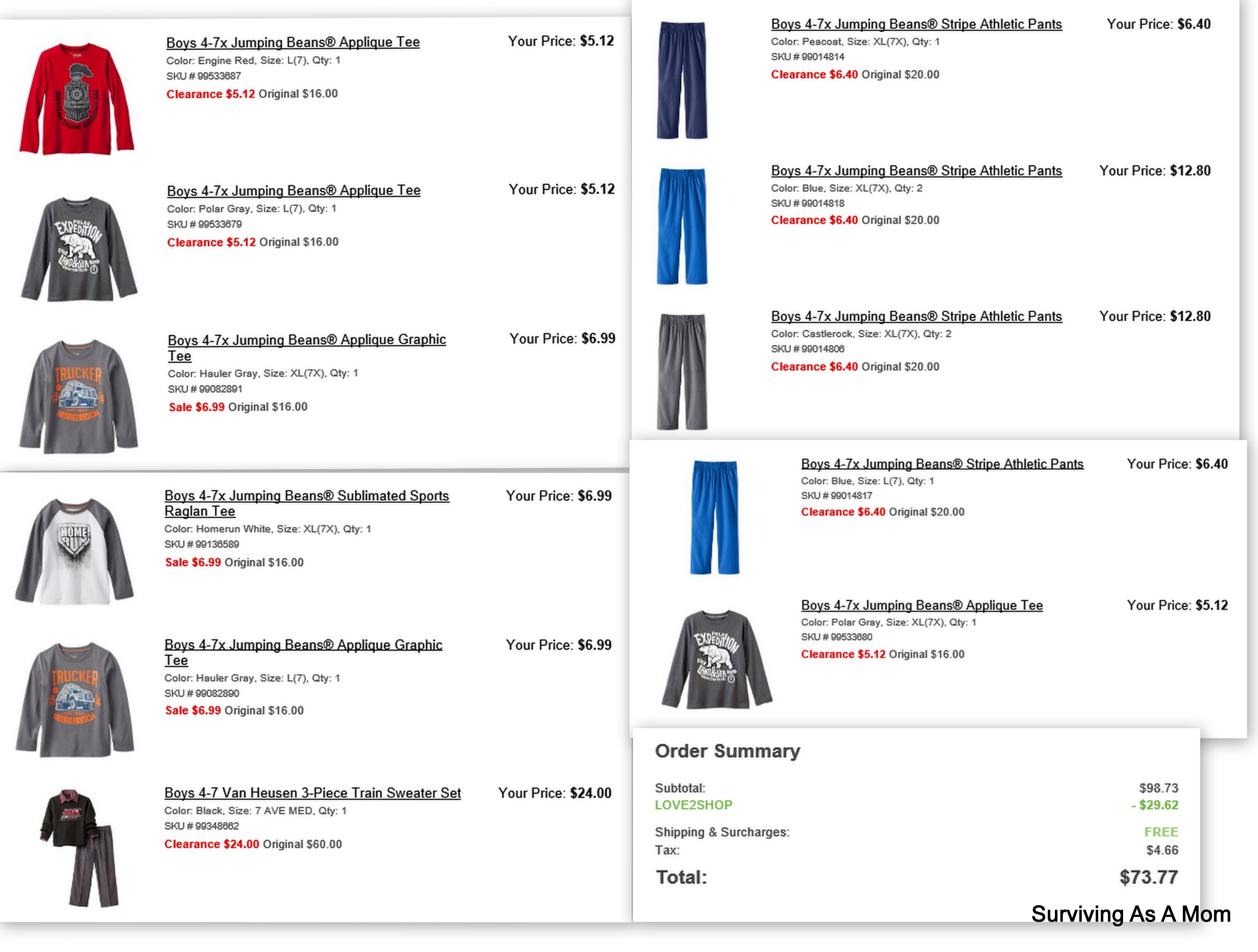 Did you find any great deals this past week shopping?
Disclaimer: I have never claimed to be any great writer. So any mistakes that are made are my fault. Sometimes I mix up names B, S, and P, but I think you can figure out who I am talking about. If you find any grammatical errors just fix it in your mind so it sounds right.