October 9, 2015
Comments Off

on Safety Locks for Baby, Child, Kids, & Toddler Review
Disclaimer:  I received this product for free or highly discounted in exchange for an honest review.  All thoughts and opinions expressed are mine.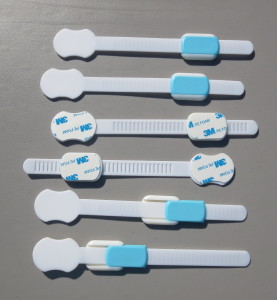 Gosh knows P is our little monster.  She likes to get into everything.  Yesterday B was emptying the trash can and opened the cabinet under the sink to get another garbage bag.  From the time he opened the cabinet and put the trashbag in the can (literally 5 seconds).  P made a run for it, grabbed something from in the cabinet and ran back into the living room before B even saw she grabbed something.  Thank goodness she only grabbed a bottle of soap.  She is quite sneaky.
We have had to put baby locks on a ton of cabinets.  With S we only had to do the garbage, refrigerator, and cabinet under the sink.  So far with P we have baby locks on the cabinet in the living room, under the sink and 2 other cabinets in the kitchen.  We really need so many more.  We are arranging furniture to block more doors so P cannot get into them.
While I like these safety locks it took S and me a few minutes to figure out how to use them.  We finally figured out how to open the latch by sliding the strap and pushing the blue button.  My issue with the locks is I do not want to have to stick anything to the outside of my cabinets.  We did that with S and after we no longer needed the locks we were stuck with these plastic pieces on our cabinets.  I didn't want to do that again with P.  We will not be using these locks because I do not want anything stuck permanently on the outside of my cabinets.  What if I try to remove the plastic pieces after we no longer need the locks and it destroys the cabinets?  Not worth it.
The Safety Locks for Baby, Child, Kids, & Toddler is $13.99 on Amazon.com.  Click here to order Safety Locks for Baby, Child, Kids, & Toddler.  #CareMe
I was chosen to review the Safety Locks for Baby, Child, Kids, & Toddler through Tomoson.com.  Basically how it works is you select items you would like to review and if they chose you, the product is purchased through Amazon.com.  If you have a Prime Account with Amazon shipping is free and a coupon code is provided from the company making the product free or highly discounted.  In exchange they are looking for an honest review on their product.
Disclaimer: I have never claimed to be any great writer. So any mistakes that are made are my fault. Sometimes I mix up names B, S, and P, but I think you can figure out who I am talking about. If you find any grammatical errors just fix it in your mind so it sounds right.