May 6, 2016
Comments Off

on Retro Outdoor Throw Pillow by UBU Republic Review
Disclaimer: I received this product for free or highly discounted in exchange for an honest review. All thoughts and opinions expressed are mine.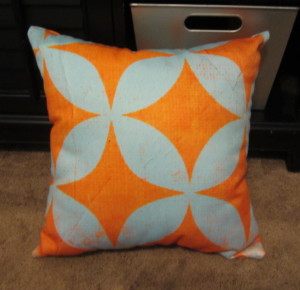 I took a chance and bought some really cute outdoor bean bag chairs for my son's bedroom. I thought this was the perfect solution to a boy who can be dirty and messy. If he spilled something on these chairs I didn't have to worry about him staining and ruining these chairs. I always thought if I didn't end up liking them in his bedroom I could always just take them outside.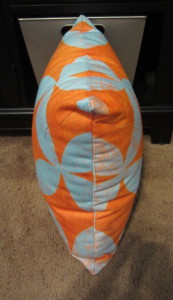 When I saw how cute this pillow was when I opened the box I could not wait to put it on my hammock swing. The pillow material was so soft to the touch and was the perfect amount of firmness. Unfortunately, when my son felt the pillow he asked if he could have this in his bedroom to go with his bean bag chairs. He kept telling me how soft it was and how good it felt when he laid his face on it. I was bummed because I knew I was going to give it to him. He was so happy and I have caught him a few times now in his room reading using the pillow on his chair. As long as it is getting used I could not be happier with the pillow.
I got this pillow and loved the colors that were in it. The orange and blue go great together and are sure to complement any furniture. Since my son's room is a melon orange the pillow fits perfectly in there. The pillow is crafted in the USA with a handmade bohemian design by a UBU Republic artist in New Zealand. The pillow is Water and Mildew Resistant.
The Retro Outdoor Throw Pillow-Set of 2 by UBU Republic is only $49.99 on Amazon.com. Click here to order your Retro Outdoor Throw Pillow by UBU Republic. #UBUREPUBLIC
I was chosen to review the Retro Outdoor Throw Pillow by UBU Republic through Tomoson.com. Basically how it works is you select items you would like to review and if they chose you, the product is purchased through Amazon.com. If you have a Prime Account with Amazon shipping is free and a coupon code is provided from the company making the product free or highly discounted. In exchange they are looking for an honest review on their product.
Disclaimer: I have never claimed to be any great writer. So any mistakes that are made are my fault. Sometimes I mix up names B, S, and P, but I think you can figure out who I am talking about. If you find any grammatical errors just fix it in your mind so it sounds right.