October 29, 2015
Comments Off

on Primary Health Sports Copper Elbow Sleeve Review
Disclaimer:  I received this product for free or highly discounted in exchange for an honest review.  All thoughts and opinions expressed are mine.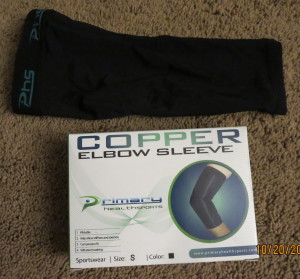 A few months back I was floating in our pool in the backyard.  It was after we had some heavy rains and the pool was overfull.  B told me we needed to drain it a little and to be careful because the side could give out.  Well he drained it some and I thought that would be sufficient for the time being.  I got in the pool sat in my tube and put my head on the outer ring of the pool to relax.  The next thing I know I am on the ground and water is gushing out of the side of the pool.  Yup I went over the side of the pool.  When I stood up I pulled the side of the pool up and there was no need to drain it anymore.  When I fell out of the pool I landed on my elbows and they were very sore, particularly my left.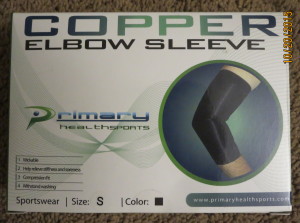 Now we it is about 6 weeks later and my left elbow (which took most of the fall) is still sore.  It hurts if I lay my head down on my elbow.  You know when you bend your arm and use it as a pillow.  When I get up I can barely straighten my arm and to do so I usually have to pull it open with my other arm.  I cannot believe how much it still hurts.  It's not my funny bone, but the muscle/tendon below my elbow.
When I saw this Copper Elbow Sleeve I knew I had to try it and see if it would help with my elbow pain.   I ordered a small, which fits other than the top band cuts into my arm.  There weren't any directions on how to use it, so I took my best guess.  I started wearing it during the day and didn't really notice any improvements.  We had a little warm-up and I was getting too hot wearing it during the day so I started wearing it at night.  All of a sudden I noticed that my elbow pain had subsided substantially and I could go hours without feeling any pain.  After wearing the elbow sleeve for about a week at night the pain was almost completely gone.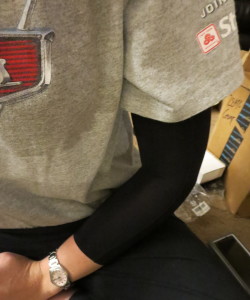 I couldn't believe that the cure to my elbow pain was this sleeve?  Kind of.  I stopped wearing the sleeve at night and didn't really notice any pain for a few days.  Slowly but surely the pain started to return.  I guess if I want to keep the pain away I am going to have to continue to wear the sleeve at night.  If that is all I have to do to keep the pain away I think I can handle it.
The Primary Health Sports Copper Elbow Sleeve is only $19.95 on Amazon.com.  Click here to order your Primary Health Sports Copper Elbow Sleeve.  #copperelbowsleeve
I was chosen to review Primary Health Sports Copper Elbow Sleeve through Tomoson.com.  Basically how it works is you select items you would like to review and if they chose you, the product is purchased through Amazon.com.  If you have a Prime Account with Amazon shipping is free and a coupon code is provided from the company making the product free or highly discounted.  In exchange they are looking for an honest review on their product.
Disclaimer: I have never claimed to be any great writer. So any mistakes that are made are my fault. Sometimes I mix up names B, S, and P, but I think you can figure out who I am talking about. If you find any grammatical errors just fix it in your mind so it sounds right.