November 24, 2015
Comments Off

on Pleasant Find's Reusable Product Bags Review
Disclaimer:  I received this product for free or highly discounted in exchange for an honest review.  All thoughts and opinions expressed are mine.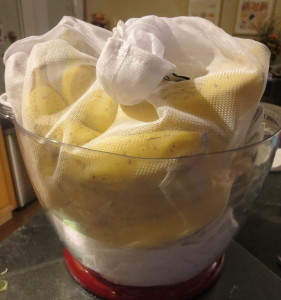 There is a ton of fruit in our house.  B loves to drink a smoothie every day.  Although he is trying to be healthy about it he does add a good dollop of frozen yogurt to it.  In each smoothie he includes one banana, some strawberries, mango, and pineapple with a splash of apple juice.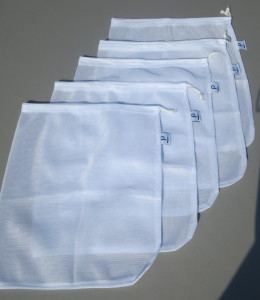 With bananas out on our counter every day 365 days a year, fruit flies also come with that.  During the summer B tried to use a bowl for the bananas covered in cheese cloth with a rubber band keeping the cheese cloth on tight.  It worked for a while but at some point we had to admit defeat against the fruit flies.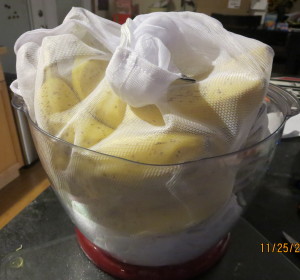 I kept telling B to try these Pleasant Find's Reusable Product Bags with the bananas.  He finally did try the bags and they work.  We do however pull the strings tight and tie the top in a knot to ensure no little fruit flies sneak in.  The bags are very easy to use and are large enough to fit more than one bunch of bananas in each.  I love that they are a mesh I can see through so I know what fruit I am grabbing.
The Pleasant Find's Reusable Product Bags (5 pack) are only $11.98 on Amazon.com.  Click here to order your Pleasant Find's Reusable Product Bags.  #pleasantfind
I was chosen to review Pleasant Find's Reusable Product Bags through Tomoson.com.  Basically how it works is you select items you would like to review and if they chose you, the product is purchased through Amazon.com.  If you have a Prime Account with Amazon shipping is free and a coupon code is provided from the company making the product free or highly discounted.  In exchange they are looking for an honest review on their product.
Disclaimer: I have never claimed to be any great writer. So any mistakes that are made are my fault. Sometimes I mix up names B, S, and P, but I think you can figure out who I am talking about. If you find any grammatical errors just fix it in your mind so it sounds right.