January 7, 2017
Comments Off

on Ozeri Kitchen Products Review
Disclaimer: I received this product for free or highly discounted in exchange for an honest review. All thoughts and opinions expressed are mine.
I love good kitchen gadgets, tools, and appliances. When Ozeri contacted me and asked if I would be interested in reviewing a few kitchen items for them I was really excited. I got to pick from four different items and selected the Salad Spinner, and Automatic Wine Bottle Opener. I have to say when they came in the mail I was really happy with everything I saw.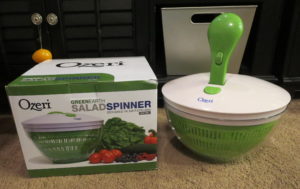 B and I have been using salad spinners for probably 10+ years. We have gone through several spinners, so I really wanted to give this a good month of use before I wrote my review. A month after my trial of the spinner started and it is still going strong. The Ozeri Swiss Designed Freshspin Salad Spinner and Serving Bowl is different from other salad spinners that I have used. This had a hand pump to make the net basket spin around getting rid of the water off the lettuce. The bowl also worked great to store the cleaned lettuce in. I have found that some salad spinners can store lettuce great to make it last even longer. I had the lettuce in the salad spinner for just over two weeks and it still looked freshly cut. Because the salad spinner did such a good job of getting the moisture off the lettuce there was no discoloring (turning red/orange) to the lettuce. The Ozeri Freshspin Salad Spinner is $22.50 on Amazon.com. #ozeri #saladspinner
While B and I are not drinkers when I saw this I thought this would be a great Christmas gift. Of course, I needed to try this myself so I headed over to May's house to see exactly how this would work opening a bottle of wine. The Maestro Electric Wine Opener in Stainless Steel was very simple to use. The wine opener is rechargeable so there is no thought of having to make sure the batteries work. When the wine opener is not being used all you have to do is put it on the charger and let it sit on the counter. The wine opener can open up to 80 bottles of wine on just one charge! With its sleek look and color it will look great on any kitchen counter. I could not believe how easy the wine opener was to use. With a simple push of the button I knew what the temperature of the wine was along with getting the cork out of the wine bottle effortlessly. For someone who has never opened a wine bottle before this could not have gone more smoothly for me. The Ozeri Maestro Electric Wine Opener in Stainless Steel is $37.78 on Amazon.com. #ozeri #wineopener
I could not have been more pleased with the two products I received from Ozeri. I cannot wait to see what they send me next!
Disclaimer: I have never claimed to be any great writer. So any mistakes that are made are my fault. Sometimes I mix up names B, S, and P, but I think you can figure out who I am talking about. If you find any grammatical errors just fix it in your mind so it sounds right.