October 21, 2015
Comments Off

on Ozeri Body Tape Measurer and Body Fat Test Caliper Review
Disclaimer:  I received this product for free or highly discounted in exchange for an honest review.  All thoughts and opinions expressed are mine.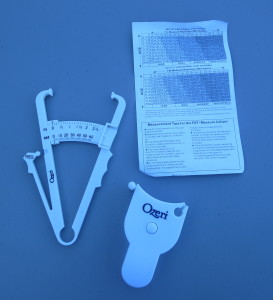 I have always wondered what my body fat percentage was.  How in the world are you supposed to figure out what our body fat is?  Sure we can all figure out our BMI, but honestly you can put two people next to each other who weigh the same and are the same height but the body fat is totally different.  If one body is toned and one is not it could be a big difference even though they both have the same BMI.
The caliper was pretty basic and didn't have a ton of bells and whistles.  The directions say you will feel/hear a click when it is in place.  You can hear it and feel it but it is slight.  You really have to pay attention.  It says to grab excess skin on your right side above your hip.  I did and measured it.  It was 22.  When I compared on the chart the 22 and my age it said I have 30.9% body fat and fall in the average range.  There are four ranges lean, ideal, average and above average.  I did fall on the higher side of the average range and am not far from the above average.  If I went up to 25 mm I would be in the above average range.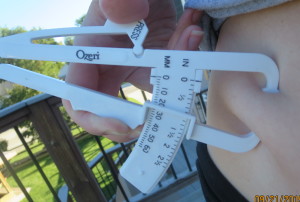 The tape measure that came with the caliper is kind of ingenious.  It starts at 5 mm.  Many think that it is incorrect and made wrong but it's not.  This tape measure is to measure round objects, legs, arms, waist, etc.  If you put the end of the tape measure in the hole the tape measure stays at that length and will give an accurate measure because the tape measure goes over slightly to compensate for the 5 mm.
The Ozeri Body Tape Measurer and Body Fat Test Caliper is only $9.95 on Amazon.com.  Click here to order your Ozeri Body Tape Measurer and Body Fat Test Caliper. #OzeriBodyTapeMeasureandBodyFatTestCaliper
I was chosen to review the Ozeri Body Tape Measurer and Body Fat Test Caliper through Tomoson.com.  Basically how it works is you select items you would like to review and if they chose you, the product is purchased through Amazon.com.  If you have a Prime Account with Amazon shipping is free and a coupon code is provided from the company making the product free or highly discounted.  In exchange they are looking for an honest review on their product.
Disclaimer: I have never claimed to be any great writer. So any mistakes that are made are my fault. Sometimes I mix up names B, S, and P, but I think you can figure out who I am talking about. If you find any grammatical errors just fix it in your mind so it sounds right.