January 14, 2017
Comments Off

on Oaklyn Kitchen Products Review
Disclaimer:  I received this product for free or highly discounted in exchange for an honest review.  All thoughts and opinions expressed are mine.
I love good kitchen gadgets, tools, and appliances.  As I have done with baby products I decided to create a post about all the different and unique kitchen items that I find.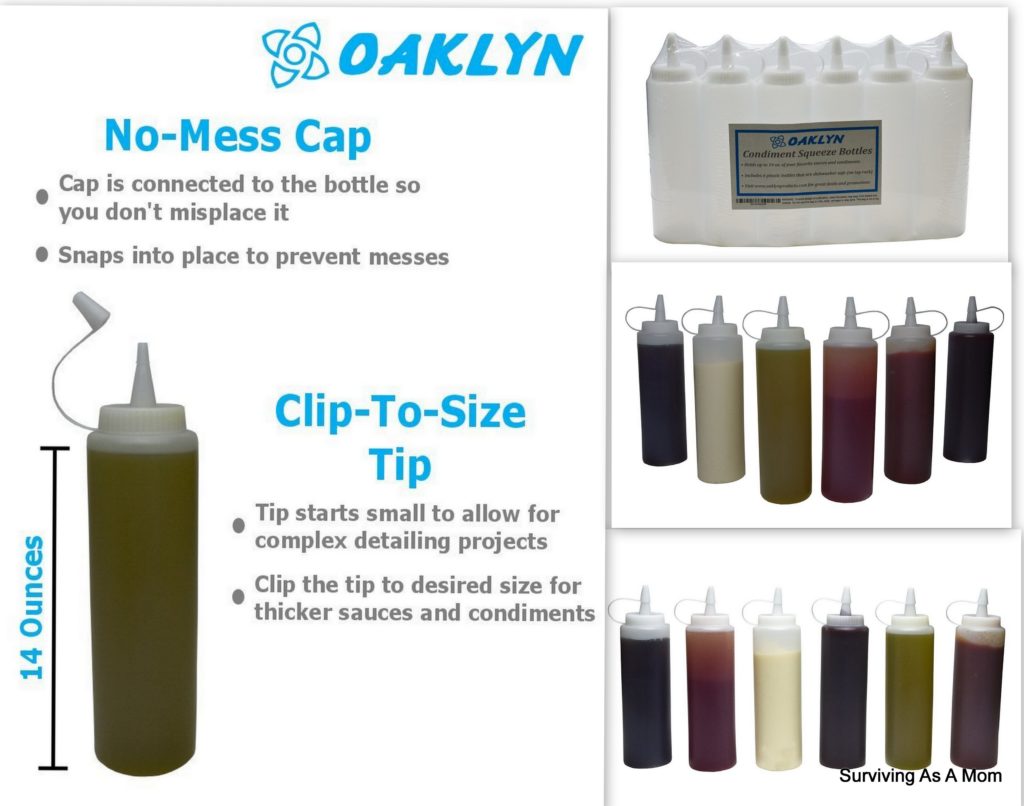 The 6-pk of plastic squeeze condiment bottles can be used for so many different things.  Of course, it can be used to hold condiments, but it can also be used to hold royal icing for decorating cookies or even paint.  The bottles are made from HDPE plastic and are 100% BPA Free.  I used the decorating bottles for decorating cookies.  The large mouth opening made it easy to fill the bottles without making a mess.  I also liked that they were clear and I could see exactly what color was in the bottle.  With a lid that had a tip with only a small hole it made it easy to dispense the frosting on the cookie how I wanted. I was able to snip part of the tip off to make the hole the size I needed for the frosting to flow out at the correct rate.  Because of the twist cap lid I didn't have to worry about the lid popping off when I squeezed the bottle to get the frosting out.  I also liked the small cap so that my frosting does not dry out in the bottle.  The Oaklyn 6-pk. 14 oz. Plastic Squeeze Condiment Bottles are $12.99 on Amazon.com. #oaklyn #condimentbottles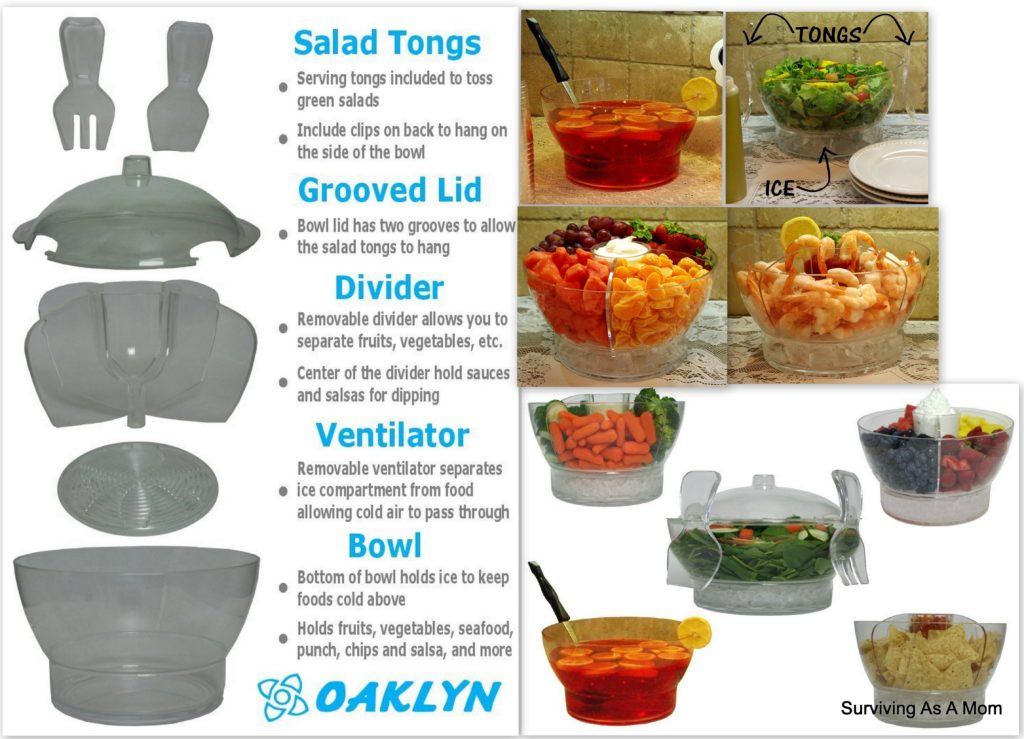 When I saw this large clear multi-purpose serving bowl I really wanted it.  It would be perfect for so many different occasions but at the moment it was going to work for Christmas season.  I needed a bowl that would hold punch at S's birthday party, a dish to hold all the different candies I made on Christmas Eve, and a salad I made for Christmas day.  I am not quite sure even where to begin with this bowl.  I guess I will start with the bowl and add to it the different pieces.  The bowl is large enough to hold punch for a party or a salad.  I used it for both and it worked out great.  The bowl comes with salad serving tongs which worked great for the salad.  As an added bonus the tongs are individual and both can hang from the bowl so you don't have to worry about them slipping down into the salad or falling from the bowl onto the table or floor.  When I wanted to put my different candies in the dish a few needed to be kept cool but I wasn't sure how that could be done and not get them wet.  This dish had a tray that was put on the bottom of the bowl.  Under the tray is where the ice is stored and the tray has ventilation slits to let the cold air out.  Then a divider comes in giving you four different sections and a center for another spot.  The center section can be used for dips, or I used it for the really small candies I made.  Now how to transport all of this so that it stays covered and doesn't spill.  It comes with a lid that fits on the bowl.  I liked the lid because I could keep it on the food when it wasn't being eaten and in the summer would be great to keep bugs out of the food.  There are two notches in the lid so that the salad tongs can still hang on the sides of the bowl while the lid is on it.  I told you it was a lot but the bowl is totally worth it.  The Oaklyn Large Clear Multi-Purpose Serving Bowl is only $24.99 on Amazon.com. #oaklyn #servingbowl

When we have parties we tend to have them outside or in the garage (depending on weather).  It can be hard to keep salads, fruits, veggies, and other dishes all cold at the same time.  The inflatable serving bar buffet cooler is the perfect solution.  All the dishes can be put in the cooler surrounded by ice.  Now keeping the dishes cold is no longer an issue.  The cooler measures 52"x22"x5" which is plenty long and can hold easily 3-4 dishes if not more.  This cooler is easily inflatable and deflates for easy storage.  The ice and water can be drained by pulling the drain plug.  The Oaklyn Inflatable Serving Bar Buffett Cooler is $9.99 on Amazon.com. #oaklyn #inflatablecooler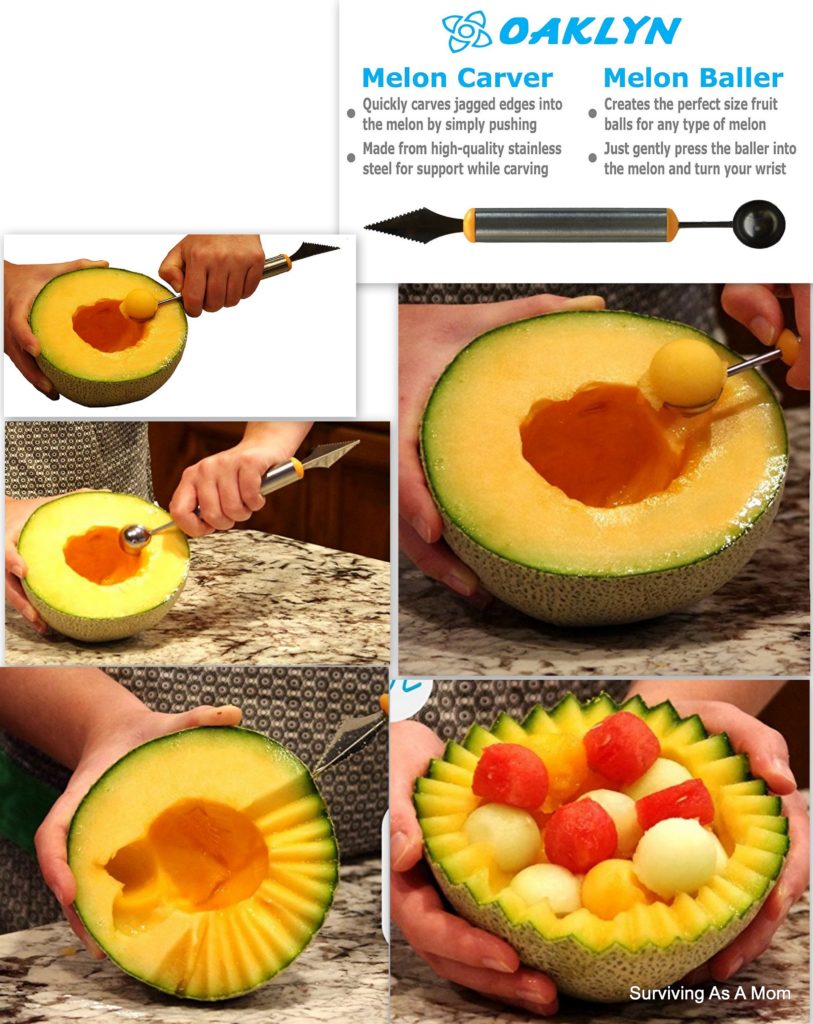 I love to use a melon baller when I am cutting up melon and watermelon.  To have little bite size balls of fruit to pop in my mouth is the best way to eat it.  While I know it doesn't taste any different the fruit just seems better when it is little round balls.  When I take fruit to parties and they are little balls they are so much more festive.  I love the look of a bowl of fruit balls or how they look on small toothpicks or skewers.  Fruit kabobs with small fruit balls gives it such a unique look.  The Oaklyn 2 in 1 Gourmet Melon Baller is made of stainless steel and is a cutter/carver/corer tool.  The melon baller is double sided.  One side is round to create the cute balls and the v-shaped end has jagged teeth to quickly puncture out the sides of melon turning the melon into a fun cute fruit bowl.  I like using the jagged side to cut out wedges of grapefruit without getting the bitter skin.  I also like to use the melon baller when I am making cupcakes to scoop out the middle and add a delicious filling.  The Oaklyn 2 in 1 Gourmet Melon Baller is currently 50% off at $4.99 on Amazon.com.  #oaklyn #melonballer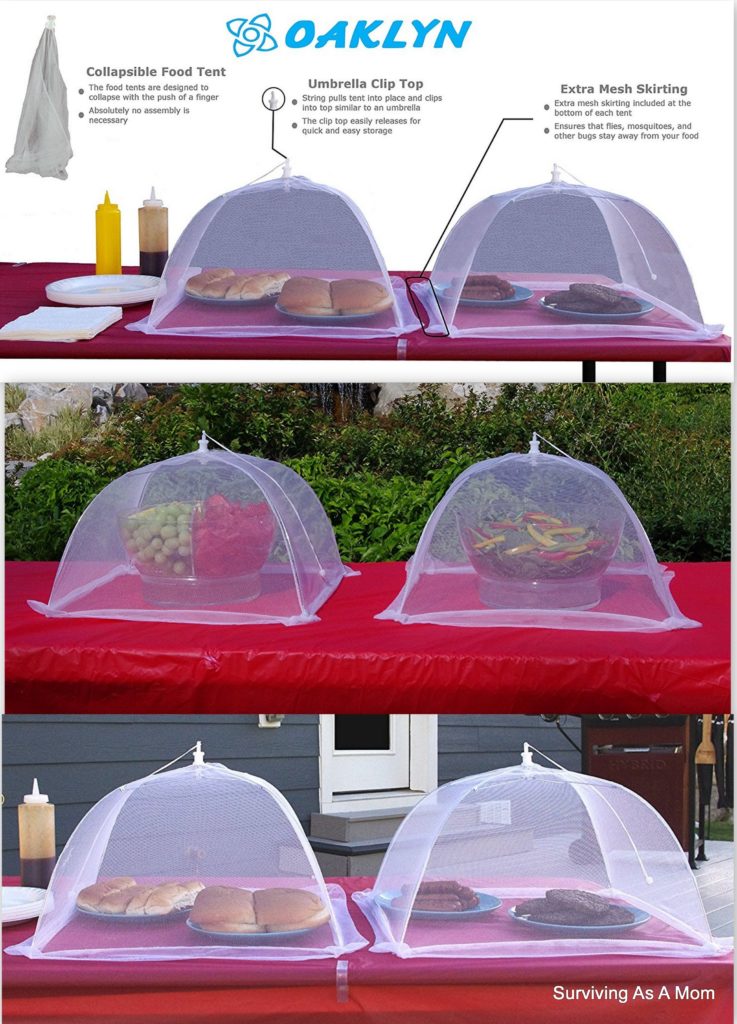 I know when we are eating outside in the summer it is not the easiest to keep flies off the food.  They always seem to migrate toward the plate of burgers or onto the kid's plates when they run off to play.  I was looking for some solution that would be easy and convenient to take with us if we went to the park or camping.  I looked into mesh food tents.  I found the 4-pk of Oaklyn 16in. Collapsible Mesh Food Cover Tents and found my solution.  These open like an umbrella and stay open until you pull the string to close them.  They were big enough to cover a salad bowl or two plates.  B used one of the tents to cover his bowl of bananas to keep the fruit flies off of them.  It did a great job.  Now we have found two uses for the tents.  The Oaklyn 16in. Collapsible Mesh Food Cover Tents 4-pk. is $14.99 on Amazon.com.  #oaklyn #foodcovertent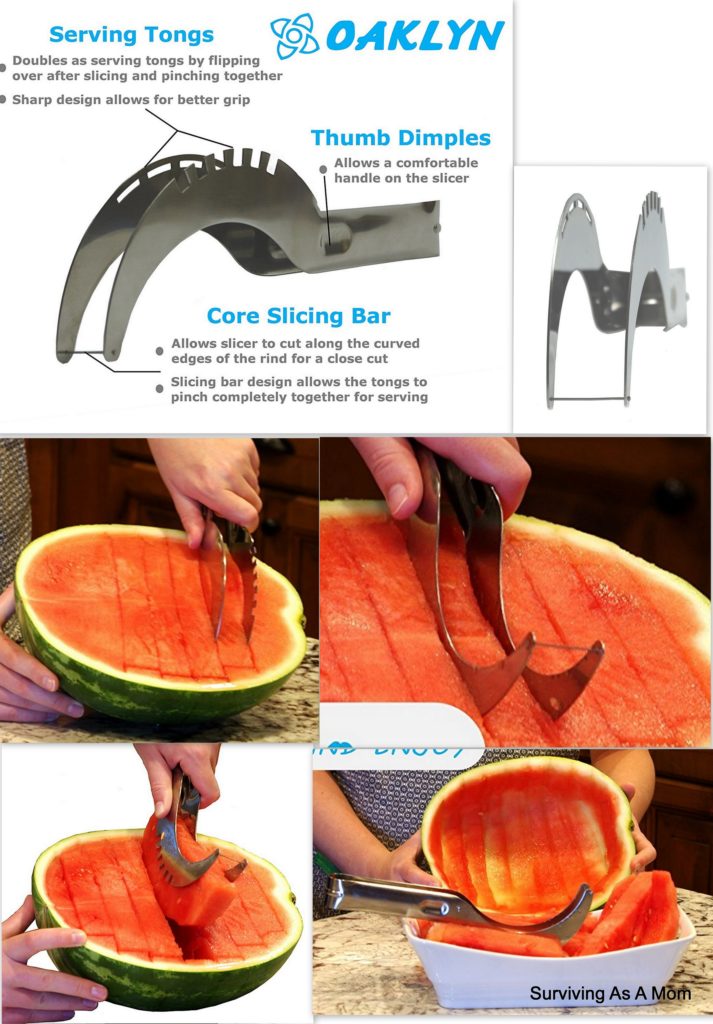 I discovered the watermelon slicer this past summer and have been singing it's praises from the rafters.  The watermelon slicer is so easy to use and prevents such a mess compared to cutting a watermelon.  Instead of having a ton of watermelon rinds to get rid of you have two halves of the melon.  The slicer was easy to clean when you are done, by simply putting it in the dishwasher.  The Oaklyn Watermelon Slicer is $11.99 on Amazon.com.  #oaklyn #watermelonslicer
Disclaimer: I have never claimed to be any great writer. So any mistakes that are made are my fault. Sometimes I mix up names B, S, and P, but I think you can figure out who I am talking about. If you find any grammatical errors just fix it in your mind so it sounds right.