October 17, 2015
Comments Off

on MY Konjac Sponge Activated Charcoal Facial Sponge Review
Disclaimer:  I received this product for free or highly discounted in exchange for an honest review.  All thoughts and opinions expressed are mine.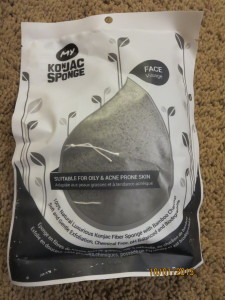 I have never kept it a secret that I still deal with acne as an adult.  I thought you grew out of it after your teenage years.  I did for about a year.  Then it came back and I felt like I was going through puberty all over again.  Pregnancy didn't help with getting rid of the acne.  I was hoping the pregnancy hormones would do something but they didn't.  After I had my hysterectomy last year I was hoping it would again be my magic potion that cleared up all my acne.  Nope because I kept one ovary I still have all the same hormones (I know too much information.).  I have always been willing to try different products to see if I can find my cure all for acne.
I decided to try the MY Konjac Sponge Activated Charcoal Facial Sponge.  I had never heard of it before and had no idea how to use it when I got it.  It was actually pretty simple.  You have to soak it in water until it becomes soft.  After that you can use it with or without cleanser to wash your face.  The biggest thing to remember was not to wring the sponge.  After you are done using it, just hang it to dry.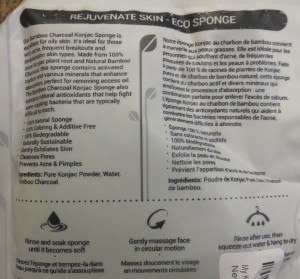 This sponge should last up to 3 months.  It recommends sanitizing it every two weeks and when it begins to breakdown it is time to replace it.  I have been using it for a few days now.  I haven't really noticed a difference, but I am thinking it is going to take a few weeks before I will really notice anything.  Because it is so easy to use I was able to add this to my daily regime no problem.  When I really don't have to change how I do things I can easily add something to my routine and stick with it.  If this becomes my cure all I can totally see me continuing to use this sponge.  I can't wait to see the results.
The MY Konjac Sponge Activated Charcoal Facial Sponge is $9.97 on Amazon.com.  Click here to order MY Konjac Sponge Activated Charcoal Facial Sponge.  #konjacsponge
I was chosen to review the MY Konjac Sponge Activated Charcoal Facial Sponge through Tomoson.com.  Basically how it works is you select items you would like to review and if they chose you, the product is purchased through Amazon.com.  If you have a Prime Account with Amazon shipping is free and a coupon code is provided from the company making the product free or highly discounted.  In exchange they are looking for an honest review on their product.
Disclaimer: I have never claimed to be any great writer. So any mistakes that are made are my fault. Sometimes I mix up names B, S, and P, but I think you can figure out who I am talking about. If you find any grammatical errors just fix it in your mind so it sounds right.