February 16, 2016
Comments Off

on Miss Landson Detangling Brush Review
Disclaimer:  I received this product for free or highly discounted in exchange for an honest review.  All thoughts and opinions expressed are mine.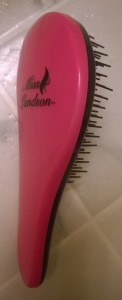 As my hair gets longer it definitely gets tangled so much easier and so much worse than short hair.  When I brush my hair I always start at the bottom and work my way up section by section.  It works and I usually don't have to spend a ton of time on brushing it.  I also use a wide tooth comb to brush my hair before I try to run a brush through it.
I tried the Miss Landson Detangling Brush on my hair.  I do not like brushing my hair with this type of brush before I run a wide tooth comb first.  For this review I only used the Miss Landson Detangling Brush.  The brush did not have beads at the end of the bristles like most brushes.  Without the beads the brush is supposed to be more gentle massaging the scalp as it brushes the hair.  The brush is supposed to help with tangles reducing the amount of hair that is in the brush after brushing your hair.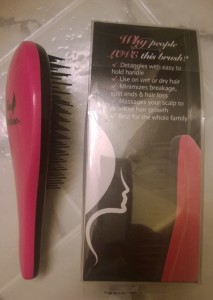 When I used the brush the bristles hurt my scalp.  I actually thought it was painful and did not want to brush my hair with it again.  There were only two strands of hair in the brush when I was done.  I tried the brush on S and P to see what they would say.  S said it hurt and asked me to stop.  P said, "Oww," so I stopped.
The Miss Landson Detangling Brush is only $10.95 on Amazon.com.  Click here to order your Miss Landson Detangling Brush.  #MissLandson
I was chosen to review the Miss Landson Detangling Brush through Tomoson.com.  Basically how it works is you select items you would like to review and if they chose you, the product is purchased through Amazon.com.  If you have a Prime Account with Amazon shipping is free and a coupon code is provided from the company making the product free or highly discounted.  In exchange they are looking for an honest review on their product.
Disclaimer: I have never claimed to be any great writer. So any mistakes that are made are my fault. Sometimes I mix up names B, S, and P, but I think you can figure out who I am talking about. If you find any grammatical errors just fix it in your mind so it sounds right.