Manic Mondays are when I let you know what plans I have for the week.  Some weeks I may be very busy where other weeks there may not be any plans.  Since I now have two little ones to take care of I am going to post weekly goals for myself to try to hold myself accountable.  I have also decided to do a quick recap of what we actually did versus what I thought we were going to do.
This Week
I ended up writing this on Thursday with over half of the week already gone.  I intended to post it yesterday but with 2 sick kids, my plans were changed. so Friday night it is.
Monday-It is New Year's Day.  It was rumored the Target's in our area went 90% on Christmas clearance.  I got up early and went to all four Target's in my area to check it out for myself.  Only two of the four stores went 90% but I went on my normal route and did go to all of them so I was able to check out what was at the two stores that did not go 90%.  I got a ton of great stuff.  I posted pictures of it on my Instagram account and plan if I have time to do a recap on here.
Tuesday-S and I got up early and waited for P to wake up so we could go to one of the Target's that did not go 90% yesterday hoping it went today. It did go and I was able to get everything that I wanted.  The kids were doing so well and P asked to go to another store.  S said he would so we did go to the other Target and found a few more items.
Wednesday-We are just planning on hanging out at home.
Thursday-S has his 8 year well check with the pediatrician in the morning.  He already has one heck of a cold so I am curious if the doctor will say anything.  We had planned on going skating in the afternoon, but plans have changed and we are going to go to a waterpark with my sister and nieces.  B is going to meet us there after he gets off of work for the evening.
Friday-We will be at the waterpark in the morning if P will actually fall asleep in a hotel room and the rest of the day will be lounging at home.
Saturday-There is a build at Home Depot in the morning.  In the evening, we have B's work holiday party.  The kids are going to play at May's and P has been asking every day if today is the day she gets to go.  It's not like we don't see them almost daily but this is different because I am leaving them there.
Sunday-We are going to be hanging out at home.
Last Week Recap
Monday was Christmas so we opened presents in the morning, did presents with B's parents in the afternoon, went to my aunts in the evening and ended the night at B's aunts.  In between all that B went to our neighbors and helped them with a gas leak they had in their house.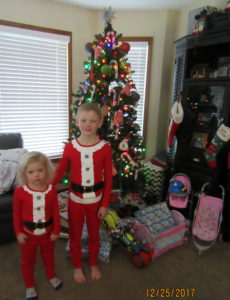 Tuesday B went and helped fix/repair the gas leak at our neighbors.  We hung out at home the whole day just recovering and the kids playing with their new toys.
Wednesday B took the day off of work and we went roller skating. P did amazing and refused to hold my hand anymore and wanted to skate all by herself.  She did amazing.  After a while B and P went to the library downtown to a Frozen event where Elsa and Kristoff were in character and sang songs.  She was not about it and refused to go near them or talk to them.  She fell asleep on the way home and took a 3 hour nap.  She is so much happier when she takes a nap.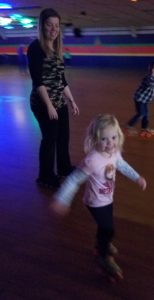 Thursday the kids had dentist appointments first thing in the morning.  They both did great and neither had any cavities.  The rest of the day we hung out at home.  When B got home from work we made a quick run to Target in the evening.  I was checking out the potential clearance.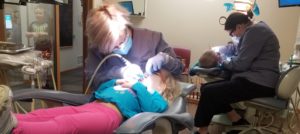 Friday we hung out at home.  When B got home from work we went to his side's cousin Christmas party.  The kids had a ton of fun playing with all the other kids.
Saturday we hung out at home.   In the evening, I went to Target and spent 2 ½ hours walking up and down all the aisles scoping out any possible Christmas clearance finds when it goes 90%.
Sunday we hung out at home during the day and then in the evening we went to my sisters.  The kids got to play with other kids and had a great time.  P took ponies with her to play with.  She let the other kids play with them and when it came to leaving we could only find 2 of them.  We spent over 45 minutes trying to find the other 3 ponies.  B eventually found two of them in my niece's closet under some clothes.  We could not find the last one and had to leave it.  Well she said she was okay with it but the minute we got in the car she checked her bag and cried the whole way home because we didn't have that last pony.
Disclaimer: I have never claimed to be any great writer. So any mistakes that are made are my fault. Sometimes I mix up names B, S, and P, but I think you can figure out who I am talking about. If you find any grammatical errors just fix it in your mind so it sounds right.