September 23, 2013
Comments Off

on Manic Monday
I am trying a new link-up,  with Sami's Shenanigans so let me know if you are visiting from the link-up so I know if I should keep it up!
Manic Mondays are when I let you know what plans I have for the week.  Some weeks I may be very busy where other weeks there may not be any plans.  I have also decided to do a quick recap of what we actually did versus what I thought we were going to do.
This Week
Monday-S and I have a few errands to run and then we are just hanging out at home.  I am hoping to get all the pears cooked and frozen for S's smoothies.
Tuesday-Baby A will be here and we are just hanging out.
Wednesday-Baby A and I will take S to preschool storytime at the library.
Thursday-Baby A will be here and we are going to attempt a trip to Target just the three of us.  When B gets home we will go to the farmer's market.
Friday-I am getting my hair cut in the morning and then I am not sure what we are going to do.
Saturday-Another town over, Waterville, is having their Roche de Boeuf festival, so we will be going to the parade, checking out all of the craft booths and going to the car show.
Sunday-So far it looks like a quiet day at home, but I am sure that will change.
Last Week Recap
Monday we went to get S's 45 Month pictures.  I have been getting S's pictures every 3 months since he turned a year old.  S did great at the pictures and B promised him frozen yogurt as a reward.  Well we went to get S his treat and what do you know, it didn't open till noon and it was only 11:15am.  He did get his frozen yogurt just a few hours later.  Tuesday we watched Baby A and hung out all day at home.  Wednesday we went to storytime as a threesome.  Baby A was a little cranky so we spent most of the time outside so we didn't disturb others.  S never even knew because he was in class the whole time.  In the afternoon, S and I went walking around with my mom looking for the historical scavenger hunt in houses.  Thursday I did not make it to Target and did not feel like going to the farmer's market so B and S went without me.  B brought home some peaches so I could make him one last peach pie a year.  Later S and I went to my mom's so S could play with F (S's cousin).  Friday S and I ran a bunch of errands in the morning while B slept.  Yup one of those stores we ran to was Target.  I told S we had to go there because we ran out of ketchup (which we did), and could only get it there.  We got ketchup and so much more.  Saturday we went to Harrison Day Rally parade and then walked around the main street looking at vendors.  We finished the afternoon off with a trip to the frozen yogurt store.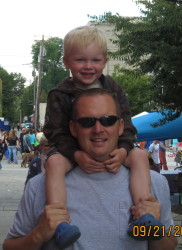 S spent the rest of the day playing outside in the sandbox (no joke).  I took advantage of the time and went to the three other Targets in my area.  Saturday night S and B had a little campfire in the backyard and roasted brats for dinner along with marshmallows for dessert.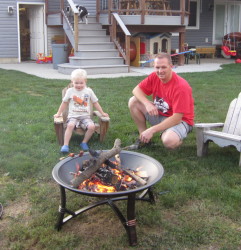 Sunday B spent the whole day over at his parents roofing their new garage.  S and I spent a good portion of the day over there, came home for a little break and then went back over.
Overall, it was a good week.  Some days were slow which I enjoyed and some days were really busy.  This next week looks to be much of the same.
Last Week
Monday-We are going to try and get S's Halloween/Fall pictures done again this morning.  The rest of the day has no plans, but things always seem to come up.
Tuesday-We are watching Baby A and B will be heading to work later in the day.
Wednesday-Baby A and I will be taking S to storytime again.  Let's hope Baby A enjoys the library as much as he did last week.
Thursday-I think S and I are going to try and take Baby A to Target.  Later we are going to head up to the farmer's market for some apple cider, peaches and pears.
Friday-The only thing I am planning on doing is going uptown to watch the boys create there sidewalk chalk art.
Saturday-Today is Harris Rally Day.  It is a big thing in Perrysburg.  We will go to the parade in the morning and then walk around uptown to see what freebies we can get.  We will also vote on the sidewalk chalk art done at the library.  Of course we will be voting for the boys!
Sunday-No plans as of right now, I am sure that will change.
Disclaimer: I have never claimed to be any great writer. So any mistakes that are made are my fault. Sometimes I mix up names B, S, and P, but I think you can figure out who I am talking about. If you find any grammatical errors just fix it in your mind so it sounds right.