Manic Mondays are when I let you know what plans I have for the week.  Some weeks I may be very busy where other weeks there may not be any plans.  Since I now have two little ones to take care of I am going to post weekly goals for myself to try to hold myself accountable.  I have also decided to do a quick recap of what we actually did versus what I thought we were going to do.
This Week
I have been seriously neglecting the blog the past few days.  I was consumed with finishing S's pew marker for his first communion and working on decorations for my sister's baby shower that is fast approaching.  I have literally spent hours and hour's hand sewing the pew marker.  Glue is just not for me.  This week is going to be about completing stuff for my sister's baby shower.
Monday-P and I hung out at home during the day.  I worked on some decorations and got one completed.  Only 9 million more to go. (Just kidding!)  S needs to finish his Valentine's for his class on Wednesday.
Tuesday-S has catechism and then piano lessons.  I am going to work on getting caught up on reviews and the blog.  P will just be hanging out playing.
Wednesday-P has story time in the morning, and then we have to run a few errands.  Otherwise we are just going to be home.  No special plans for Valentine's Day in this house.  S has his Valentine's Day party at school, which he is excited about.
Thursday-We are just hanging out at home.  Hopefully I will get a few more things done for my sister's shower.
Friday-B will be home; maybe we will run down to the apple orchard and get more apples.  Otherwise another day of hanging out at home.
Saturday-B and I are going to a concert at night.  We are going to see Little Big Town.  I am excited to go and B forgot we were even seeing them. (I guess you know who the bigger concert fan is!)
Sunday-As of now we are just hanging out at home.  Plans usually change but nothing is on the calendar as of now.
Last Week Recap
Monday was pretty quiet at home.  Not a whole lot happened.  We just hung out at home.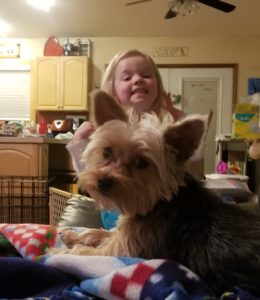 Tuesday was the first night of B being back on swing shift.  I had the kids all by myself (which I am used to) but had to do the running for S's catechism and piano with P in tow.  We ran to the craft store while he was at piano lessons.  It was an effort to keep P awake in the car.  By that time of night it is so hard to keep her awake for even 5 minutes in the car.
Wednesday we got a lot of snow in the morning.  While they didn't cancel school or delay school for S (they totally should have, we were the only district to not delay or cancel.)  I decided to skip storytime because by that point we had about 2-3 inches on the ground.  I just didn't want to deal with driving in the snow or getting all bundled up.  We hung out at home the rest of the day.
Thursday I was working on decorations until I got a text from my neighbor.  I was making a gender reveal cake and had to find out the sex of the baby off of her voicemail.  I had two hours to make and decorate the cake before the big reveal.  I spent the afternoon making and frosting the cake.  We went over to her house for a gender reveal party.  It was the first one I have ever been too.  Even though I knew the gender it was still fun to watch everyone's reactions.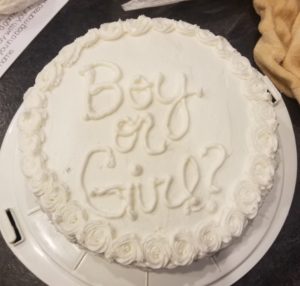 Friday we hung out at home.  S had a snow day so he was home for the day.  We took the kids sledding in the afternoon which they both really loved.  Of course it ended with S running into someone's boot, and P sliding under a car.  Everyone was fine in the end just a few marks and bruises.  I finished putting together S's pew marker and sewing it all together.  I worked on it long after everyone went to bed, including B.
Saturday we went to Winterfest in the morning which was a bust.  We go to specifically watch all the ice carvers make their sculptures.  This year they didn't have any ice carvers.  It was only premade ice sculptures.  S went to his friends to have a snow ball fight while we ran some errands.  We went home and I worked on more baby shower stuff.  For dinner we went to the neighbors to have jambalaya.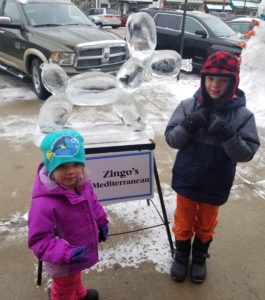 Sunday we went to church in the morning.  It was a special day for the 2nd graders who would be making their first communion in May.  We were all surprised when we went outside to get in the car and everything was covered in ice.  It was slow going to church.  I even checked to make sure it wasn't cancelled.  Many churches had cancelled.  That would be my luck I get us all ready and in the car on time and it would be cancelled.  Thankfully it wasn't and we made it there with time to spare.  In the afternoon, I worked on my sister's baby shower decorations for hours.  I then made the Hawaiian lei braid for S's pew marker.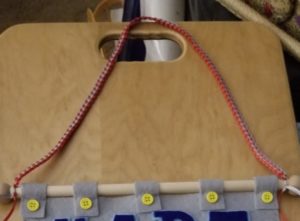 Last Week
It is going to be a quiet, boring week around here.  Just the kind that I like.
Monday-We have no plans so we are just going to hang out at home.  Unfortunately, today is the start of a cold front and the tease of spring we had is gone.
Tuesday-S has catechism and piano after school.  I am going to run so errands while he is at piano lessons.
Wednesday-P has story time in the morning and then we are meeting someone in the afternoon that I am selling items of the local garage sale Facebook page.
Thursday-I could make a run to Target with P today but there is not anything that I am looking at.  I don't think we will make more runs to Target until after Valentine's Day to do the 90% Valentine's clearance.  I guess it will be another day at home.
Friday-Wait a repeat of the other days this week.  We will just be hanging out at home.
Saturday-We have a Home Depot build in the morning and then we are surprising the kids with Disney on Ice in the afternoon.  P is going to lose her stuff when she
Sunday-B is home today.  I can't think of any plans we have but I am sure something will come up.
Disclaimer: I have never claimed to be any great writer. So any mistakes that are made are my fault. Sometimes I mix up names B, S, and P, but I think you can figure out who I am talking about. If you find any grammatical errors just fix it in your mind so it sounds right.