Manic Mondays are when I let you know what plans I have for the week.  Some weeks I may be very busy where other weeks there may not be any plans.  Since I now have two little ones to take care of I am going to post weekly goals for myself to try to hold myself accountable.  I have also decided to do a quick recap of what we actually did versus what I thought we were going to do.
This Week
Monday-This is going to be the warmest day of the week so we are going to try to go to the Lights Before Christmas at the zoo after he gets home from work.
Tuesday-S has catechism and piano lessons.  P and I are just hanging out at home.
Wednesday-P and I are again hanging out at home during the day.  I am doing a painting class in the evening with my sister.
Thursday-I think P and I are going to work on making Christmas and birthday cookies.  The sugar cookies I make freeze wonderfully so I am going to make them now and then we will probably frost them in the next two weeks.
Friday-It is going to be a quiet day around the house getting ready for S's birthday.
Saturday-I am watching my nieces all night and the kids are so excited.  I have to make S's b-day cake which is no big deal.  I have done it before with the extra kiddos and they all just help or watch.
Sunday-We are going to celebrate S's birthday because B may get stuck at work tomorrow which is his actual birthday.
Last Week Recap
Monday was just a day of hanging out at home.  It was Cyber Monday so I was checking all the deals online.   I did find a better deal today at Kohl's and was mad because I bought a few things yesterday.  I wanted to use my Kohl's cash before I forgot and in the rush did not think about waiting till Monday to use it.
Tuesday S had his catechism class and piano lessons afterward.  As soon as he got home from piano lessons he had to show P that he learned how to play "Jingle Bells."  "Jingle Bells" is P's favorite Christmas song this year.  She is always asking me to sing with her so she can learn all the words.
Wednesday when S got home from school we headed to Dave & Buster's to celebrate him getting pink again.  P fell sleep on the way so I wasn't sure she was going to wake up and play.  To my surprise she perked right up and was all about the games.  We usually split up and I take P while B takes S.  P and I went to play games and won big time.  She was playing a game and won 1,000 tickets and a free spin.  On that free spin she won 2,000 more tickets.  Literally tons of really loud bells went off.  P got to get her Pinkie Pie My Little Pony stuffed animal that she really wanted and a My Little Pony blind bag.  S had fun playing games but when it came to picking a prize he decided to not get anything this time.
Thursday P and I hung out at home during the day.  When S got home from school we went to pick up our Christmas pictures from the store.  They turned out great and I tried to scan them when we got home but the scanner/printer would not work to either computer.  I also was up till 3am trying to get the computer to get online so I could print a letter from "Chippy the Elf."  I could not get it to connect to the internet.  I could not get my laptop to connect to the printer wireless to print so I was at a loss either way.  Then about 2:30 I thought why don't I just retype the letter on the computer.  It won't be the same stationary as last year but it will be good enough.  It's a stupid elf it doesn't have to be perfect
Friday morning S got up first and discovered the letter, elf, and treat from Chippy.  He didn't notice it was different stationary and was just excited the elf came back.  My OCD of traditions always being the same was not really a big deal because the kids were just happy Chippy came back they didn't care about what the letter looked like.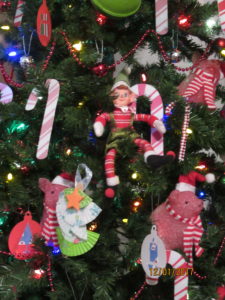 Saturday B had to work so the kids and I got up and went to do a build at Home Depot.  The kids did great building there gingerbread houses.  Afterward we drove down to the orchard I like to get apples and cider.  I have been eating 2-3 apples every day for either lunch or dinner.  I eat the apples with peanut butter and caramel that I mix together.  When I mix them together it almost give it a nougat texture.  S helped me clean up the island and kitchen table so we could get the dinner train out for them.  S has been asking for a while and I don't think P even remembers it.  P loved it and was more than happy to let S drive it around.  They sat there and played with it for over an hour.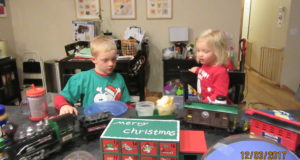 Sunday I did not feel that well in the morning because I have P's cold, so I slept in a little.  We went to the Perrysburg Christmas parade in the afternoon.  The kids loved it.  Afterward we went to Costco.  P fell asleep on the way home and took over a two hour nap.  I woke her up because I do not know how long she would have slept.  She was out cold.  S helped clean up the garage with B while P slept.  The rest of the night we hung out at home.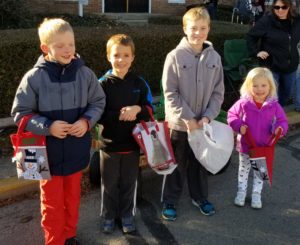 Last Week
Monday-We have no plans and are just hanging out at home during the day and night.
Tuesday-S has a field trip during school today.  He is so excited for it.  After school he has catechism and then piano lessons.  P and I are just hanging out at home.  I think P and I may ride bikes to the library because it is supposed to be in the 60's.
Wednesday-S informed me that we are going to Dave & Busters after school because he got on pink (behavior chart) last Tuesday.  So I guess we are going to make an effort to try to go.
Thursday-Not a whole lot going on.  We are just going to be hanging out at home.
Friday-Today is December 1st and that means "Chippy" the elf is back.  The elf usually brings a letter and some type of small gift every day if they are good.
Saturday-There is a build in the morning at Home Depot for the kids.  I guess as of Monday B is going to help my sister move.  She has to line up others to help or it will be a no go.  B has a bad back and I don't need him getting hurt.  The kids and I will just be hanging out at home.
Sunday-We are just going to be hanging out at home.
Disclaimer: I have never claimed to be any great writer. So any mistakes that are made are my fault. Sometimes I mix up names B, S, and P, but I think you can figure out who I am talking about. If you find any grammatical errors just fix it in your mind so it sounds right.