November 13, 2017
Comments Off

on Manic Monday
Manic Mondays are when I let you know what plans I have for the week.  Some weeks I may be very busy where other weeks there may not be any plans.  Since I now have two little ones to take care of I am going to post weekly goals for myself to try to hold myself accountable.  I have also decided to do a quick recap of what we actually did versus what I thought we were going to do.
This Week
Monday-We have S's Reconciliation (Confession for those that didn't know what Reconciliation was) in the evening.  S is going to have to wear a button-up shirt, while I am making B wear a button-up too.  Of course I am going to also dress up.  I mean we are going to church.  P is going to hang out with Grandma G and Grandpa Bob.
Tuesday-S does not have catechism because of last night.  It works out well because S has a skating fundraiser party for PTO.  Because initially he had catechism he was not going to be able to go, since they cancelled the class he had a chance.  That was until I remembered he had piano lessons.  Well I worked it out with the piano teacher and S is going to skip his lessons and just get a credit for December.
Wednesday-I have a doctor appt in the afternoon but other than that we are just going to be at home.
Thursday-I signed P up for a class, Totally Toddler-The Art of Mess at a local library.  I have no idea what the class is about but hopefully she will have fun.  Afterward we are going to swing by my sister's.  I have some clothes and shoes for my niece.
Friday-I am getting my haircut in the morning.  The rest of the day we are just hanging out at home.
Saturday-As of now we do not have plans for today but I am sure that will change.
Sunday-I scheduled our family pictures for after naptime.  I think if everything goes well we may go out to eat afterward as a treat for the kids.
Last Week Recap
Monday did not have a lot going on and we just hung out at home.
Tuesday we went out to see my Aunt and Uncle in the morning.  We haven't really spent any time with them since the beginning of September.  Since S had the day off of school because of elections, it seemed to be the perfect time.  I only had intentions of staying out there for a few hours.  Well four hours later we had to go because P was past her naptime and fading fast.  She never did end up taking a nap.  S had catechism and piano lessons in the evening.
Wednesday P ended up not having her playdate.  It looks like they are no longer doing them at least for the winter time.  We hung out at home for the day.
Thursday P and I ran to Walgreens to see if we could find any Halloween clearance Tsum Tsum Lipsmakers.  Sadly we did not.  I had B stop at the two he passes on the way home and they didn't have any either.  Bummer.
Friday we hung out at home.  When B got home from work we got the kids ready and they went to play at Grandma G and Grandpa Bob's so B and I could go shopping kid-free.  We did hit up another Walgreens and I found 2 Tsum Tsum Lipsmackers!  We then went to Kohl's, Disney Store, and JCPenney's.  I had coupons to use and we needed to find a shirt for B to go with the rest of us for our Christmas family pictures.  We finally found a shirt and now we just need to schedule when we are going to get our pictures taken.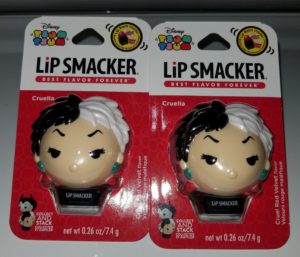 Saturday was just a day to hang out at home.  B ran some errands while P was taking a nap.  I got all of the laundry done for the kids and me.  While P was sleeping I folded it all and had it put away by the end of the night.  P and I worked on his turkey that he had to "hide."  I traced the outside shape to help S, but he did everything else by himself.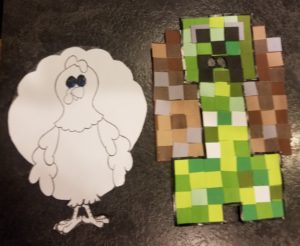 Sunday we hung out at home in the morning.  After P's nap we went to Baby L's 2nd birthday party.  P was in love with the babies that Baby L got and could not stop playing with them.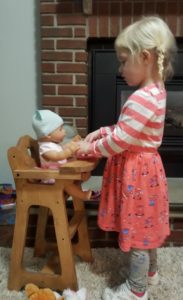 Last Week
Monday-It is going to be a quiet day for P and me.  We are just hanging out at home.  B and I need to make a trip to the AT&T store.  I have been disputing my cable bill for the past three months.  I have done tons of time on the phone with them and online chats.  Now it is to the point where they have told me to go into the store to prove everything and they will take care of my bill.
Tuesday-S does not have school because of the elections.  Since the schools are voting locations they do not have school.  We are going to go visit my aunt and uncle in the morning.  It has been a while since we have seen them and the kids have had time to play with them. S has catechism after school and piano lessons right after.
Wednesday-S has her playgroup in the morning.  I am not sure if they are going to keep doing playdates during the winter.  Guess we will have to wait and see what happens.  S has a pizza fundraiser so it looks like we are going to be having pizza for dinner.
Thursday-We don't have any plans so we are just hanging out at home.
Friday-Another day of no plans so we are just going to hang out at home.
Saturday-As of now we don't have any plans but that can always change.
Sunday-We are going to Baby L's second birthday.  I know the kids are excited.
Disclaimer: I have never claimed to be any great writer. So any mistakes that are made are my fault. Sometimes I mix up names B, S, and P, but I think you can figure out who I am talking about. If you find any grammatical errors just fix it in your mind so it sounds right.