November 6, 2017
Comments Off

on Manic Monday
Manic Mondays are when I let you know what plans I have for the week.  Some weeks I may be very busy where other weeks there may not be any plans.  Since I now have two little ones to take care of I am going to post weekly goals for myself to try to hold myself accountable.  I have also decided to do a quick recap of what we actually did versus what I thought we were going to do.
This Week
Monday-It is going to be a quiet day for P and me.  We are just hanging out at home.  B and I need to make a trip to the AT&T store.  I have been disputing my cable bill for the past three months.  I have done tons of time on the phone with them and online chats.  Now it is to the point where they have told me to go into the store to prove everything and they will take care of my bill.
Tuesday-S does not have school because of the elections.  Since the schools are voting locations they do not have school.  We are going to go visit my aunt and uncle in the morning.  It has been a while since we have seen them and the kids have had time to play with them.  S has catechism after school and piano lessons right after.
Wednesday-S has her playgroup in the morning.  I am not sure if they are going to keep doing playdates during the winter.  Guess we will have to wait and see what happens.  S has a pizza fundraiser so it looks like we are going to be having pizza for dinner.
Thursday-We don't have any plans so we are just hanging out at home.
Friday-Another day of no plans so we are just going to hang out at home.
Saturday-As of now we don't have any plans but that can always change.
Sunday-We are going to Baby L's second birthday.  I know the kids are excited.
Last Week Recap
Monday P and I went trick-or-treating to the businesses in Maumee after her nap (which she did not take, but did rest).  She had a blast and it was really fun.  She did so good and never once complain about being cold.
Tuesday I woke P up early from her nap so we could go see S at his school Halloween parade.  She was really upset when it was time to leave and she realized S was not going home with us.  P didn't understand that he had to stay at school.  We ran to get cider and apples afterward since we had enough time before S got home from school.  When S got home from school we got everything ready and then went to my sister's to trick-or-treat.  I like that they have sidewalks and streetlights so that I do not have to worry so much about flashlights and walking in the grass.  The kids had so much fun together and then P was a hoot afterward giving everyone a show of her Frozen Let It Go song and dance.  It is hilarious.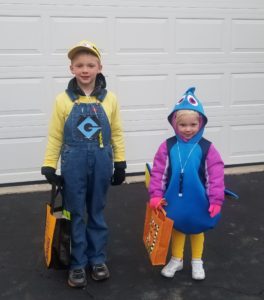 Wednesday we did not have play group.  P and I went to Target and Meijer looking for princess dresses.  We found what she wanted Rapunzel, Elena, Anna, and the most important ELSA!  The rest of the day we hung out at home.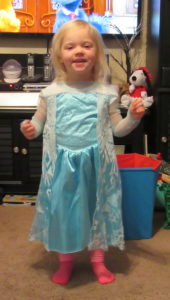 Thursday we hung out at home.  Not a whole lot was going on.  We did manage to get all four of us into the playroom and purge a ton of toys just in time for S's birthday and Christmas.
Friday B had to work late so it was just me and the kids.  I went for a walk after P's nap with May and then we played in the clean and organized playroom.  I did a simple dinner and we waited for B to come home.
Saturday we went to do a build at Home Depot in the morning.  The rest of the day we hung out at home.  B worked in the garage cleaning up and getting ready to winterize his boat.  P literally played with Play-Doh all day.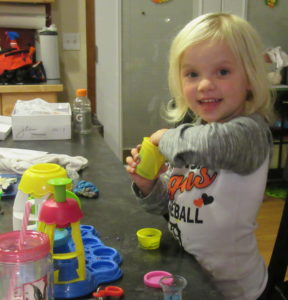 Sunday was a little crazy because of the time change.  They both got up early which made for a long day.  I went to all four of the Targets because the Halloween went 90%.  I was basically shopping for clothes for them and not so much decorations.  I only got three decorations but did find a ton of clothes.  The rest of the day we hung out at home and enjoyed the thunderstorms.  We made sure to get the kids ready and in bed by 8pm because of the time change.
Last Week
Monday I am going to try to take P trick-or-treating to the Maumee businesses in the afternoon.  I would normally take S but since he gets out of school later we would never have enough time.
Tuesday is Halloween.  There is no catechism or piano lessons.  We are going to go to my sister's so the kids can trick-or-treat with their cousins.
Wednesday I am not sure if we have play group.  I know that P and I are going to Target and Meijer as soon as S gets on the bus to look for an Elsa costume.  She wants HO HO HO to bring her one so I am hoping to get one half off.  Somehow I have to get it without her seeing.  Plus if we can find an Elena costume or Anna we will get those too.
Thursday Based on the weather I am planning on taking down the little bit of Halloween decorations we have outside down.  If it is really nice I may try to hang up some Christmas decorations outside when S gets home from school.  Decorating outside is all going to depend on the weather.
Friday I am sure I will be making a run to Target to check and see if the Halloween went 70% off.
Saturday If I didn't run yesterday to Target with P I will run today by myself since B is off.  Otherwise we don't have any plans. Maybe we will get out some Christmas decorations.  Yup you heard me correctly, CHRISTMAS!  I love to decorate.  We won't put up the tree yet but who says we can't decorate the house.
Sunday If the Target clearance went 70% of Friday I will run today and see if it went 90%.  I am betting that it will go 90% on Monday morning.  That is usually how it works.
Disclaimer: I have never claimed to be any great writer. So any mistakes that are made are my fault. Sometimes I mix up names B, S, and P, but I think you can figure out who I am talking about. If you find any grammatical errors just fix it in your mind so it sounds right.