April 26, 2017
Comments Off

on Manic Monday
Manic Mondays are when I let you know what plans I have for the week.  Some weeks I may be very busy where other weeks there may not be any plans.  Since I now have two little ones to take care of I am going to post weekly goals for myself to try to hold myself accountable.  I have also decided to do a quick recap of what we actually did versus what I thought we were going to do.
So I was working on this last night (Monday).  Thankfully S was sleeping and had not woken up with any headaches.  P on the other hand decided to wake up a few times crying so I gave up on doing this post and decided to call it a night.  These kids are just not cooperating with me doing these posts at night after they go to bed.
This Week
Monday-We are hanging out at home. P and I are going to chill at home.  Update: S had a really bad headache and ended up staying home from school.  I took him to the doctors and he said to switch S to Motrin from Tylenol and to up his allergy medicine.  Since his headaches are on the sides of his head and not the front and back he is thinking more viral.  I made S stay calm and not do much to keep his headache gone.
Tuesday-P has her playgroup in the morning.  S has catechism after school and soccer practice right after.  As long as he does not have a headache he will be going to school. Update-We ended up watching Baby Max instead of going to P's playgroup.  P had a ton of fun watching Baby Max and holding him.
Wednesday-We are hanging out at home during the day.  It is going to be a beautiful day, with a high of 80°.  S has baseball practice in the evening after dinner.
Thursday-Thankfully we have nothing going on so we are going to hang out at home.  I am sure S is going to want some of his friends to come over and play.  As long as it is not raining and they can play outside I am okay with it.  B and I are going to a Jason Aldean concert in the evening.
Friday-B took some vacation time and has the weekend off.  I have a doctor appointment in the morning.  No other plans for the rest of the day.
Saturday-S has a soccer game early in the morning.  Thankfully B is off or I was going to leave P with May because she did not enjoy the soccer game last week.  They are having a Walleye Festival this weekend so we are going to go to the parade after S's soccer game.  S has baseball practice in the afternoon.  We have a First Communion to go to right after S's baseball practice.  The kids will be happy to play with their cousins.
Sunday-I am betting that S will need a recovery day from the week so we will just be hanging out at home.  Depending on the weather will determine what happens.
Last Week Recap
Monday P and I hung out at home while S was at school.
Tuesday P and I went to her playgroup at the park.  She had a great time running around with all of the kids and actually getting fresh air.  S went to catechism and then soccer afterward.  I went with him and read my book while he was at practice.
Wednesday we hung out at home.  I was diligently watching Facebook and Instagram to check out what Easter clearance everyone was buying at Target.  We were scheduled to get thunderstorms in the afternoon which I was hoping would get S's baseball practice cancelled.  It was 5-5:30 and we were outside playing.  We could hear thunder in the area but his practice was still not cancelled.  Finally as we were getting to leave practice was cancelled.  I don't know who was happier, S or me.
Thursday it was nice out.  The kids finally got to wear shorts!  P had an appointment at the dermatologist for her KP.  It was flaring up.  In the afternoon after S was home from school and P was up we finally took down the Easter eggs from the trees outside.  It started to rain so we all ran inside.  P asked if she could go back outside and play in the rain.  I let her and she had a ball.  It started to downpour, thunder and lightning, and high winds.  She could have cared less and kept running around in the rain.  Now she is all about splashing in any water that she can.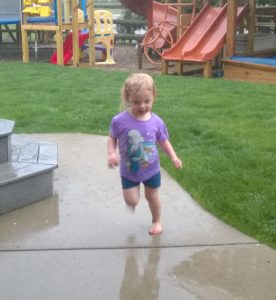 Friday not a whole lot was going on and we hung out around the house.  S and I were in his bedroom and when we came back out we couldn't find P.  The little sneak had grabbed my Nook and was hiding under the covers so she could play it.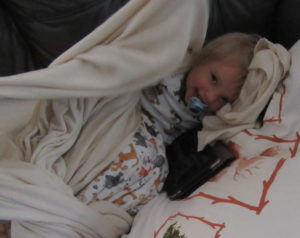 Saturday P and I took S to his first soccer game of the season.  It was pretty chilly out and they both had hats and gloves on.  Unfortunately, the hat I grabbed for S was too small and it didn't even cover his ears.  He looked so silly I could not help but laugh at him.  He didn't care and wore it the entire game.  Afterward S had a birthday party right afterward at a local movie theater.  They watched Sing.  He had fun.  A few hours later I picked him up.  He came home ate lunch and then had to go to baseball practice.  After practice we picked P up at their grandparents.  The kids ran around for a while and then we went home and crashed on the couch for the rest of the night.  S had a headache and both of them were tuckered out.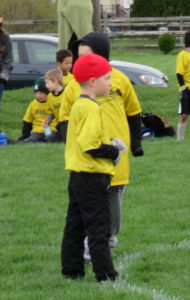 Sunday S had a splitting headache so we hung out at home.  When B woke up I ran to Target and found a bunch of Easter clearance at 90% off.  I really refrained and only bought a bit.  After I put P down for her nap I ran to two more Targets.  S's headache finally subsided so I let him play outside but he was not allowed to jump on the trampoline.  He had some neighborhood friends over.  Originally S was just going to ride bikes with them around the cul-de-sac and before I knew it I had all of these kids in the backyard playing.  It wasn't what I signed up for.  I was thinking P and I would play in the backyard while S was out riding his bike.   We played outside until dinner time and then hung out inside for the rest of the night.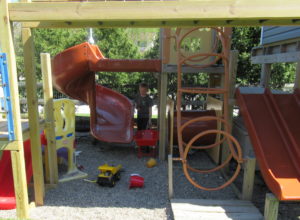 Last Week
Monday-S is back to school.  P and I will be hanging out at home recovering from the weekend.  I am hoping to finish washing all the kids summer clothes I got out, and fold them.
Tuesday-P has her playgroup in the morning.  I want to go through the kids clothes and get all of the stuff they have grown out of out of there dressers so I can get all the summer clothes put away.  This takes some time and I am thankful it only happens twice a year.  This is the rare time when S doesn't have to put his own clothes away.   S has catechism after school and then will go straight to soccer practice afterward.
Wednesday-We will be hanging out at home during the day.  We are supposed to get some really good thunderstorms, depending on if that happens will determine if S has baseball practice at night.
Thursday-P has a dermatologist appt. in the morning for her KP.  It has flared up I am hoping to get it taken care of before it gets any worse.  S is going to be thankful he has nothing going on after school and can just hang out at home.
Friday-It looks like a quiet day at home for P and me while S is at school.  No plans for the evening so we will just hang out at home.
Saturday-S has his first soccer game of the season.  As of Monday we did not get a schedule yet so who knows what time it will be.  S was also invited to a birthday party at a local movie theater that is 9:30a-1p.  Depending on the time of his game will determine if he gets to go to the party.
Sunday-Just a day of hanging out at home.
Disclaimer: I have never claimed to be any great writer. So any mistakes that are made are my fault. Sometimes I mix up names B, S, and P, but I think you can figure out who I am talking about. If you find any grammatical errors just fix it in your mind so it sounds right.