April 18, 2017
Comments Off

on Manic Monday
Manic Mondays are when I let you know what plans I have for the week.  Some weeks I may be very busy where other weeks there may not be any plans.  Since I now have two little ones to take care of I am going to post weekly goals for myself to try to hold myself accountable.  I have also decided to do a quick recap of what we actually did versus what I thought we were going to do.
This Week
Monday-S is back to school.  P and I will be hanging out at home recovering from the weekend.  I am hoping to finish washing all the kids summer clothes I got out, and fold them.
Tuesday-P has her playgroup in the morning.  I want to go through the kids clothes and get all of the stuff they have grown out of out of there dressers so I can get all the summer clothes put away.  This takes some time and I am thankful it only happens twice a year.  This is the rare time when S doesn't have to put his own clothes away.   S has catechism after school and then will go straight to soccer practice afterward.
Wednesday-We will be hanging out at home during the day.  We are supposed to get some really good thunderstorms, depending on if that happens will determine if S has baseball practice at night.
Thursday-P has a dermatologist appt. in the morning for her KP.  It has flared up I am hoping to get it taken care of before it gets any worse.  S is going to be thankful he has nothing going on after school and can just hang out at home.
Friday-It looks like a quiet day at home for P and me while S is at school.  No plans for the evening so we will just hang out at home.
Saturday-S has his first soccer game of the season.  As of Monday we did not get a schedule yet so who knows what time it will be.  S was also invited to a birthday party at a local movie theater that is 9:30a-1p.  Depending on the time of his game will determine if he gets to go to the party.
Sunday-Just a day of hanging out at home.
Last Week Recap
Monday we hung out at home and got ready for a really busy week.  I did get a chance to run to JCPenney's to pick up the kids Easter pics.
Tuesday was a busy day.  We went to P's first "friend" birthday party with her playgroup.  She had a blast playing with all of the kids and I had fun talking to the other moms.  When S got home from school it was run, run, run for the rest of the night.  He had to eat a quick snack then it was onto catechism.  After catechism he went to the second half of his first soccer practice for the spring season.  By the time we got home he was exhausted and was done for the night.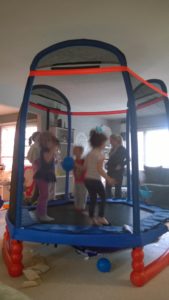 Wednesday P and I hung out at home during the day.  S had baseball practice from 6:30p-8p.  He has been going to bed early so it was going to be a challenge for him to last the entire practice and not have a meltdown.  Much to my surprise he did great and I played games on my phone and read.
Thursday P and I went to Costco to get all the fruit for the dinner on Friday.  We also got the Easter pics of the kids so I can get them out in the mail.  S was happy to have a night at home.   B and I worked on getting as much food prep ready for tomorrow that we could.  We got all the fruit ready and then some.
Friday we hung out at home getting ready for Easter dinner with my family.  I managed to get the kids Easter pics sent out in the mail.  I was so happy to get them out before Easter this year!  We had a great time in the evening eating dinner, watching the kids playing together and having an Easter egg hunt for the kids.
Saturday was a super nice day.  It got into the low 80s and we enjoyed the beautiful day outside.  After P got up from her nap we went to the helicopter egg drop that a local church does every year.  We have been going to it for over five years now.  S loves it and P is just now getting it.  We had a great time.  When we got home the kids played some more outside and then we decorated eggs.  Both of them loved getting to choose what colors to put on their eggs.  The kids finally went to sleep waiting for the Easter bunny to come.
Sunday S got up super early to check out his Easter basket.  P was not far behind.  After the kids checked out the loot they got in there baskets I went back to bed for a bit while B made the kids pancakes.  About 9ish we took the kids outside to find their eggs the Easter bunny hid for them.  P had Easter eggs, while S got something different.  This year he had to find blocks.  In each block he had to dig through the sand to see if he got an Emerald, Ruby, Diamond, Sapphire, Silver, Gold, or a mineral rock.  He had 14 different blocks and after he went through all of them he did not find any treasures but got some really cool mineral rocks.  P loved all the Tsum Tsums that were in her eggs.  We all got ready and then went to my aunts for lunch and another egg hunt.  The kids had fun hanging out with their cousins and then of course hunting for eggs.  We left early because P needed her nap.  After P woke up from her nap Grandma and Grandpa came over to hang out for a bit with them and watch all the new tricks they can do on the trampoline now.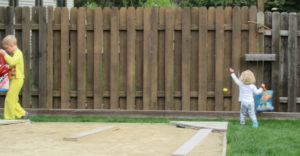 Last Week
This Week's Goal
Monday-S has school.  While he is at school P and I will be hanging out at home.  At some point I hope to go and pick up the kids Easter pics from JCPenney.
Tuesday-S has Muffins for Moms in the morning at school.  When I asked him if he wanted to go he wasn't sure.  We will have to talk about that.  P has her playgroup in the morning.  Instead of our regular playgroup one of the kids is having her birthday party.  S has catechism after school.  We also got a last minute email to let us know that S's soccer practices start tonight.  They are from 6-7pm.  He has catechism till 6:15pm so he can only go for the last half hour of each practice.
Wednesday-S has baseball practice in the evening from 6:30-8pm.  It is going to be tough to get him to last until 8pm when practice is over.  Sunday night he was in bed by 8:15pm and out like a light.
Thursday-We are hanging out at home today.
Friday-S has the day off school.  It is Good Friday.  We try to go to the annual animal Easter egg hunt at the zoo.  The kids love to watch the animals look for eggs and baskets.  We are going to try to do an Easter dinner either tonight or tomorrow.  It just depends when my nephews are going to be in town.
Saturday-S has his baseball practice in the afternoon.  Depending on the weather if it is going to rain on Sunday we are going to try to go to the helicopter egg drop that we go to every year.  Last year we went on Sunday and it was much more fun.  We could also do the Easter dinner tonight depending on if we did it last night.  We will probably color eggs at some point during the day.
Sunday-It is Easter!  Hopefully the Easter bunny will come visit the kids.  I am hoping the weather cooperates and the rain does not happen.  I want to take the kids to the helicopter egg drop at a local church.  We are then planning on going to my aunts in the afternoon.  I am not sure how long P will hold out.  She only made it to 2:30pm at a baby shower a few weeks ago.  We are eating at 1pm so it is really going to be a struggle to get her to stay awake and be in a good mood.
Disclaimer: I have never claimed to be any great writer. So any mistakes that are made are my fault. Sometimes I mix up names B, S, and P, but I think you can figure out who I am talking about. If you find any grammatical errors just fix it in your mind so it sounds right.