April 4, 2017
Comments Off

on Manic Monday
Manic Mondays are when I let you know what plans I have for the week.  Some weeks I may be very busy where other weeks there may not be any plans.  Since I now have two little ones to take care of I am going to post weekly goals for myself to try to hold myself accountable.  I have also decided to do a quick recap of what we actually did versus what I thought we were going to do.
This Week
This Week's Goal
Monday-S is going back to school.  P is hanging out at home.  I have a doctor's appointment in the afternoon.
Tuesday-P has her playgroup in the morning and S has catechism after school.
Wednesday-S has his first ever baseball practice in the evening.  I am not happy about the time of 6:30-8pm.  At 8pm it is already dark.
Thursday-No plans for today.  I really need to make a run to Target to plan on what Easter stuff I need to scope out for the clearance after Easter.
Friday-Another day of hanging out at home.
Saturday-Thank goodness B has the day off because S has baseball practice from 3-4:30pm.  I do not want to have to wake P up early from her nap and this week I won't have too.  The rest of the day we are just hanging out at home because this practice really prevents us from doing anything.
Sunday-We are just hanging out at home.
Last Week Recap
It was spring break for S and we basically just hung out around the house.  S really needed a week to just regroup and get ready for these last few months of school.
Monday my niece came over to hang out with us for a few hours and ended up staying all day.  S and she were having so much fun and they were both excited about setting up the trampoline.  P was ecstatic when she woke up and saw the trampoline was up.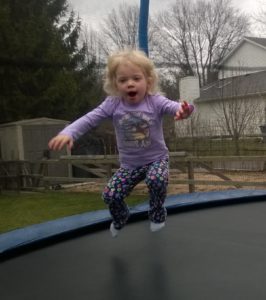 Tuesday we went to P's playgroup in the morning.  She was a little shy and hung back a while watching all the other kids play.  The rest of the day we hung out at home.
Wednesday through Friday we hung out at home.  Not a whole lot going on.  It was rainy and chilly so we didn't really get that much time to play outside.  I did take the kids to get there Easter pics done on Wednesday.  I was not happy with the way P's hair turned out so I don't really like her pictures too much.  I spritzed it more with water and her pics with S turned out just not her individual pics.
Saturday P and I went to a baby shower while S went to Grandma's and got to help knock down there brick chimney.  P took a super late nap so B picked S up and brought him home.  The rest of the night we hung out at home.
Sunday we hung out and went for a walk before P took her nap.  After her nap we went to see my uncle who had knee replacement surgery last week.  The kids love to go see him.  P is now calling him "Uncle 'Rank."  We only spent a short time there but it was not long enough for either kid.  They are both asking when they can see him again.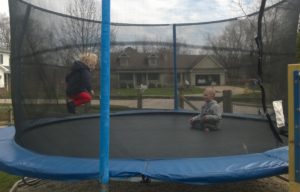 Last Week
It is going to be a pretty quiet week for us.  S is on spring break but we don't have any plans for the week.
Monday-My niece is going to come over and hang out with S.  I don't want him to sit around playing video games all week.
Tuesday-P has her playgroup in the morning.  S is going to stay home with B while we go.  I don't think he would have any fun sitting there watching the little ones play while he couldn't.  The rest of the day we are going to be at home hanging out with B.  No catechism since it is spring break.
Wednesday-I did not get the kids pictures taken last week and plan on doing them today.  We won't have a time crunch so it should make it easier.  The rest of the day we are just going to be at home.
Thursday-Another day of hanging out at home.
Friday-B is working so the kiddos and I will be hanging out at home together.
Saturday-We have a baby shower to go to.  I am going to see if I can find somewhere for S to go so he doesn't have to go.  I promised him after my sister's baby shower that he was old enough and would never have to go to another shower if he didn't want too.  Also it's April Fool's Day so who knows what is going to happen.
Sunday-Is another day at home just me and the kiddos.
Disclaimer: I have never claimed to be any great writer. So any mistakes that are made are my fault. Sometimes I mix up names B, S, and P, but I think you can figure out who I am talking about. If you find any grammatical errors just fix it in your mind so it sounds right.