March 6, 2017
Comments Off

on Manic Monday
Manic Mondays are when I let you know what plans I have for the week.  Some weeks I may be very busy where other weeks there may not be any plans.  Since I now have two little ones to take care of I am going to post weekly goals for myself to try to hold myself accountable.  I have also decided to do a quick recap of what we actually did versus what I thought we were going to do.
This Week
It is going to be a very quiet week for us.  We have no plans.
Weekly Goals
Monday-We are going to continue working on potty training with P.  It is going to be fairly nice outside so we may venture to play outside.
Tuesday-We have P's playgroup in the morning.  We are going to try to go in undies and see if we can do it accident free.  S has catechism in the evening
Wednesday-Another day of being home and potty training.
Thursday-No plans other than hanging out at home.
Friday-Just another day at home.
Saturday-Hanging out at home doing gosh knows what.   It is daylight saving tonight so don't forget to spring ahead one hour with your clocks!
Sunday-Hopefully the kids will sleep in a little so that we get a little extra sleep.
Last Week Recap
Monday I started working on potty training with P.  There was no going back this time and I am determined to get her trained.
Tuesday we did not go to P's playdate because it was cancelled but it worked out because of potty training.  Leaving the house while we are trying to potty training does not work for us.  S had catechism after school and then we went out to eat to celebrate a birthday.  The kids did great and were so well behaved.  They were at the restaurant for 2 ½ hours and no outbursts of any kind.  I could not have been happier with them.
Wednesday was another day at home of potty training.
Thursday we hung out at home during the day.  B and I finished boxing up all the tchotchke that we are getting rid of and added it to the pile of stuff for a garage sale.
Friday B had to worked so S and I hung out at home.  She had a few accidents in her diapers but when she had undies on she kept them dry and went in the potty.
Saturday we went to Home Depot to do a build in the morning.  P took her nap and when she got up we headed to Detroit for Monster Jam.  It was complete chaos trying to find parking so he dropped us off and went to find parking on his own.  I thought it was going to be hard to get in Ford Field with a diaper bag.  They didn't look twice at the bag and we got in with no issues.  I was amazed at how easy it was to find out seats.  S loved it like we knew he would.  The last time P went to a Monster Jam she was only two months old.  We were not sure how she would do this time.  She loved it by far the most.  After every race or truck went she would scream and ask for more.  She lasted to the very end and still wanted more when it was over.  They were both asleep within 10 minutes of being in the car.  P did amazing and when we got home she had a dry diaper from before we left.  She is doing an amazing job at potty training we just need to keep going.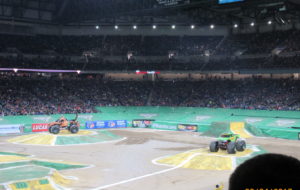 Sunday was a recovery day.  S got up early, but P slept until well after 9am.  I fell asleep on the couch and slept there all night.  I ended up napping throughout the day, while B took care of the kids.  S played outside while B worked on a few things and P took her nap.
Last Week
Weekly Goals
Monday-We are just hanging out at home not doing a whole heck of a lot.
Tuesday-It is going to be another nice day outside so hopefully we can spend some time outside.  P has her playgroup in the morning.  S has catechism after school.
Tuesday-Wednesday is our wedding anniversary.  We got married on the 29th and it will be 13 years!
Wednesday-I am hoping for another nice day outside again.  We are just going to be playing at home.
Thursday-Not a whole lot going on so we will be hanging out at home.
Friday-We are just hanging out at home.
Saturday-There is a build at Home Depot in the morning and then we are heading up to Detroit for Monster Jam!  Both of the kids are excited and keep asking when we get to see them.
Sunday-I am guessing today will be a day of recovery.  I am sure we will get home late which means late to bed but still up early like normal.
Disclaimer: I have never claimed to be any great writer. So any mistakes that are made are my fault. Sometimes I mix up names B, S, and P, but I think you can figure out who I am talking about. If you find any grammatical errors just fix it in your mind so it sounds right.