October 19, 2016
Comments Off

on Manic Monday
Manic Mondays are when I let you know what plans I have for the week.  Some weeks I may be very busy where other weeks there may not be any plans.  Since I now have two little ones to take care of I am going to post weekly goals for myself to try to hold myself accountable.  I have also decided to do a quick recap of what we actually did versus what I thought we were going to do.
This Week
My Weekly Goal-None for this week.
Monday-It was so nice outside that we planned on just hanging out at home all day.  I wasn't sure how S was going to feel either since he still had a bit of a bark when he went to school in the morning.
Tuesday-P has storytime in the morning.  I am hoping I can convince her to go this week.  It is going to be nice so I am hoping we can spend time outside before the rain starts.  S has catechism in the evening.  P and I are going to hang out till he is done.
Wednesday-P has her playdate at the park in the morning.  We are only going to go for a short while because we are going to visit my aunt and uncle before P's nap.  Lately when she falls asleep in the car she does not transfer to her bed for the rest of her nap so I need to make sure we are home before she falls asleep. S has his playgroup after school for an hour.  P and I will pick him up form that and then we are just hanging out at home for the rest of the night.
Thursday-S has his last soccer practice in the evening.  I am not sure if he will actually have the practice because we are supposed to get a ton of rain.
Friday-B plans on ripping out the rest of the garden.  That means we are going to have a ton of hot peppers and green peppers.  I am doing another painting class in the evening.  It is an abstract version of "Starry Night" with Snoopy and his doghouse.
Saturday-S has his last soccer game of the season.  I have to say I am not sad about it.  A local funeral home decorates for a few hours for Halloween.  If you donate a canned good you get a pumpkin.  Plus you get to decorate cookies, make crafts, color pictures, pet animals and more.
Sunday-As of now we don't have any plans.  That can easily change since we are getting so close to Halloween I am sure there will be activities.
Last Week Recap
Last Week
Monday we hung out at home.  After school we played outside.
Tuesday we did not make it to storytime.  P refused to get dressed and just wanted to cuddle with B.  We skipped storytime and hung out at home.  S had catechism after school and right after that we went to skate night at Ohio Skate.  B and I have always loved to skate and it has definitely rubbed off on our kids.  P cannot get enough and we have to drag her kicking and screaming when it is time to leave.  S loves to skate so he was out there with us the entire time.
Wednesday P and I went to her playdate at the park.  It was beautiful outside and we could not get enough of it.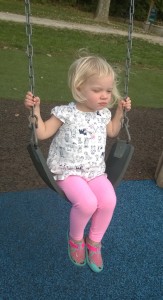 Thursday we hung out at home.  When S went to his soccer practice B, P, and I went to the last farmer's market of the season.  We got apple cider and some pears.
Friday we hung out at home during the day.  S and I drove to Cleveland to watch my nephew in the marching band at there high school football game.  I really enjoyed watching the band and the game was actually really good.  I thought S would like the band and hate the game but he actually liked both of them.  He also loved hanging out with this Uncle J.  He talked about it the whole way home.  He also figured out how to get candy out of my brother.  The little sneak!  When we got home B and P were both sleeping.
Saturday we went to S's game in the morning.  He had team pictures before the game so by the time the game started P was ready to go home.  Thankfully my sister, aunt and uncle came to help watch P so I could focus on S playing.  S tried his best.  It really is funny to watch him try to play.  He does great at playing the position he is given.  The rest of the day we hung out at home.  I finally went to bed about 1am.  About 3 in the morning S came running into our bedroom gagging.  I thought he was getting sick so I ran him to the bathroom.  I was wrong.  I couldn't understand what he was saying but he was dry heaving (I think).  After finally figuring out that he was having a hard time breathing I turned the shower on to start the steam.  The hardest part is getting him to calm down and stop crying.  Sometimes that will help alleviate the breathing.  He asked to go to the hospital.  He has only done that one other time.  When it is that bad I know it is time to go.  I knew I had to take him because B had to leave for work at 4am.  Was I going to wake P up and take her with us or could we get someone to come over and stay while she sleeps?  B called his mom and she came over, thankfully.  If not we would have started calling the neighbors.  When we got to the hospital that got us back to a room super-fast and he was hooked up to a breathing treatment within 2-3 minutes.  He was diagnosed with croup.  We had to stay for a few hours to make sure he had no reactions and it didn't come back.
Sunday we got home about 6am.  After I got S back to sleep, I couldn't fall asleep.  I finally did and P woke up at 7am for the day.  It made for a long morning.  When I could get P to snuggle I was able to get a little shut eye.  S didn't get up till 10am.  It was nice out so I took P outside to play.   While she was playing we worked on cutting skeleton pieces out of milk jugs to make skeletons to hang from trees.  When I got P down for her nap I planned on taking a nap myself.  It didn't work out that way and I ended up staying up with S.  We played outside more after P got up from her nap.  I got the skeletons assembled while the kids ate dinner.
Weekly Goal
Monday-We are hanging out at home for the day.
Tuesday-P has storytime in the morning.  S has catechism after school.  After that we are going to the school skate party at Ohio Skate.  S is so excited to go and I know P will love it (she always does).
Wednesday-P and I have our weekly playdate in the morning and then are just hanging out at home the rest of the day.
Thursday-S has soccer practice after school.  B is off so one will take him and one will stay home with S.  This is also the last farmer's market for the season.
Friday-S and I really want to go see my nephew play in the marching band.  We are going to try to go either this Friday or next.  I am debating about taking P with us.  I don't know how she would act.
Saturday-S has a soccer game in the morning and then we are hanging out at home the rest of the day.
Sunday-B is working and we are just going to be spending the day at home.
Disclaimer: I have never claimed to be any great writer. So any mistakes that are made are my fault. Sometimes I mix up names B, S, and P, but I think you can figure out who I am talking about. If you find any grammatical errors just fix it in your mind so it sounds right.