October 4, 2016
Comments Off

on Manic Monday
Manic Mondays are when I let you know what plans I have for the week.  Some weeks I may be very busy where other weeks there may not be any plans.  Since I now have two little ones to take care of I am going to post weekly goals for myself to try to hold myself accountable.  I have also decided to do a quick recap of what we actually did versus what I thought we were going to do.
This Week
Weekly Goal-I need to get the kids costumes done and there fall pics done.
Monday-No plans just hanging out at home.
Tuesday-I have a doctor appointment in the morning that I scheduled months ago, so B is going to be taking P to her first storytime at the library.  I have no idea how she is going to do and would love to be a fly on the wall at storytime.  S has catechism after school.
Wednesday-Another day with no plans.  I want to schedule the kids Halloween pics for the evening; we will just have to see how it goes.
Thursday-Since B is off I may run to Target during the day.  S has soccer practice in the evening, and at some point we will run to the farmer's market.
Friday-Not much going on just hanging out at home.
Saturday-S has a game in the morning and then my niece is coming to hang out with us for either the afternoon or spending the night.
Sunday-No real plans just hanging out at home.
Last Week Recap
Monday we hung out at home.  I can't find one picture so I have no idea what we did.
Tuesday we got up early.  S had Doughnuts for Dad at school and he took Uncle F.  I am not sure which one had more fun.  After S got home from school we went for a quick walk and then to his catechism class.  While he was at class P and I walked over to my dad's to hang out for about an hour.  P was tired and did not feel like walking back to the church and ended up lying down on the sidewalk.  I carried her the rest of the way.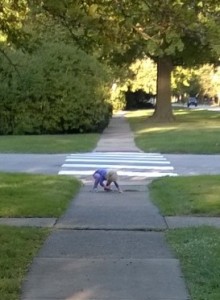 Wednesday I worked on cleaning up the basement and playroom.  P and I went back and forth.  I would work where she was willing to play for as long as I could get her to play.  I got a bunch of the clothes organized in the basement that I have been buying on clearance the past month.  In the playroom I got a bunch of toys ready to give to B's cousin and to be taken downstairs.  We just need room to breathe in the playroom so they can actually play.  While we didn't want to get rid of all the toys that we took out of the playroom we figured when they wanted to play with something particular we could just bring that tub of toys back up.  I am all about getting rid of the extras.
Thursday night B had to work late so I was going to have to take P to S's soccer practice.  It started pouring down rain about 4pm right after S got off the bus.  At about 5pm I told S there was no way I was taking him to practice.  That is crazy that they would practice in pouring down rain.  We ended getting an email at 5:30 saying practice was canceled.  Good thing, because we weren't going!  I ended up making French Macarons for the first time ever. When B got home I convinced him to have all of us run to Target.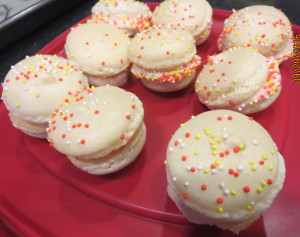 Friday B is off so we hung out at home.
Saturday we went to the Home Depot build in the morning and then onto S's soccer game.  Well they really could have used the practice on Thursday because they were not very good.  Afterward we ran to Costco and then home for the rest of the day.
Sunday we dropped off a ton of toys to B's cousins little one.  He gets all the hand me downs!  Afterward we ran to Menard's.  While B was running around getting what he needed the kids and I checked out all the Halloween and Christmas stuff.  P started saying, "Ho, Ho, Ho," when she say Santa.  I have been trying to get her to say that since she was a baby.  She finally got it.  Hopefully she will do it around the holidays.  The rest of the day we hung out at home.  We took a walk in the afternoon and then got pizza for dinner.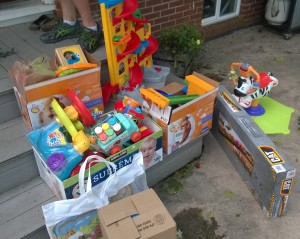 Last Week
We have a little bit of everything going on this week.  It seems that we have something to do every day.
Weekly Goals
Monday-S has school and then we are going to watch Baby A and Baby L after school while May teaches a pottery class.  S was excited to get to watch Baby L and P just likes going to May's.
Tuesday-S has Doughnuts for Dad before school.  B has to work and both grandpas' are busy so we did the next best thing and asked Uncle F.  I don't know who was more excited S or Uncle F.  After school S has catechism class.  During his class P and I are going to my dad's to hang out.
Wednesday-P and I have our weekly playdate at the park.  It is going to depend on the weather if we go or not.  I am going to try to have S's friend come over to play after school.
Thursday-S has soccer practice in the evening.  B is working late so I am going to take P with me again.
Friday-B is off, and I think we are just hanging out at home getting stuff done.
Saturday-There is a build at Home Depot in the morning.  Other than that I think B is going to work on the playhouse.
Sunday-We are just hanging out at home.
Disclaimer: I have never claimed to be any great writer. So any mistakes that are made are my fault. Sometimes I mix up names B, S, and P, but I think you can figure out who I am talking about. If you find any grammatical errors just fix it in your mind so it sounds right.