September 8, 2016
Comments Off

on Manic Monday
Manic Mondays are when I let you know what plans I have for the week. Some weeks I may be very busy where other weeks there may not be any plans. Since I now have two little ones to take care of I am going to post weekly goals for myself to try to hold myself accountable. I have also decided to do a quick recap of what we actually did versus what I thought we were going to do.
This Week
This week is scheduled to be a hot one. I see us spending a ton of time in the air conditioning or out in the pool. We really don't have any plans this week so we are just going to be hanging out at home.
Weekly Goal-I would really like to focus on getting some stuff cleaned up around the house since B is going to be home this week.
Monday-Today is Labor Day. S does not have school so he will be home. We are going to go to my dad's to swim around lunch time before we need to be home for P to get her nap.
Tuesday-Not much happening just hanging out at home.
Wednesday-I joined a mom's group so P will have a playdate at a park.
Thursday-P has a dermatologist appointment in the morning. S has been asking to go to another demolition derby this year so we were going to try to go to the Fulton County Fair Demolition Derby. There is an 80% chance of rain and it is supposed to be hot. I doubt we will got to the demolition derby, but you never know. Other than that we have no plans
Friday-Another day of no plans and hanging out at home.
Saturday-Today is my birthday. B is working nights, so he will be sleeping in the morning and gone for work before dinner. It will be just the kids and me.
Sunday-Just another day of hanging out at home.
Last Week Recap
I never accomplished my goal from last week. In fact I never made it to the basement all week.
It was a quiet week at home.
We didn't do a whole lot at the beginning of the week. We basically just hung out at home.
Thursday we hung out at home during the day. In the evening when B got home from work, Grandma G came over to watch the kids while B and I went to 1st Grader's Parents Info Night. P did great with grandma. B and I ran to the farmer's market on the way and got pears. We have been waiting for a few weeks for pears to be picked and they were!
Friday we hung out at home.   B and I worked on cleaning up some of the house. We sorted old toys that P has grown out of and I listed them on the local Facebook Garage Sale page. S had a playdate after school and then we went to the car show uptown after dinner. To finish off the night the kids got treated to ice cream.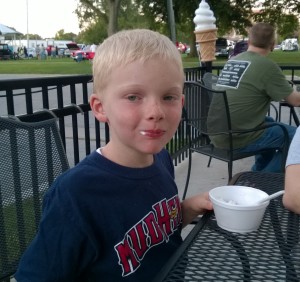 Saturday we went to a build at Home Depot in the morning. Afterward P and I went for a walk and B and S went over to his parents to help put in windows. P and I stopped there on our walk and helped pick up the debris from them tearing apart the front of the house. After a while we I took P home for a nap. We took pizza over for dinner later on.
Sunday we hung out at home. We didn't really have any plans. My sister ended up coming over in the afternoon and hung out.
Last Week
Weekly Goal-I would love to get out the next size of clothes for the kids and have them organized so I know what I need to buy for next summer. (Yes I plan that far in advance!)
Monday-Not a whole lot planned for today. S has school and P and I will just be hanging out at home.
Tuesday-Another day of hanging out at home.
Wednesday-Again another day of being home.
Thursday-We are hanging out at home all day. We have a 1st Grader Parent's Meeting in the evening.
Friday-B is off so I have no idea what we will do.   As of now we don't have any plans.
Saturday-There is a build at Home Depot in the morning to build a dry erase board. I am hoping B takes S and P. We were taking S to this stuff when he was P's age and I am sure she would love to bang that hammer! The rest of the day we are just hanging out at home.
Sunday-Just another day of being at home.
Disclaimer: I have never claimed to be any great writer. So any mistakes that are made are my fault. Sometimes I mix up names B, S, and P, but I think you can figure out who I am talking about. If you find any grammatical errors just fix it in your mind so it sounds right.