July 26, 2016
Comments Off

on Manic Monday
Manic Mondays are when I let you know what plans I have for the week. Some weeks I may be very busy where other weeks there may not be any plans. Since I now have two little ones to take care of I am going to post weekly goals for myself to try to hold myself accountable. I have also decided to do a quick recap of what we actually did versus what I thought we were going to do.
This Week
My Weekly Goals-I don't really have any this week.
Monday-S starts his last week of tee ball and then swim class after.  The rest of the day we are just hanging out at home.
Tuesday-I am staying home to watch my neighbors little one while B is going to take S to swim.  P may go with me and do a clay class or go with B and swim.  B starts back on midnight.
Wednesday-This is the first time we are going to have to be quiet during the day in over 2 months because B will be sleeping.  We have swim in the morning and then we are just hanging out at home the rest of the day.
Thursday-We have tee ball and swim in the morning.  I am going to bring the kids home and when B gets up I am running to Target to check out the toy clearance.  If my Target toy clearance goes 70% I plan on running to the other Targets.  Hopefully I will find some Legos!
Friday-B will be sleeping in the morning, and I am planning on making a few peach pies and some mini pies for the neighbors.  If I am really ambiguous I will make some whippersnapper cookies.
Saturday & Sunday-B is off for the weekend so we are going to visit with my brother either today or tomorrow.  So one day we will see my brother and the other hopefully B will get the boat prepped so we can go out on it.
Last Week Recap
It was a pretty boring around our house last week.  It was so hot we spent most of it in the house.
Monday we had tee ball and then swim.  We were so tired from the weekend that we hung out at home the rest of the day.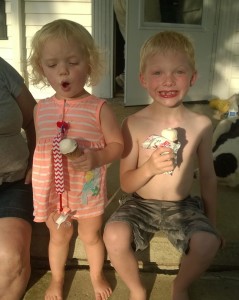 Tuesday we went to swim and then went to my dad's to swim.  My sisters came over with their kids and they all swam together.  We went home at naptime and hung out at home the rest of the day.  S's cousin was leaving the next day to head home so we hung out with them in the evening.
Wednesday was swim and then we hung out at home.
Thursday we had tee ball in the morning and then swim class.  At tee ball only two kids showed up for his team other than S.  After about 10 minutes of playing one of the kids gave up and it was just S and another kid.  They split the field down the middle and one fielded one side while the other fielded the other.  When it came to batting one got to bat first and the other got to be the last batter and get a homerun.  After B got home from work it started raining so we decided not to go to the farmer's market.  I ended up running up there for French macaroons and peaches.  I dropped some of the macaroons off to my sister to try and took the rest over to my neighbors where we ate them all.  B stayed home and worked on cleaning his truck up to trade in the next morning.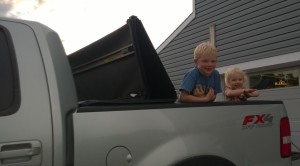 Friday was a crazy day of me taking P shopping in the morning with me and then B took S to go buy a new truck.  It took them hours and then I ended up having to go to the bank and meet B because he forgot paperwork.  He got it done and we ended up all swimming before we got ready for bed.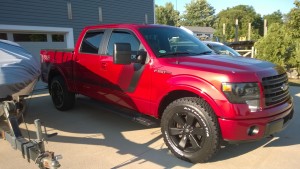 Saturday it was really hot out so we stayed inside most of the day and hung out.  After dinner we went outside and the kids got to swim in the pool for a while.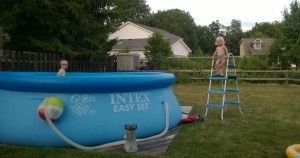 Sunday B worked and we hung out at home.  I let the kids go outside and play before naptime.  It started raining and I gave S the idea to jump on the trampoline in the rain.  He loves to jump on it with the sprinkler and I told him this was God's sprinkler.  P jumped for a little while but didn't like it.  She ran in the rain and then when she got cold we changed her clothes and she watched S jump.  The rest of the day we hung out inside.  I wanted to go to the Trace Adkins concert and left it in B's hands to arrange everything.  It didn't work out and we tried to take the kids and sit on the lawn and listen to the concert.  I thought for sure tons of people would be doing that.  There was not one person.  We passed and went home for the night.
Last Week
My Weekly Goal-The only thing I am hoping for is to get caught up on my daily posts.
Monday-We have tee ball and swim.  S's cousin is heading home soon, so S will probably hang out and play with him in the afternoon.
Tuesday-My nephews are heading home tonight so we have swim in the morning and then are heading to my dad's so all the kids can swim together.
Wednesday-We have swim in the morning and then are hanging out at home the rest of the day.
Thursday-S has tee ball and then swim.  We will probably head home afterward and just hang out at home.  It is going to be another hot day.  Depending on the weather we may go to the farmer's market in the evening when B gets home from work.
Friday-B is off.  He has errands to run during the day.  I will probably just hang out at home with the kids unless S runs the errands with B.  If so then P and I will spend some time at home together.
Saturday-I have a baby shower in the afternoon; S has a birthday party, and at some point P will need her nap.  I am going to ask B to take S to his party and depending on the weather and heat I may just stay home with P so she can get a good nap.
Sunday-B has to work and this may be the end of shutdown. (Fingers crossed)  The rest of the day we are going to hang out at home.
Disclaimer: I have never claimed to be any great writer. So any mistakes that are made are my fault. Sometimes I mix up names B, S, and P, but I think you can figure out who I am talking about. If you find any grammatical errors just fix it in your mind so it sounds right.