July 11, 2016
Comments Off

on Manic Monday
Manic Mondays are when I let you know what plans I have for the week. Some weeks I may be very busy where other weeks there may not be any plans. Since I now have two little ones to take care of I am going to post weekly goals for myself to try to hold myself accountable. I have also decided to do a quick recap of what we actually did versus what I thought we were going to do.
This Week
My Weekly Goal-This week I would like to get a few more things done around the house, maybe even get ahead on a few of my posts.
Monday-We have tee ball and then swim in the morning.  We are going to try to stop by my sister's to give my nieces their birthday presents.  The rest of the day we are just hanging out at home.
Tuesday-We just have swim in the morning and no other plans for the day.
Wednesday-We have swim in the morning and S has waterworld in the afternoon if he decided he wants to go this week.
Thursday-There is tee ball and swim in the morning and possibly the farmer's market in the evening.
Friday-P has her first dentist appointment in the morning and we have my niece's birthday party in the evening.  S is so excited because it is where my niece takes her karate classes.
Saturday-We have the Bihn reunion in Sandusky.  We are only going for the day but plan on leaving early and getting home late.  It will be a long day but the kids will have a ton of fun playing with
Sunday-We have B's aunts 50th Jubilee for being a nun for 50 years.
Last Week Recap
I did manage to get some of the dining room cleaned up.  I got a bunch of the stuff I reviewed organized and boxed up.  B took them to the basement where I need to organize it better and donate the stuff I don't want.  Monday was the 4th and B worked so we went to a cookout at my dad's.  I ended up taking the kids to see the Toledo fireworks and B went to bed.
Tuesday we had swim in the morning and then hung out at home.
Wednesday we had swim in the morning and then hung out at Grandma G's for a few hours.  S ended up staying for the afternoon while I took P home for a nap.  S had a playdate with a friend and they swam in the backyard and had pizza.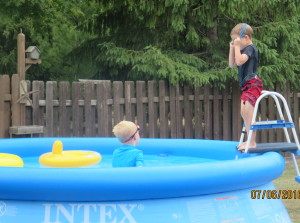 Thursday it was super-hot.  We had tee ball and then went straight to swim.  Afterward we went home and hung out inside because of the heat.  In the evening we drove by the farmers market but they did not have peaches yet.  Afterward we went to B's parents and hung out for a few hours.  S and P got to play with their cousin and B was checking out what the builder had done.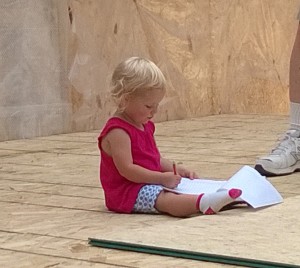 Friday we had swim because we didn't have it on Monday.  Afterward I took both kids home and we hung out until B got home from running errands.  I decided to schedule pictures for the kids so we got those done before naptime.  They turned out great and I noticed P had discharge coming out of her eye.  She did have a fever the past couple days but it was just a low grade one.  Because P was under the weather we hung out at home the rest of the day and evening.
Saturday we hung out at home and then went to B's parents after P's nap.  S was already over there playing and B was going to move some dirt around on the Bobcat.  We hung out for a few hours and then headed home for dinner.  B took the kids back over to his parents for a little marshmallow roasting over a fire.  I did not want to smell like a campfire so I hung out at home.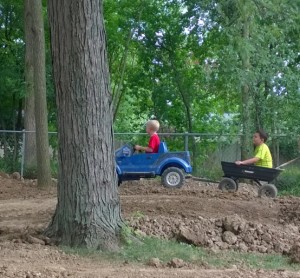 Sunday we hung out at home most of the day.  S went to play with his cousin when P took her nap.  B picked S up on his way home from work.  We hung out at home and ended the evening by spending it outside in the nice weather.  It sucks putting the kids to bed early when the best time of day to be outside is usually after 7pm.
Last Week
My Weekly Goals-I would like to get some of the dining room cleaned up.  It's baby steps!
Monday-My dad is having a cookout so I think we are going to spend the afternoon over there.
Tuesday-A new swim session starts today so we have that in the morning and then a neighboring town has their fireworks tonight so I may get the kids ready for bed and load them up to go sit at my uncle's and watch them.  It just depends on how tired they are.
Wednesday-We have swim in the morning and if S wants to try again there is waterworld in the afternoon at the rec.
Thursday-We have tee ball in the morning, followed by swim and then the farmer's market in the evening when B gets home from work.  We might get peaches this week!
Friday-Because we didn't have swim on Monday we have it today.  I am going to try to get B to take them both to swim.  S to his lessons, and P for toddler time.  I would love to have a day off from running to the pool.
Saturday-As of right now we do not have plans, but I am sure it will change.
Sunday-My niece's birthday is today.  They are going to Kelly's Island and I really wanted to go, but B could not get off work.  There is no way I am trying to do that without him.  Not because I can't handle the kids by myself but because it is also known as snake island.  I cannot go without B knowing I may come across snakes.  It does make it so much easier with B there to help with the kids.  I guess we will probably just hang out at home.
Disclaimer: I have never claimed to be any great writer. So any mistakes that are made are my fault. Sometimes I mix up names B, S, and P, but I think you can figure out who I am talking about. If you find any grammatical errors just fix it in your mind so it sounds right.