May 17, 2016
Comments Off

on Manic Monday
Manic Mondays are when I let you know what plans I have for the week. Some weeks I may be very busy where other weeks there may not be any plans. Since I now have two little ones to take care of I am going to post weekly goals for myself to try to hold myself accountable. I have also decided to do a quick recap of what we actually did versus what I thought we were going to do.
This Week
My Weekly Goals-I would like to work on getting all the posts done for the prep work I did for P's party.
This Week
Monday-Today is P's birthday.  We are going to try to go to Build-A-Bear for our yearly birthday build.  The rest of the day is just hanging out at home.  B has the day off because of P's birthday.
Tuesday-Go figure it is going to rain today.  We are hanging out at home during the day and S has soccer in the evening.
Wednesday-P has her two-year well visit at the doctor's.  We are going to run some errands before S has school.
Thursday-I think I am going to try to get P's two year pics done in the morning.  I have to get all the stuff ready for S's track and field day tomorrow.
Friday-Thank goodness B is off.  I have to go to S's school to help with the track and field day.  I have not participated in any of S's school stuff yet, so I am interested to see how this goes.
Saturday-S has a soccer game at noon and the rest of the day we are hanging out at home.
Sunday-It is going to be a quiet day at home.
Last Week Recap
It was a crazy busy week.  I carefully planned out my week as far as prepping for P's party.
Monday I finished the 3D sugar cookie hot air balloon and I made the hot air balloon cupcake toppers.
Tuesday I made all the sugar cookies.  It was so chilly out and rainy that I had S skip his soccer practice.  I just don't see how they should practice out in the cold rain.
Wednesday I made the cake pops and decorated them.
Thursday I made the basket cake and cupcakes.  I decorated the cookies.  B ran to the farmer's market while the kids stayed home with me.  I had too much to do and needed to stay home.
Friday I decorated the basket cake and cupcakes.  We set up for the party. I took P and S to spend time with my aunt and went swimming.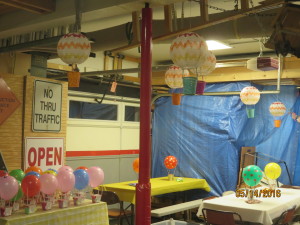 Saturday we set up for the party and had P's 2nd birthday party.  My aunt and uncle took S to his soccer game in the morning while we set up for the party.  The rest of the day we enjoyed the party and spent the evening cleaning up from the party.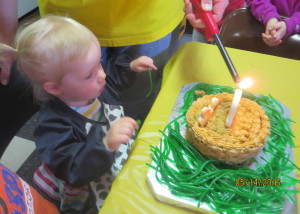 Sunday we were still cleaning up.  I worked on the computer to try to catch up for not being on the computer for a few days.  P and I went to a baby shower in the afternoon and then both came home and took a nap.
Disclaimer: I have never claimed to be any great writer. So any mistakes that are made are my fault. Sometimes I mix up names B, S, and P, but I think you can figure out who I am talking about. If you find any grammatical errors just fix it in your mind so it sounds right.