May 2, 2016
Comments Off

on Manic Monday
Manic Mondays are when I let you know what plans I have for the week. Some weeks I may be very busy where other weeks there may not be any plans. Since I now have two little ones to take care of I am going to post weekly goals for myself to try to hold myself accountable. I have also decided to do a quick recap of what we actually did versus what I thought we were going to do.
This Week
My Weekly Goals
Monday-We are just hanging out at home.
Tuesday-S has soccer practice in the evening.  B will stay home with P and I will take S.
Wednesday-I volunteered to help with S's end of the year party at school so I am going to a meeting to go over the details.
Thursday-S has a build at Lowe's in the evening.  I have no idea why they switched it to Thursday nights from Saturday mornings.
Friday-The kitty has a vet appointment in the morning and I am getting my hair cut in the afternoon.  I have not had my hair cut in a long time I think 6 months ago.
Saturday-There is a build at Home Depot in the morning.  I am hoping I can get B to take S to the build after his soccer game.
Sunday-It's Mother's Day. B is working, so we will probably just hang out at home.
Last Week Recap
I was able to make all of the hot air balloon lanterns last week and the tags for the kid's thank you gifts.
Monday we played outside most of the day.  It was gorgeous.  The cat had a vet appointment in the morning that went well.  She got a clean bill of health.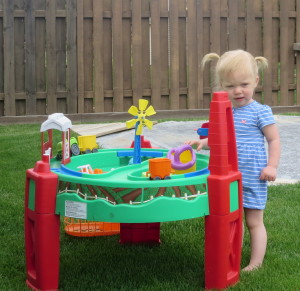 Tuesday was so much colder than Monday.  It wasn't even really that cold just a huge difference from Monday.  I ended up taking S to soccer practice.  It worked out really well for me because I ended up getting a ton of reviews written while I waited in the car.
Wednesday we hung out at home during the day.  We went to Ohio Skate after B got home from work.  S had fun but got tuckered out.  P on the other hand had a blast and was not happy when we had to leave.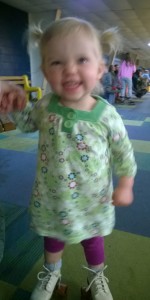 Thursday we hung out at home.  It rained so we really weren't missing anything.  S lost his top two front teeth.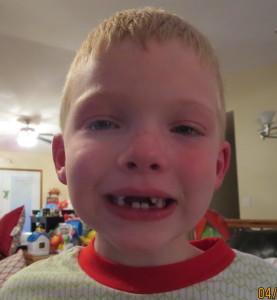 Friday we hung out at home.  S ended up having his friends over and they stayed to have dinner with us.  He was on cloud 9 and had a great time.
Saturday we had S's game in the morning.  He tried really hard, but didn't score any goals.  When we came home I was getting P settled down for her nap when my sister called.  I totally forgot about my nieces' play.   I put P down for her nap and rushed over to see the play.  I made it in time to watch their play.  Afterward we hung out at home the rest of the night.
Sunday B worked so we hung out at home and played outside in the afternoon.
Last Week
My Weekly Goals– I am hoping to get the paper lantern hot air balloons put together.
Monday-We have a vet appointment in the morning for the kitty.  It is going to be the nicest day of the week so we will play outside as much as possible.  I need to tie down the new trampoline mat and net while B plans on tilling the garden.
Tuesday-S has soccer practice in the evening.  This week B and I are going to split.  One of us is staying home with P and the other is taking S to his practice.
Wednesday-No plans so we will just hang out at home.  We have a school fundraiser to go skating at Ohio Skate in the evening.
Thursday-No plans, maybe a run to Target.
Friday-B is off and I am sure he will be exhausted.  He plans on planting the garden today and tomorrow if the weather permits.  I am sure I will be chasing P around and working on her decorations for her party.
Saturday-S has a soccer game in the morning.  It is the 200th birthday for our town so they are doing a big celebration.  Depending on what they are doing we may go to that.
Sunday-B is working, so I think we are just hanging out at home.
Disclaimer: I have never claimed to be any great writer. So any mistakes that are made are my fault. Sometimes I mix up names B, S, and P, but I think you can figure out who I am talking about. If you find any grammatical errors just fix it in your mind so it sounds right.