February 29, 2016
Comments Off

on Manic Monday
Manic Mondays are when I let you know what plans I have for the week. Some weeks I may be very busy where other weeks there may not be any plans. Since I now have two little ones to take care of I am going to post weekly goals for myself to try to hold myself accountable. I have also decided to do a quick recap of what we actually did versus what I thought we were going to do.
This Week
My Weekly Goals
Monday-Today is B and my anniversary.  We have been married for 12 years, which is crazy.
Tuesday-B is going to sleep in the morning and then we are hanging out at home.
Wednesday-We are supposed to get snow on Tuesday night, but fingers crossed S will still have school.
Thursday-Monster Jam is in town and the Hot Wheels Monster Truck will be at Kroger so B is planning on taking S up there to check it out.  You mix Hot Wheels and Monster Trucks and that is the perfect combo for S.
Friday-No plans for today.  Just hanging out at home.
Saturday-Not a whole lot going on, there is a build at Home Depot.  If S decides he wants to go we will, otherwise we are just hanging out at home.
Sunday-Not a whole lot happening.
Last Week Recap
As far as goals go, I started to organize the basement.  I think I worked down there two days and never made it back down there.
Monday I got all the clothes I got from a friend folded, organized, and put away.  Tuesday we hung out at home while B worked.
Wednesday I worked on organized the basement, but never got the stuff put away.  My sister came over and went through all the baby stuff I had to hopefully fill in a bunch of holes for items she still needs.  We then went to Kohl's where I got a ton of clothes for S for next year.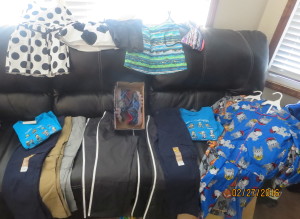 Thursday we went out to see my aunt and uncle.  My uncle had foot surgery and is stuck in a chair for 6 weeks at least.  S was all for it and because school was cancelled it worked out.  P had fun running around their house and B worked on a few things they needed fixed.  In the afternoon, P and I hung out inside while S and B shoveled the driveway, and decks.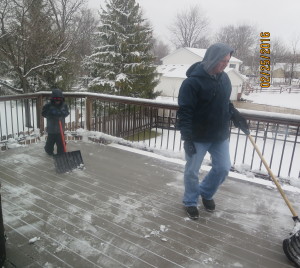 Friday was just another day hanging out at home.
Saturday we didn't do much I took a nap while P napped and hung out with the kids while B worked.
Sunday I ran to Kohl's again to see if there was any more clearance.  My store has tons and tons of boxes of clearance up by the front doors that needs tagged and hung before they will put it on the floor so I wanted to see if they put anymore out.  They had and I again got a ton of clothes for S and an outfit for P.  After P woke up from her nap we went to my dad's for a birthday party.  It was so nice outside that S played outside riding his scooter around the block.  We don't have sidewalks so this is a treat for him.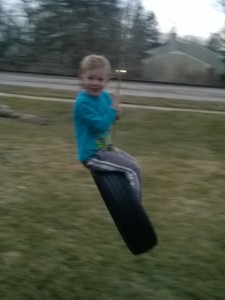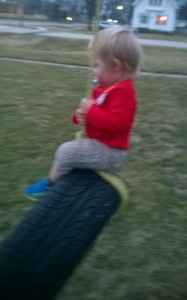 Last Week
We don't really have anything going on this week as far as outside of the house.  I plan on getting a ton of stuff done inside the house this week because B is on his week off.
My Weekly Goals-I need to get all of the products I reviewed organized.  I need to decide what I am keeping, donating, or giving away.  Right now it is piling up on me.
Monday-I am hoping to get all the baby clothes I got from a friend put away and organized.  I got a ton of clothes for P but they are still way too big for her.  They are washed and folded, now they just need sorted by size and season.
Tuesday-B picked up some overtime so it will just be me and the kiddos.
Wednesday-I am going to attempt to get more work done in the basement as far as organizing and putting away.
Thursday-Another day of hopefully working in the basement.
Friday-I would like to start getting the Easter decorations out.  I love to make the house look springy and hang the Easter eggs from the trees outside.
Saturday-No plans so we are just going to hang out at home.
Sunday-No plans for today.  We have to finish any homework S didn't do yet but that is the only thing that I have planned.
Disclaimer: I have never claimed to be any great writer. So any mistakes that are made are my fault. Sometimes I mix up names B, S, and P, but I think you can figure out who I am talking about. If you find any grammatical errors just fix it in your mind so it sounds right.