February 15, 2016
Comments Off

on Manic Monday
Manic Mondays are when I let you know what plans I have for the week. Some weeks I may be very busy where other weeks there may not be any plans. Since I now have two little ones to take care of I am going to post weekly goals for myself to try to hold myself accountable. I have also decided to do a quick recap of what we actually did versus what I thought we were going to do.
This Week
My Weekly Goals-I am trying the Foot Peel Mask and will be documenting it all week long.
Monday-Target Valentine's Day clearance starts!  I am thinking Friday it will be 90% (according to the past two years).  S doesn't have school so we are going to go over to my sister's to hang out for a while before P takes her nap.  S is so excited because he wants to play Minecraft with his new Uncle M.  They are going to sync their tablets to play in the same world!
Tuesday-No plans for today.
Wednesday-No plans for today.
Thursday-No plans for today, maybe a run to Target.
Friday-I am making a trip to Target in the morning for sure.  B is off otherwise there are no plans.
Saturday-B is off, so I am sure something will happen, otherwise we will hang out at home.
Sunday-Hanging out at home.
Last Week Recap
I got pictures of all the items I need to review and they are in the basement just not organized.
This week the kids have been playing soccer every day while we wait for S's bus to come.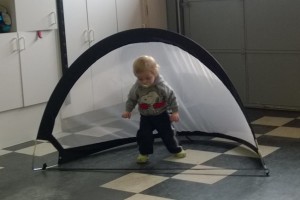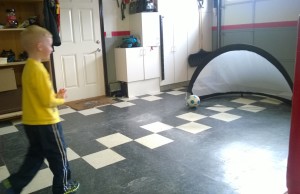 S lost another tooth (his 4th) at school.  He brought it home in a cute little treasure chest.  We measured him on the wall this week (we do it on the 11th of every month) and he grew a half an inch from last month.  He really is starting to get tall.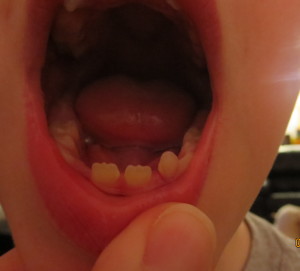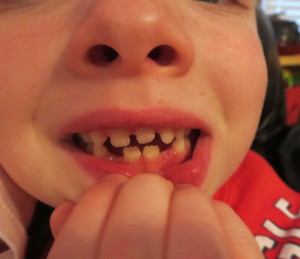 Wednesday I watched my neighbor's kids for an hour and am so glad I do not have four kids with three of them being under 3.  I have given most of my baby stuff away so when I was watching Baby L and needed to set her down so I could make dinner; I put her in a laundry basket.  It did the trick and she was completely content watching me move around.  We finished S's Valentines because he needed them for school tomorrow.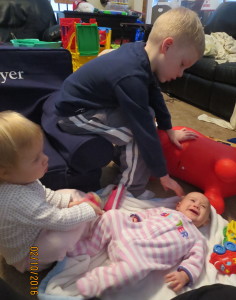 Thursday S had his Valentine party at school.  It is so weird.  I signed up to help with the class parties any way possible and have not been contacted ever.  I wonder if it is the same moms doing all the parties?  I put P in her first set of pigtails and she looked adorable.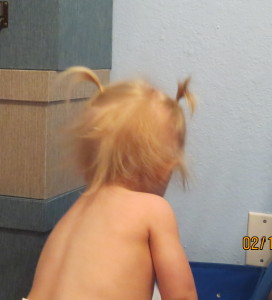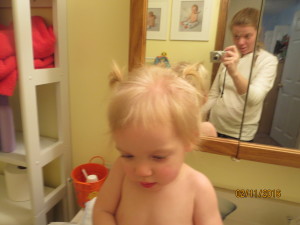 Friday S didn't have any school, teacher workday.  It snowed on though and just a little dusting which is perfect for S so he was out plowing our driveway.  I told him he could also plow the neighbor's which he attempted, but got too cold and came inside.  We went to my dad's to check out a few dogs and took two home.  We ran into my sister at Pizza Hut getting pizza and ended up taking our pizza's over to her house and had dinner with her and her husband.  We had a great time and my sister ended up trying out one of the dogs for herself.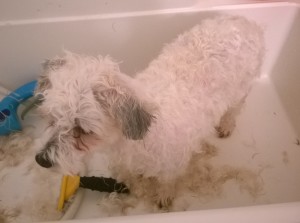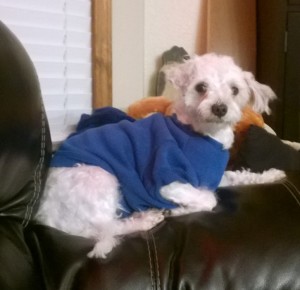 Saturday we got the dog groomed that we were testing out.  He badly needed grooming.  When it was done it was like a totally different dog.  Unfortunately, he growled and barked constantly at PJ.  With PJ's history we were worried about what would happen to the dog.  We ended up taking him back to my dad's and my sister did the same.  At least we can say we tried and now know that if we try again it will be a puppy.
Sunday was a day of hanging out at home.  We didn't do anything for Valentine's Day and I am totally okay with that.  We are not big into celebrating that kind of stuff so to me it was any other day.  B let me sleep in and made an awesome dinner.
Last Week
My Weekly Goals-I would like to get pictures of all the products I need to review and get it all organized in the basement.
Monday-No plans for today.  B may run to Meijer again, but other than that we are just hanging out at home.
Tuesday-No plans for today.
Wednesday-We are hanging out at home.  I am going to my neighbor's for a while to watch Baby L.
Thursday-S has his Valentine's Day party today at school.  We have to get the Valentine's done this week.
Friday-S has no school and a nurse visit at the doctor's.  He is getting his second flu shot.  This is the first year he has ever gotten a flu shot.  My uncle has surgery scheduled for earlier in the week so we may go out and visit him if he is up for it.  I am going to try and dog sit for the weekend to give the dog a trial run with us.
Saturday-S has a build at Home Depot, but other than that we are just hanging out at home.
Sunday-Today is Valentine's Day.  We have no plans.
Disclaimer: I have never claimed to be any great writer. So any mistakes that are made are my fault. Sometimes I mix up names B, S, and P, but I think you can figure out who I am talking about. If you find any grammatical errors just fix it in your mind so it sounds right.