February 2, 2016
Comments Off

on Manic Monday
Manic Mondays are when I let you know what plans I have for the week. Some weeks I may be very busy where other weeks there may not be any plans. Since I now have two little ones to take care of I am going to post weekly goals for myself to try to hold myself accountable. I have also decided to do a quick recap of what we actually did versus what I thought we were going to do.
This Week-We are having another quiet week.
My Weekly Goals-I would love to get more stuff organized and put away around the house.
Monday-We have no plans for today, and are just hanging around the house.
Tuesday-Another day of no plans.
Wednesday-Wait, another day of no plans.
Thursday-Again, another day of no plans.
Friday-Still another day of no plans.
Saturday-There is a build at Home Depot in the morning.  It is the Valentine's Day theme month.  In the late afternoon we have a couple bridal shower that we are all invited to.  B has to work, so I will go with the kids and he will meet us there after work.  It is literally one street over from our house, so I love that.
Sunday-Today is my sister's baby shower.  Both kids are coming with me.  I am doing something a little different with my sister and not taking a present.  Instead I am going to have her over after her shower (a few days later) and let her pick through all the stuff I have and fill in the blanks for what she still needs.
Last Week Recap
We really did have a quiet week for the most part.  B went to Meijer most mornings to see if the toy clearance had an additional 50% off the clearance price.  Unfortunately, it did not, and still has not.  We hung out around the house for most of the week.  I worked on S's 100 day celebration cape for school.  P was a little monster running around like crazy, and S was loving on his sister and begging for more time to play on the tablet. (He only gets an hour a day during the week and two hours a day on the weekends.)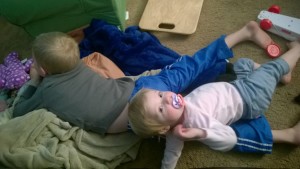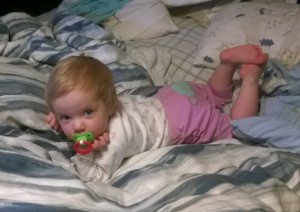 Thursday we had the funeral showing for B's grandma.  I wish I had gotten pics of the kids in their outfits because they were adorable.  As soon as S got off the bus he changed right away and we went straight to the showing.  P and I only stayed till about 6:45pm because P really does get ready for bed at 7pm.  Neither B nor I wanted to deal with a melting down P.  S wanted to stay with B, but they left before it was over at 8pm.  S was falling asleep sitting at the funeral home.  I guess he was really tired too.  He also gets ready for bed at 7pm because he feels the need to get up before 6am no matter what time he goes to bed.
Friday we had the funeral.  It was in the afternoon so we put S on the bus and left for the funeral.  P went with us and was actually pretty good.  She did talk quite a bit in church but she did not scream or cry.  She did fall asleep on the way to the cemetery so I stayed in the car with her.  I didn't want her to have nightmares of waking up in a cemetery by herself in a car.  I could see the therapy bills I would have been paying when she was older.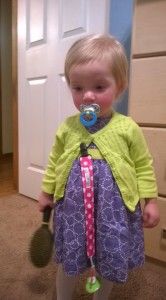 Saturday we hung out at home.  P has been really weird with her naps so I have started holding or sleeping with her for the second half of them.  She needs at least two hours and only will take one hour by herself.  I can lay with her for an hour and have a happy P or not and have a little monster.  I will take happy any day.  B went out to my aunt and uncles and worked on their house before they got home from Florida.
Sunday was a day of hanging out at home.  We literally did nothing but hang out at home.  P and I went for a walk with our neighbor.  She has to see her "May" once a day.  If not she stands at the back window trying to see her (S used to do the same thing when he was that age.).  Sunday night was a whole different story.  P woke up at 11:45pm and we did not go to sleep until 6:20am.  Why you may ask?  I am still wondering that also.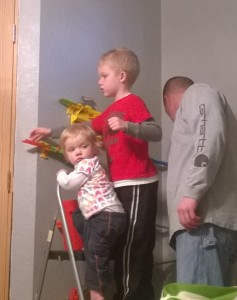 Last Week
My Weekly Goals-I finally got S's thank you cards done for his birthday that was back in December and need to get them in the mail this week.
Monday-Today is B's mom's birthday.  We asked S what he wanted to do and he said, "Can I just give her a hug and not make a card?"  He hates to color and do crafts.  Otherwise we are hanging out at home.
Tuesday-Today is another quiet day at home, wait the whole week looks like it is going to be like this!
Wednesday-Nothing planned
Thursday-Nothing planned
Friday-Nothing planned
Saturday-Nothing planned
Sunday-Nothing planned
Disclaimer: I have never claimed to be any great writer. So any mistakes that are made are my fault. Sometimes I mix up names B, S, and P, but I think you can figure out who I am talking about. If you find any grammatical errors just fix it in your mind so it sounds right.