December 15, 2015
Comments Off

on Manic Monday
Manic Mondays are when I let you know what plans I have for the week. Some weeks I may be very busy where other weeks there may not be any plans. Since I now have two little ones to take care of I am going to post weekly goals for myself to try to hold myself accountable. I have also decided to do a quick recap of what we actually did versus what I thought we were going to do.
This Week
Weekly Goals-I am not setting any goals for this week.
Monday-We are coming home from Kalahari and recovering.  If S is not too tired then we will go to our neighbors and make ornaments before S goes to school.
Tuesday-We don't have any plans and are just hanging out at home.
Wednesday-S has a dentist appointment in the morning.  I totally think the dentist is going to pull his one tooth.  He has three loose teeth and one is right there ready to fall out.  I am betting he will be missing a front tooth for Christmas!  It is also my niece's and new brother-in-law's birthday!
Thursday-S has his last day of school before his winter break.  They are also having his holiday party.
Friday-Today is the first day of Christmas break.  Two weeks of S being home all day with me!!!  I know I will be counting down the days until he goes back to school.  I am hoping to start wrapping presents today.  S likes to help me so I will get the basement organized this week and ready for Friday.  Today is my sister's birthday!  We might go do S's Build-A-Bear for his birthday.  We have to do it in the morning otherwise it is way too busy.
Saturday-As of right now we don't have any plans.  The weekend before Christmas and the only thing on our list will be to wrap presents and maybe make some Christmas goodies!
Sunday-Another day of hanging out at home.
Last Week Recap
Last week was such a busy week that B and I are still trying to recover from it. With S's birthday we spent most of the week getting ready for it and the weekend recovering from it until we were whisked away to Kalahari.
Monday we hung out at home.  I can't find any pictures so I am thinking we must not have done anything.
It was nice enough outside on Tuesday that S and P played outside after S got home from school.   We drove around after it got dark and looked at Christmas lights.  It was okay for about a half hour and then P started having a breakdown so it was time to head home.
Wednesday I went shopping with my dad for the kids Christmas presents.  That was something fun that we did together and have never done before.  I can't believe all the first I have had this year with my dad.  I got all of the treats for S's treat for his class done and they turned out great.
Thursday my neighbor came over in the morning and hung out for a few hours.  It worked out great because S had someone to play with all morning before he went for school and I had someone to hang out and talk too.  P loved to just watch Baby L on the floor.  P went down for a nap and I started making the cakes for S's birthday.  I made a Cars cake and a 3D car cake.  After S got home we hung out while I let the cakes cool.  After dinner I started decorating the cakes.  Between all the interruptions I finally got the cakes decorated and the kitchen semi-cleaned up around 3:45am.  B and I ended up staying up till 5am watching "The Big Bang Theory" and "Life in Pieces" (Best new show of the season, totally hilarious).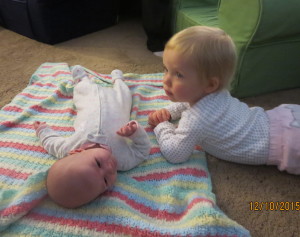 We got up at 6:45am Friday when S got up because he was so excited it was his birthday.  We went out and watched some TV so B could sleep longer.  S got to open his presents and then B went out and made homemade waffles for him.  We spent the rest of the day getting ready for his party.  I worked on cleaning up the house and taking care of P.  B worked on finishing the garage and making the food.  He had to call in the Calvary (his parents) to get the food finished.  (I told him he didn't leave enough time.)  I try to make it a very simple party and somehow B always makes it bigger.  My feelings are if you want to make it bigger then you have to take on all the extras.  The party went off without a hitch.
Saturday I let B sleep in and we switched at 9am so I could go back to sleep for a while.  I got up and put P down for her nap.  Of course I ended up in her crib with her because she woke up from her nap.  P finally woke up at 1pm and S and I had to leave at 1:15pm to go to my nieces play.  We headed home afterward and hung out at home.
Sunday we lounged around all morning.  S kept asking when are we going to leave for Kalahari.  We kept telling him that we weren't going until he finished his homework.  It was due Monday for school and we were not getting home until right before it was time for him to get on the bus.  He finally finished his homework, P took a really short nap, and we left for Kalahari around 2:30pm.  Thank goodness we only live about an hour away because P would not have lasted much longer than that.  Five minutes before we got there P fell asleep.  B and S went inside to check in and walk around while I drove P around because she woke up when they opened the doors.  After she fell back asleep I parked and read for another half hour or so.  We went in got changed and headed down to the waterpark.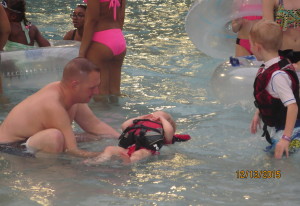 Last Week
This week is going to be a bit crazy and hectic.   My baby boy is turning 6 this week.  It is surreal and I cannot even comprehend it.  Of course, we have to get ready for that.
My Weekly Goals-Get S's cakes done on Thursday so I am not rushing on Friday.
Monday-Just hanging out at home.  I am hoping to get the kitchen table, and island cleaned off today.  This will make baking this week so much easier.  I may even let S do the gingerbread train today.  Just depends on what is going on when he gets home from school.
Tuesday-Either B or B and I will run to the stores to get all the supplies needed for S's little party on Friday night.
Wednesday-S and I figured out what he wants to make for his birthday treat for school.  I gave the option of muffins (because they are his favorite) or I would try to make a sugar cookie swirl on a sucker stick.  He chose the cookie because he loved the idea of it.
Thursday-Finalize the treat for S's class.  He told me that the other kids had them in their backpack and takes them out to give to the teacher.  The mom's don't bring them in.  Got it!  You're no longer a baby!  I am planning on baking S's cakes and decorating them.  Hopefully P will behave.  She has started to like to sit in her seat and watch me bake.
Friday-Today is S's birthday, so I am guessing B will make him breakfast, and then open his present.  (Yes, we got him a present even though we told everyone else to bring a gift to donate.)  The rest of the day is prepping for his family party.  S loves having people over and to be the center of attention is even better for him.
Saturday-S has a build at Lowe's to make a Christmas train.  I am not sure what will happen the rest of the day.
Sunday-After P takes her nap we are heading to Kalahari for S's annual birthday excursion.  We usually go the night before his birthday but this gives him way more time.
Disclaimer: I have never claimed to be any great writer. So any mistakes that are made are my fault. Sometimes I mix up names B, S, and P, but I think you can figure out who I am talking about. If you find any grammatical errors just fix it in your mind so it sounds right.