November 16, 2015
Comments Off

on Manic Monday
Manic Mondays are when I let you know what plans I have for the week. Some weeks I may be very busy where other weeks there may not be any plans. Since I now have two little ones to take care of I am going to post weekly goals for myself to try to hold myself accountable. I have also decided to do a quick recap of what we actually did versus what I thought we were going to do.
This Week
It is going to be a super quiet low-key week for us.  We have no plans really for the entire week and I love it.
Monday-The kids and I are going to run to Kohl's in the morning and make sure we get home in time for S to get on the bus.  It is supposed to be nice so hopefully we will get to play outside when S gets home from school.
Tuesday-No plans just hanging out at home.
Wednesday-Another day of hanging out at home.
Thursday-No plans again.
Friday-I am hoping to get family pictures done in the morning before S heads off to school.  No guarantees, but that is the plan.
Saturday-No plans but I am sure something will come up.
Sunday-Another day of no plans.  I am sure at some point Band I will work on finalizing our Black Friday Shopping List.
Last Week Recap
Monday I can't remember anything from last Monday or Tuesday and have no pictures so I am guessing we must have hung out at home.
Wednesday I worked on making a sign for my neighbor's baby coming home.  S and I hung out at our neighbor's while they got carpet installed.  S went to school, and P took her nap.  In the evening we got to meet Baby L.  She is a peanut!
Thursday was a pretty quiet day.  We hung out at home and didn't really do a whole lot.
Friday I took S to Kohl's in the morning to get a gift he wanted to buy for Christmas.  Go figure our Kohl's doesn't have it, so we are going to have to venture to another one to find it.  S had school in the afternoon and we spent the rest of the night at home.
Saturday we hung out at home.  I took S to his Lowe's build in the morning.  He got to make another 48 Lowe's racecar.  When we got home S got to run to Toys R Us with B for a free Lego build.  They were gone for quite a while so P took her nap and I took the second half of her nap with her.  We played outside until dinner time and managed to get the trampoline down for the year.
Sunday we managed to get out the Christmas decorations.  I would say 90% of the indoor decorations are complete.  S got to go to his cousins and play with his BFF, L.  They have so much fun together.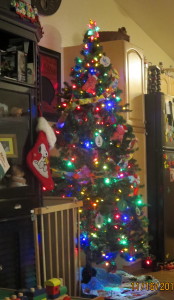 Last Week
It looks like it is going to be another quite week at home.  If we are lucky we may start getting out some of the Christmas decorations.  Yes I said it, Christmas decorations.
My Weekly Goals-To get my bedroom clean and in order.
Monday-B has some errands to run.  P and I are just hanging out at home, and S has school.
Tuesday-No plans other than hanging out at home.
Wednesday-Another day of hanging out at home.
Thursday-A day at home, relaxing.
Friday-B is picking up overtime tonight so it will just be me and the kiddos at home.
Saturday-We have a Lowe's build in the morning.  B is helping my sister move so we are just going to be hanging out at home.
Sunday-B is off so today so I am going to try to take S to see the new Peanuts movie.  B and P might even tag along.
Disclaimer: I have never claimed to be any great writer. So any mistakes that are made are my fault. Sometimes I mix up names B, S, and P, but I think you can figure out who I am talking about. If you find any grammatical errors just fix it in your mind so it sounds right.