November 2, 2015
Comments Off

on Manic Monday
Manic Mondays are when I let you know what plans I have for the week. Some weeks I may be very busy where other weeks there may not be any plans. Since I now have two little ones to take care of I am going to post weekly goals for myself to try to hold myself accountable. I have also decided to do a quick recap of what we actually did versus what I thought we were going to do.
This Week
My Weekly Goals-I am hoping to work on more reviews, and play outside because the weather is going to be beautiful.
Monday-Depending on what people post online, I may make a trip to Target.  I am looking to get some Halloween lights when they go 70% off for outside.  S and I are taking the outside decorations down while we wait for his bus.  It's just spiders and lights on one tree.
Tuesday-If I don't go on Monday, I am definitely going to Target in the morning.  In the afternoon, B wants to take the boat on the river.  This is probably going to be the last chance before winter sets in.
Wednesday-Today or tomorrow I will be heading out to Target to get the 90% Halloween.  I am hoping it is tomorrow because S does not have school on Friday and I don't see him going to all four Targets with me.
Thursday-Another nice day and B is off.  I will probably run to Target today, not sure.
Friday-S is off today for parent/teacher conferences.  The new Peanuts movie comes out today.  Not sure if we are going to see it today or not.
Saturday-It is the first Saturday of the month, so we will head out to Home Depot for their build.  The rest of the day we are hanging out at home.
Sunday-Just a day of hanging out at home while B works.  I might start scouring the Internet for leaked Black Friday ads.  The fun has begun.
Last Week Recap
I didn't give myself any weekly goals last week.  I guess I forgot.
Monday we went trick-or-treating at the businesses in Maumee.  P was miserable the whole time because she skipped her second nap, S gets so bored that he was ready to go after a block.  We came home and S got to play with his busfriend.  Yes, busfriend not bestfriend.  That is what he calls one of the neighbor boys he met on the bus.  They are the same age and get along great.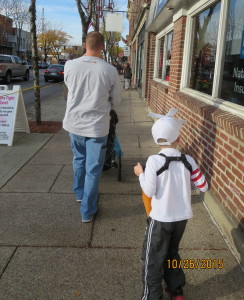 Tuesday and Wednesday we hung out at home.  I can't remember anything we did those days.
Thursday we hung out at home all day and after B went to work we carved S's pumpkin and ran to Costco to get there Halloween cards to send out.  They didn't make it to everyone by Halloween but they should get them early this week.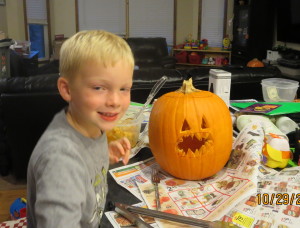 Friday we went trick-or-treating uptown at the local businesses.  We let P walk around and she loved it.  No strollers for her.  The rest of the day we spent at home.  S had his Halloween parade at school.
So Saturday we had a little switch-a-roo.  I wasn't sure what we were going to do and my sister called to have us go over there.  Her sister-in-law to be was in town with her family from Cabo.  I grew up with her and was excited to see her and meet her kids.  I follow her blog Two Pretzels so I feel like I already know them.  S had a blast meeting them.  He calls her kids his "Cabo girlfriends."  When I asked him about them he said he liked them but didn't get very much time to get to know them.  He asked when he gets to see them again.  I told him they come to visit every summer.  This morning he asked me, "When is it going to be summer?"  Too cute.  S loved trick-or-treating with other kids his own age.  This is the first year he hasn't been the youngest in the group.  True to his nature he was done after only one block.  P on the other hand had a blast walking around.  She only went up to a few houses, but loved it when she did.
(I can't find my camera at the moment so I can't post pictures.  I will do a Halloween recap with pictures.)
Sunday we hung out at home all day.  S and B went to Toys R Us to buy a 6 car Hot Wheels Race Track.  Whatever….They also stopped at my dad's to help him get on Facebook.  I love it!  P and I hung out at home all day.
Last Week
My Weekly Goals
Monday-I need to pick up the kids Halloween pictures from JCPenney and get the Halloween cards out.  After S gets off the bus we are going to go Trick or Treating at the businesses in Maumee.  Later the Historical Society is having their monthly meeting.  This month is when they reveal the results of the Scavenger Hunt.  I so want to find out the addresses of those few houses I couldn't find.
Tuesday-No plans for today and it looks like it may rain.
Wednesday-Today is my mom's birthday so I guess I will send her a text.  I don't know where she lives so I can't really send her a card or anything.
Thursday-I don't have any plans, so maybe I will schedule a playdate for S.
Friday-We are going Trick-or-Treating to the businesses in Perrysburg after P gets up from her morning nap and before S goes to school.
Saturday-B has to work so it will just be the kids and me for Trick-or-Treating.  S wants to hand out candy at my dad's but he also wants to go trick-or-treating with his cousin F.  I guess if my dad isn't working we will go there and hand out candy.  If he is working then I guess we will go trick-or-treating with F.
Sunday-The time change is happening so the kids will get up at the same time they always do except it will be an hour early in time.  Since Halloween is over the kids and I will work on taking down all the Halloween decorations.  We will put up the few Thanksgiving decorations we do and I will wait till next weekend to get out the Christmas decorations.
Disclaimer: I have never claimed to be any great writer. So any mistakes that are made are my fault. Sometimes I mix up names B, S, and P, but I think you can figure out who I am talking about. If you find any grammatical errors just fix it in your mind so it sounds right.