February 24, 2016
Comments Off

on Mamaway Ring Sling Baby Carrier Review 2
Disclaimer:  I received this product for free or highly discounted in exchange for an honest review.  All thoughts and opinions expressed are mine.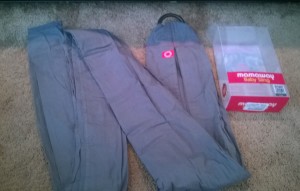 I have reviewed the Mamaway Ring Sling before and loved using it with P.  When they contacted me again about reviewing another Ring Sling in grey I jumped at the chance.  I still use my sling for P when we go shopping.  Sometimes it is more convenient to just put her in the sling and carrier her then try to fight with putting her in a shopping cart or getting the stroller out.  Now that I have two I can keep one in each car just like I do with shopping cart covers.  When it came to my son he loved sitting in shopping carts or his stroller.  With P she will do anything to be held or let loose to run.  When I put her in the sling it is a win-win for both of us.  She gets to be held and I get to finish shopping without a screaming toddler.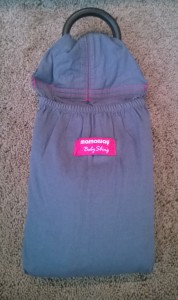 The Mamaway Ring Sling Baby Carrier is awesome.  The two rings are sewn in tightly to the material so I do not have to worry about the material slipping through the rings.  With the Mamaway Sling it gave me the security that I was looking for when using something like this.  It was so easy to loop one side of the sling through the rings and adjust it to fit P comfortably.
The sling is plenty long so you can use the leftover material as a cover if you need to nurse your child.  With the extra material you can drape it over your shoulder or try to do some fancy knot.  Now that P is older I use the extra material to play peek-a-boo with her and entertain her.  It also works great as a cover to drape over her while I am carrying her from a store to the car.  The sling has a build in bag for easy storage when not in use.  To ensure the most comfort when wearing this sling it must be draped over your shoulder for ergonomical support.  I took a picture to show the correct way and incorrect way to wear the sling for proper support.
The Mamaway Ring Sling Carrier is made of 100% Pima Cotton.  There are 18 different designs that you can choose from when selecting a sling.  I chose the Violet Blue the first time and the grey this time because I thought it would match most of my clothing.  When I got the package in the mail and saw the color of the material, I loved it.  The material was very smooth and was very comfortable against P's skin.
The Mamaway Ring Sling Baby Carrier is $69.99 on Amazon.com.  Click here to order Mamaway Ring Sling Baby Carrier.  #Mamaway
I was chosen to review Mamaway Ring Sling Baby Carrier through Tomoson.com.  Basically how it works is you select items you would like to review and if they chose you, the product is purchased through Amazon.com.  If you have a Prime Account with Amazon shipping is free and a coupon code is provided from the company making the product free or highly discounted.  In exchange they are looking for an honest review on their product.
Disclaimer: I have never claimed to be any great writer. So any mistakes that are made are my fault. Sometimes I mix up names B, S, and P, but I think you can figure out who I am talking about. If you find any grammatical errors just fix it in your mind so it sounds right.