October 18, 2016
Comments Off

on Making a Cinnamon 'n' Sugar Pinwheel Sugar Cookie
Disclaimer:  I received this product for free or highly discounted in exchange for an honest review.  All thoughts and opinions expressed are mine.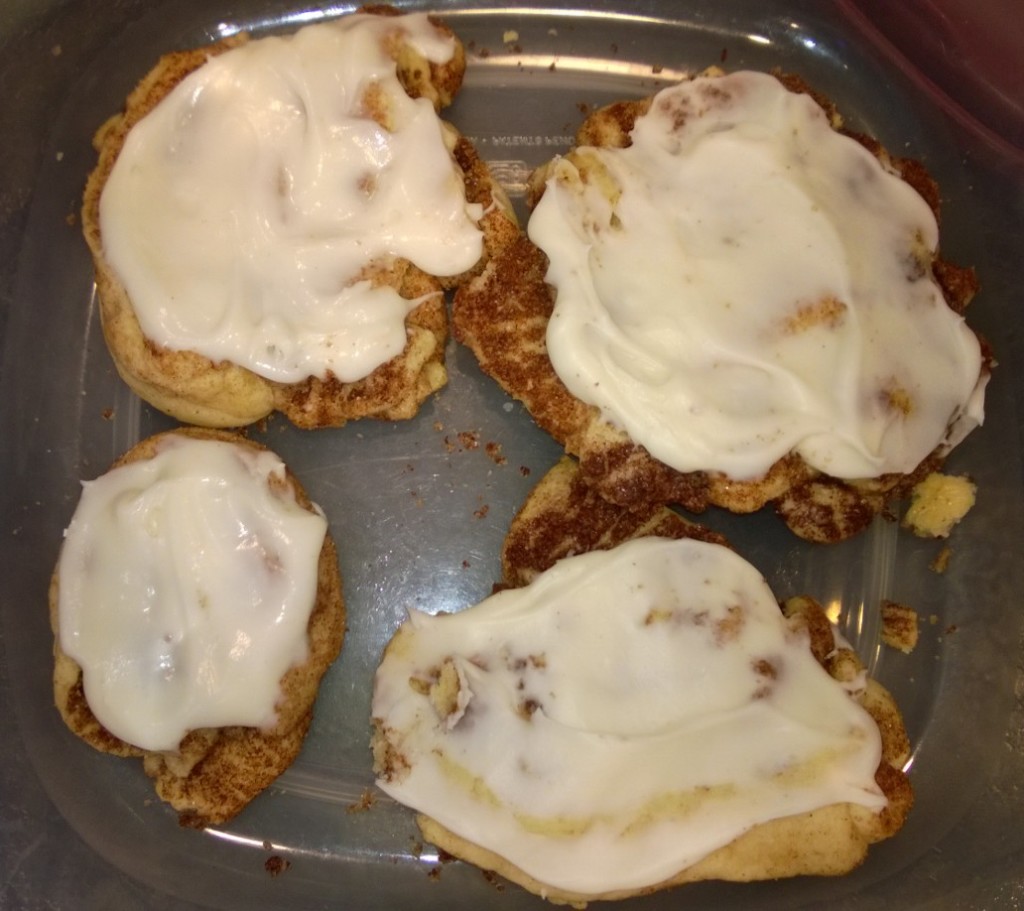 While I love to bake and eat most of what I make it rarely happens that I love something so much that I cannot stop talking about it.  This new treat just happens to be one of those rare occasions.  I don't have any great story to start this post, and really just wanted to share this new cookie that I made.  This wasn't my own creation I saw a picture on the internet and did a little twist on it.  I made a cinnamon twist sugar cookie with vanilla frosting.
I have been using the Wilton Sugar Cookie Recipe.  I didn't want to add any extra flour to the dough to roll it out so I rolled the dough between two sheets of parchment paper with my new Lasten Wooden Rolling Pin.  I made it as wide as the paper was and as long as the paper was.  I rolled it out about 5/8" thick.  I then mixed 1 cup of white granulated sugar with cinnamon.  Mix as much cinnamon in as you like.  I like my cinnamon and sugar heavy on the cinnamon.  #rollingpin
I melted 4-5 tbsp. of margarine (I don't use butter.) and used a silicone brush to spread the melted margarine all over the cookie dough.  It really depends on how big your cookie dough sheet is to how much margarine you melt.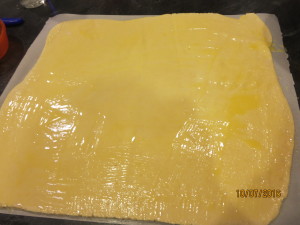 After I covered the dough with margarine I sprinkled cinnamon and sugar very heavy all over the cookie dough.  When it was fully covered I then began the task of rolling up the dough.  It is not as easy as cooked cake.  In fact, it was a mess.  I wanted a tight roll with the dough but it was not as easy as I had hoped.  I started rolling at the very edge just a tiny bit and then used the parchment paper to help me roll it.  I wanted the entire roll to be even and be rolled the same.  It didn't roll as tight as I would have liked it and I actually rolled it out a few times to get it tighter.   The dough was really soft so I covered the parchment paper with plastic wrap and left it in the fridge overnight.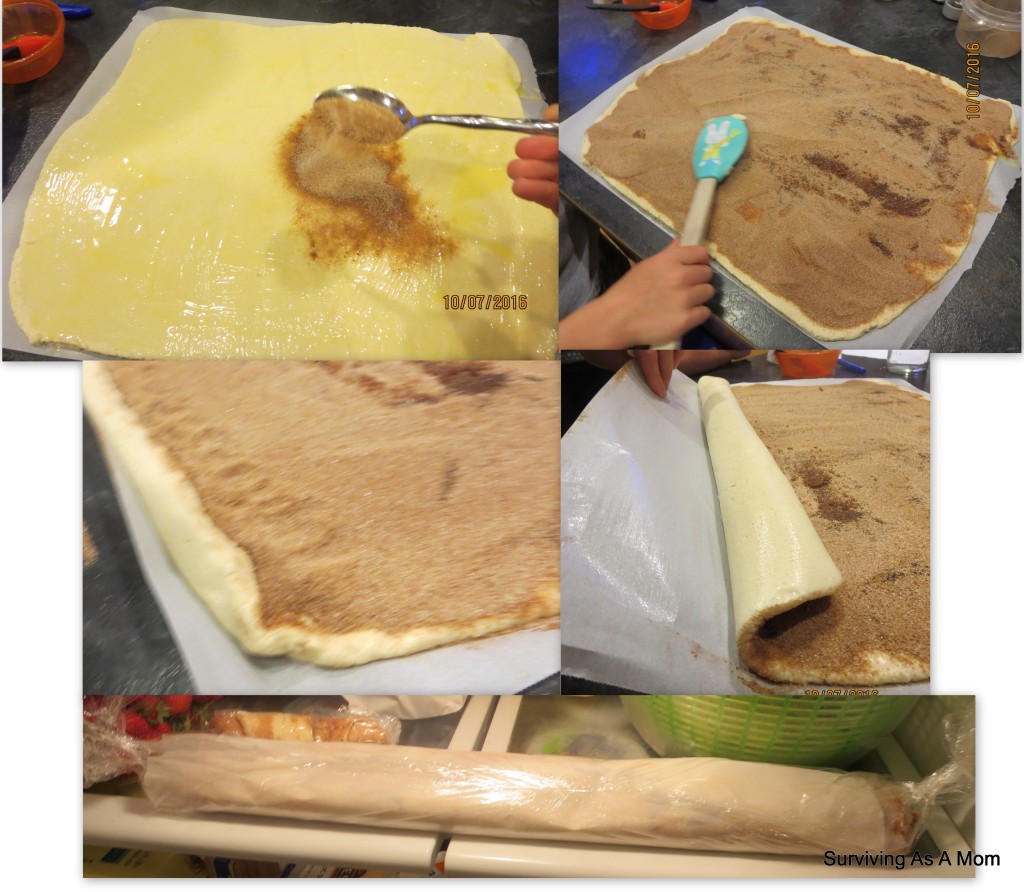 I was really hoping I could get a nice looking pinwheel cookie.  I cut off the rough edge and then started trying to get clean cuts.  It did not go very well and the dough started to crumble.  I picked the crumbled mess up and put it on the cookie sheet anyways.  I cooked them at 350° for 10 minutes.  It didn't matter if they were crumbed or a nice looking pinwheel (I did manage to get a few) they all tasted amazing.  They were soft and chewy yet had crunchy parts because of the sugar.  It was the cookie version of a soft cinnamon roll.

I liked them plain and did not really need frosting on them.  But how much better could they be if I could put the frosting they put on cinnamon rolls or doughnuts on the cookies?  I love that frosting and could eat it all day, every day.  I searched the internet and the only recipe I could find was for milk and powdered sugar.  I knew that was not the frosting I was looking for.  Then I found a recipe that was heavy whipping cream, powdered sugar and a small amount of vanilla.
Vanilla Donut Frosting
2-4 Tbsp. Heavy Whipping Cream
1 c. powdered sugar
½ tsp. Vanilla extract
Combine heavy whipping cream and vanilla extract.  Then add powdered sugar.  For thick frosting use 2 Tbsp. of heavy cream, spreadable frosting use 3 Tbsp., and for dippable/drizzle frosting use 4 Tbsp. of heavy cream.  Whisk all three ingredients together until fully incorporated.  Yields: enough to frost 6 doughnuts.
B loved the cookies with the frosting.  He took some to work; I gave some to the neighbors, and send some home with my niece.  I knew if I kept them in the house I would eat them all.  I kept four.  I did end up eating three of them but saved one for S to take to school for a treat for lunch the next day.  I cannot wait to make these cookies again.  I am going to wait because I don't think my waist can handle these again.
I was chosen to review the Lasten Wooden Rolling Pin through Tomoson.com.  Basically how it works is you select items you would like to review and if they chose you, the product is purchased through Amazon.com.  If you have a Prime Account with Amazon shipping is free and a coupon code is provided from the company making the product free or highly discounted.  In exchange they are looking for an honest review on their product.
Disclaimer: I have never claimed to be any great writer. So any mistakes that are made are my fault. Sometimes I mix up names B, S, and P, but I think you can figure out who I am talking about. If you find any grammatical errors just fix it in your mind so it sounds right.