August 21, 2016
Comments Off

on Kohl's Clearance Finds
So I didn't go to Kohl's when it was the "sales tax free" weekend I went the weekend after.  I probably should have gone then not because I was worried about saving the sales tax, but because I would of had more to pick from.  I needed to start getting clothes for S and P for next year.  I ended up getting a nice start and only spent $86.28.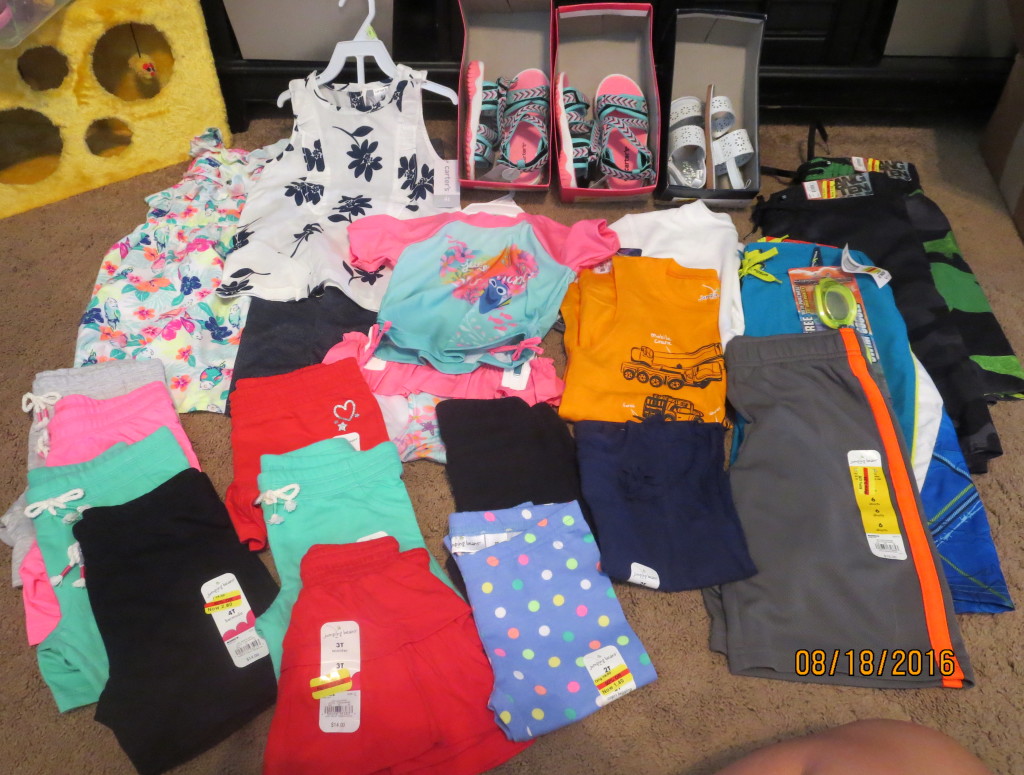 I found this cute little dress for $6.19.  It was cute and a great dress to play in.  The blue and white outfit was $7.22.  I was going to get this the day before at JCPenney and was going to pay $14.  I am so glad I didn't!  The swimsuit will be for Easter next year and was $10.31.  While I don't like to pay that much for a swimsuit I have noticed there hardly any left at the stores and had to make sure I got one.  I guess I know what to tell people to get her next year for her birthday!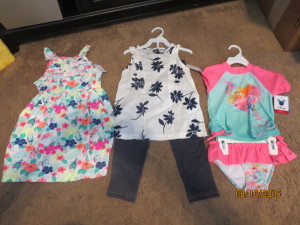 I found a ton of bottoms for P.  I got them in 3T & 4T.  I managed to find one blue shirt.  All of them ranged in price from $.91-$1.81.  Most of them were $1.81.  The black capri leggings are adorable and even have pockets like regular pants!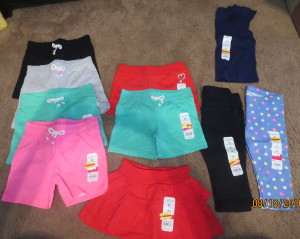 I got three pairs of shoes for P.  I really wanted to find some for S but that was not going to happen.  I got the same pair of sandals in two different sizes for $4.50 each.  The white sandals were only $4.50 and I have my dress pair of sandals for next year!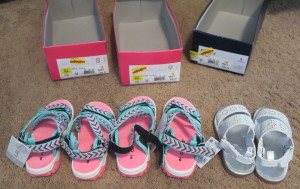 I did manage to find some clothes for S.  He got two shirts and four pairs of shorts.  He asked if I could get him some muscle tees if I saw them.  I found one with construction equipment for only $4.11.  The swim shirt was $$4.82.  The mesh shorts were $2.05.  I got three pairs of swim trunks.  One pair comes with a pair of goggles.  They were $4.82 and $5.79.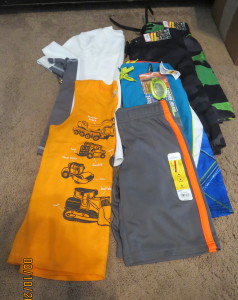 Not a bad haul for only having about an hour to look as fast as I could. B had to run to Adrian, MI so P and I tagged along.  I asked if we could make a quick stop at the Kohl's up there to see if there was anything.  I had a 20% coupon and $10 Kohl's Cash to use. I found a few gems and only paid $14.66.
I got the two shirts for $1.43 and $1.42.  The cute sandals were $5.31.  That is a great deal and I think I found her birthday shoes!  I have not seen this outfit and really liked it.  It was only $5.67 and looks good with those sandals.  Maybe her birthday outfit, too!  I looked but could not find a thing for S.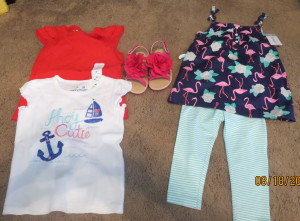 Disclaimer: I have never claimed to be any great writer. So any mistakes that are made are my fault. Sometimes I mix up names B, S, and P, but I think you can figure out who I am talking about. If you find any grammatical errors just fix it in your mind so it sounds right.