April 26, 2013
Comments Off

on Johnsonville Cajun Celebration Kit
I recently signed up for the Johnsonville Cajun Celebration Kit and received it in the mail today.  I had no idea what B was doing when I looked at him, but he was so interested in the box that he opened it before I even had a chance to ask him what he was opening.  When B opened it there was a letter included.
The letter summarized said that an automated email confirming participation was sent out in error.  The contest was originally for the first 1,000 registrants and because of the computer problems, over 10,000 received email confirmation that they were accepted.  Some received the original kit while the remaining received nearly identical kits.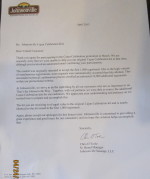 This is what the box looked like when B repacked it, and this is what I am guessing it looked like when he first opened it.
Here is an overall picture of everything that was in the box.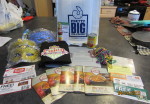 These are the six coupons that were included in an envelope for the food products.
Free one package, any flavor, of New Johnsonville Premium Cooking Sausage
One Free Tomato Product Red Gold, Tuttorosso or Sacramento
Free Uncle Ben's Ready Rice (up to $2.50)
$1 off one 24 oz. Bag of Klondike Brands Potatoes
$1.00 off Pompeian Olive, Grapeseed or OlivExtra blends oil 16oz or larger (Got two coupons they were stuck together.
Buy 1 Get 1 Free tube of Gourmet Garden Herbs & Spices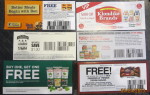 It also included 3 recipe cards from RedPack and 1 recipe from RedGold.  Johnsonville sent 5 recipe books one to keep and four to give to guest of the Cajun party.  In the Johnsonville book, the recipes have bolded the items (or coupons) that were included in the box so you will know what you were given and what you will need to purchase.  B is going to have fun cooking this.  We selected the Cajun Chicken Sausage Jambalaya as our kit, because there is no way I am eating shrimp or any other type of seafood.
There are three really pretty Mardi gras mask.  It looks like the big one would be for the host and the two other for guest.  Eight Mardi gras beaded necklaces were included.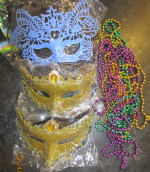 An apron that says "Cajun Celebration" and a reusable grocery bag that says "Pretty Big for a Shrimp."  The apron was way too small for B.  He tried it on and is convinced it is a child's size apron.  I tried it on; it is a little small but fit me okay.  B still has to wear it for pictures to send into Johnsonville!!!  B thought the bag was funny.  It is just an average reusable bag nothing different about it other than the funny saying.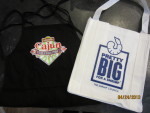 Also included was a Klondike Brand cutting board, Gourmet Garden measuring spoon and grocery checklist pad, a can of Red Gold tomatoes, and a bottle of Original Louisiana Hot Sauce (the bottle was wrapped in bubble wrap that had a sticky backing so half the label stayed with the bubble wrap).  We can always use another cutting board and measuring spoon.  The Red Gold tomatoes we use for chili and the hot sauce I am not going anywhere near it, but B will try it.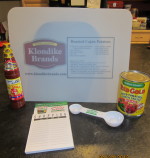 I can't wait to have a Cajun celebration.  Since Johnsonville provided the whole party pack the least I can do is submit some pictures and review of the party.   Check back here because once we have the party I will add the pictures to this post.
Disclaimer: I have never claimed to be any great writer. So any mistakes that are made are my fault. Sometimes I mix up names B, S, and P, but I think you can figure out who I am talking about. If you find any grammatical errors just fix it in your mind so it sounds right.