October 1, 2013
Comments Off

on ipsy September Glam Bag Review
With infinite beauty product combinations in the marketplace, choosing the best items for your needs can be a challenge! That was why Michelle created ipsy. Michelle and her team of stylists have selected products they love, for you to try.
This month Michelle included a sample of her em The Life Palette Career Life, look 4 natural talent.  I was happy to see this little bonus included.
Each month, subscribers will receive a beautiful Glam Bag with deluxe samples and full-sized beauty products. Members can watch and play along with the stylists with the same products that they are using.  All for only $10 a month.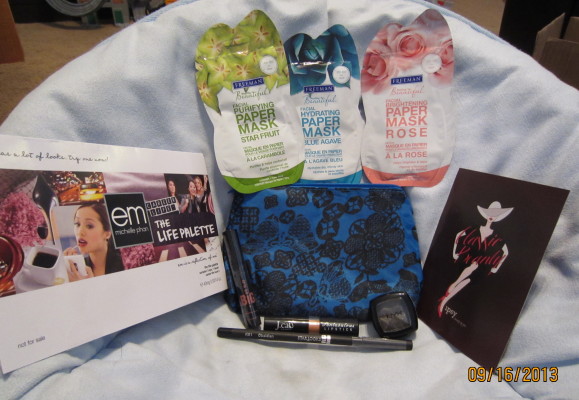 I have really started to enjoy getting this subscription and look forward to every month.  I got this a few weeks ago, but have been slacking on writing reviews.  I have been enjoying the nice weather outside and taking advantage of every minute possible before cold weather comes.
This is what my package looked like when I opened my mailbox.  It came in a pretty pink bubble wrap package.
When I opened the package it was a black and blue make-up bag, not my favorite design.  It came with this postcard titling this month as "Classic Beauty."  The postcard contained the companies who contributed to this month and discounts available.
Freeman Feeling Beautiful Facial Paper Mask($1.99 each ($5.97)-I got three different kinds of mask, Facial Purifying Paper Mask Star Fruit, Facial Brightening Paper Mask Rose, and Facial Hydrating Paper Mask Blue Agave.  I have not tried any of these yet, but according to the directions you apply the mask, wear for 5-10 minutes, peel off, DO NOT RINSE, rub in excess serum.  I am curious to try this since you do not wash off excess.
JCats Beauty Fantabulous Lipstick-Honeycrisp FL-107($2.49)-This is a really creamy lipstick.  I liked the way it went on, but unfortunately this color is not for me.  It is almost a skin tone, nude.  I am more of a deep red or gloss kind of girl.  There are over 48 different colors to pick from, bummer I got this color.  I think my sister will really like this.
It's So Big Volumizing Mascara 4ml($19.99/10ml, doing the math this size would be $8/4ml)-I love mascara and this mascara promises to lengthen and curl lashes without smudging.  Now that sounds like my kind of mascara.  This was only a sample size, but I am still trying it.
NYX Eye Shadow-Cryptonite 63A($4.50)- I was excited when I saw the color of this eye shadow.  It is described as a glittering black.  I could not be more happy with the color I received.  This is definitely going in my make-up drawer.
Star Looks Kohl Eye Pencil Obsidian K01($12)-The Kohl Eye Pencil is described as ultra soft that glides across the lids without pulling.  The pencil is creamy enough that you can also use it to color your entire eyelid.  I am not an eye liner kind of girl, so this again will go to my sister or maybe my niece.
Make-up bag($3)-This make-up bag was definitely not my taste.  If this was at the $1 store I wouldn't buy it.  So that is why I only valued it at $3.
All in all the total of this ipsy bag of cosmetics comes to $32.96 (not including the make-up bag).  With this bag of makeup only costing $10, I would say it is totally worth it, this has been one of the higher priced bags I have received.  While I will not be using all of the products in this month's bag, the few that I will use the eye shadow, mascara and paper masks make it well worth it.  I am going to continue to get ipsy and see what next month brings.  If you are interested in subscribing to ipsy, click here, and help me get a bonus gift next month.
Disclaimer: I have never claimed to be any great writer. So any mistakes that are made are my fault. Sometimes I mix up names B, S, and P, but I think you can figure out who I am talking about. If you find any grammatical errors just fix it in your mind so it sounds right.