June 18, 2013
Comments Off

on ipsy June Glam Bag Review
With infinite beauty product combinations in the marketplace, choosing the best items for your needs can be a challenge! That was why Michelle created ipsy. Michelle and her team of stylists have selected products they love, for you to try.
Each month, subscribers will receive a beautiful Glam Bag with deluxe samples and full-sized beauty products. Members can watch and play along with the stylists with the same products that they are using. All for only $10 a month.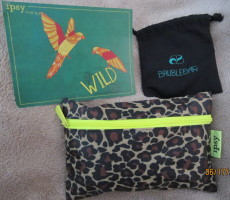 This is my second month subscribing to ipsy.  I have seen on other blogs about how they are unhappy with the ipsy subscription.  Now I understand.  I was pretty underwhelmed by this month's box.
This is what my package looked like when I opened my mailbox.  It came in a pretty pink bubble wrap package.
First and foremost, thank you to those who used my links to sign up for ipsy.  Because I got two referrals last month I got an extra in my package.  I got a white Baublebar bracelet with gold trim.  On their website I could not fine the exact bracelet but very similar ones that range in price from $18-$21.  It's not my taste, but when something is free I am always willing to try it.  I also got a 20% coupon code for my first purchase.
When I opened the package it was one heck of a leopard print make-up bag with a neon yellow zipper.  It came with this postcard titling this month as "On the Wild Side."  The postcard contained the companies who contributed to this month and discounts available.
Cailyn Line-Fix Gel Eyeliner-Iron($21)-This is a very unique eyeliner.  When you unscrew the bottle the gel itself was hard to the touch, and when you pull the top off a little eye brush comes out.  It says that to not open your eye until the eyeliner is dry and it is smudge proof and stays on for 24 hours.  I am interested in this and will try it next time I go out.
NYX Mosaic Powder Blush-Dare, Rose Gold($7)-I have always wanted to try a mosaic blush hoping with all of the different colors it would match my skin whether I am pale, pink, or blotchy.  I am hoping it will match my mood.
J.Cat Sparkling Cream Palette-Volta($4.49)-I was not sure what exactly this was for until I checked out the website and read other blog reviews.  This is to be used on your face but not around your eyes.  Not exactly sure how you would use this, but I bet my sister will know how.
J. Cat Eyelashes & Eyelash Glue-EL99($3.99)-I have never used fake eyelashes before and know many people use them.  These say they are 100% human hair.  To me I am not sure I could handle fake eyelashes because it drives me nuts when my eyelashes get caught in each other when I wear mascara.  Real human hair not for me so close to my eyes.  My sister loves using fake eyelashes so I am sure she will love them.
Star Looks Lip Pencil-Color Me Pink($12)- This color looks like it may work for me.  This lip pencil can be used to outline your lips to help lipstick stay in place or can be used to color your whole lip for a matte look.  I have not used lip pencil before but used to use lip liner on special occasions.
Make-up bag($5)-I am not a fan of the print, but it is really cute.  I would value it at $5 because of the cuteness and quality.
All in all the total of this ipsy bag of cosmetics comes to $48.48 (not including the make-up bag and bonus gift).  With this bag of makeup only costing $10, I would say it is totally worth it.  This was my second month subscribing.  I love the products that I got in the bag, but do not see myself using any of them.  If I give away all of the make-up then I am paying $10 to give away make-up.  I am going to continue to get ipsy and see what next month brings.  If you are interested in subscribing to ipsy, click here, and help me get a bonus gift next month.
*This post contains affiliate links, but all opinions and thoughts are my own!
Disclaimer: I have never claimed to be any great writer. So any mistakes that are made are my fault. Sometimes I mix up names B, S, and P, but I think you can figure out who I am talking about. If you find any grammatical errors just fix it in your mind so it sounds right.