July 15, 2013
Comments Off

on ipsy July Glam Blag
With infinite beauty product combinations in the marketplace, choosing the best items for your needs can be a challenge! That was why Michelle created ipsy. Michelle and her team of stylists have selected products they love, for you to try.
Each month, subscribers will receive a beautiful Glam Bag with deluxe samples and full-sized beauty products. Members can watch and play along with the stylists with the same products that they are using. All for only $10 a month.
This is my third month subscribing to ipsy.  I liked what I saw when I opened up the package to check out all of my goodies.  I really liked when I opened my ipsy package and everything did not fit in the makeup bag. 
This is what my package looked like when I opened my mailbox.  It came in a pretty pink bubble wrap package.
When I opened the package it was bright pink see through make-up bag.  When I pulled out the make-up bag, I was excited to see that not all of the products fit in the make-up and had to be put in the package.  That means some big products, maybe even full size items.  It came with this postcard titling this month as "Beach Beauty."  The postcard contained the companies who contributed to this month and discounts available.
Healthy Sexy Hair Soy Renewal Beach Spray 1.7 fl. oz.($5.25)- Soy Renewal Beach Spray creates undone texture that looks and feels like you've spent a day by the sea. Helps nourish, protect and heal hair damage with the power of Argan oil. Cures winter blues by giving your hair the look and feel of a day at the beach.  I have not tried this yet, but when I opened the outer package I could already smell this and it smells sweet and definitely reminds me of summertime.
Nailtini-Mai Tai .5 fl. oz.($13)-Pure alI-premium nail color in vibrant sunrise coral.  This color was definitely a red-orange color.  B thought this was the color of a Peach Bellini, I was thinking more Cosmo since this is by Nailtini, we went for drink colors.  This looks like a fun color that I may actually try.
Pop beauty Pouty Pop Crayon-Coral Crush .1 oz.($25/kit of 6, $4.17/each)-These extra-nourishing balms gently bounce onto lips, creating a plumped & pillowy pout and leaving them with luscious, long-lasting color in a super-smooth.  These crayons are sold in a kit of 6.  This may be perfect for me or a little to pinky, I will be sure to try it next time I wear lipstick. (That would be the next time I go out, which is rare.)
Coola Mineral Face Sunscreen SPF 20 Unscented Moisturizer .23 fl. oz.($4.87)-Keep the sun and environment at bay with this SPF 20 broad-spectrum UVA/UVB.  It really did not have any scent to it and did not feel greasy when I put it on.  This was only a sample tube that was .23 fl. oz., and a full size is only a 1.7 fl.oz. tube for $36.  A little too rich for my blood, but if I was given it I would definitely use it.
bhCosmetics California Collection sample($0.98/each color, $2.94 trio)- BH's Hollywood palette has you covered with red-carpet reds to limelight greens that are sure to take your look from ordinary to extraordinary.  The San Francisco palette was inspired by the classic California city and style of San Francisco!  Be a beach babe year-round with BH Cosmetic's Malibu makeup palette.  These three colors are not my choice at all so this will be going to my sister who loves eye shadow.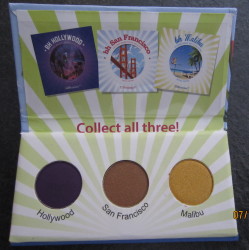 Make-up bag($5)-This make-up bag was okay, but I think I would use this to carry other stuff in.  It would make a perfect little bag to carry all the little stuff in my purse like dental floss, lipstick, sunblock, etc.  I would value it at $3 because it is a little small and plastic.
All in all the total of this ipsy bag of cosmetics comes to $30.23 (not including the make-up bag).  With this bag of makeup only costing $10, I would say it is totally worth it, while it is not as high value of other months the nail polish alone made the bag worth it.  While I will not be using all of the products in this month's bag, the nail polish and Sexy Hair beach spray make it worth it.  I have wanted to try Sexy Hair products and this is the perfect opportunity.  I am going to continue to get ipsy and see what next month brings.  If you are interested in subscribing to ipsy, click here, and help me get a bonus gift next month.
Disclaimer: I have never claimed to be any great writer. So any mistakes that are made are my fault. Sometimes I mix up names B, S, and P, but I think you can figure out who I am talking about. If you find any grammatical errors just fix it in your mind so it sounds right.